Arridge Garage Doors, Cheshire
Established 1989, Arridge Garage Doors have grown into the region's main garage door discounter and installer for all the leading brands including Hormann, Garador, Carteck, Aluroll, Alutech, Cedar Door, Woodrite and Ryterna. All these brands are featured under "Products" top left of screen with sizes, prices and technical details clearly stated for each type of door.
What makes Arridge Garage Doors different?
From the first phone call or email enquiry we work very closely with our clients to establish their exact requirements. We prepare accurate and informative quotations based on these requirements and sizes and make honest unbiased recommendations.
To prepare quotes efficiently and quickly we ask you for your
basic sizes
.
On acceptance of a quotation by a customer, on all supply and install orders, we carry out a full site survey to check all sizes and details.
If you are a homeowner, self builder or developer who wants to keep the costs right down and take full advantage of our heavily discounted supply only service we will work off your accurate sizes and photos to ensure you purchase the correct size of door you have chosen for your requirements.
A sample of some testimonials from our customers in Cheshire
Just to let you know that the door was fitted last Saturday and that I am extremely pleased with the whole transaction. From the initial contact to ordering, delivering and final installation I always received first class service from your company. The fitter is a lovely, very friendly and helpful man and I can highly recommend him. It was a pleasure having him on site. Thanks again for all the good help and the super service received from Arridge Garage Doors. The door looks brilliant and is such a mega improvement over the previous one. Wished I had done it years ago. Gunter Dambach, Congleton
---
I would like to take this opportunity to thank you for such good service which regrettably is so very rare these days. You may rest assured that I will recommend your services wherever I may go. P.Hope, Chester
---
We do appreciate the help you gave and the excellent way the fitters worked. The door does look very good and we are very pleased with it. M.D.Jones, Chester
---
Just to let you know that the fitter fitted our garage doors today. First, delighted with doors and your service, second to none!! Also, really pleased with the way the fitter fitted the door for us. Very professional and an absolute delight to do business with. Although he is a business in his own right I do think he is a real asset to your company, a real ambassador!! If every you need a testimonial do please contact me. If any of our neighbours enquire I will be sure to give you a big thumbs up! William Farrell, Ellesmere Port
What are the popular doors supplied and fitted in Cheshire by Arridge?
1. For the contemporary new builds and refurbishments: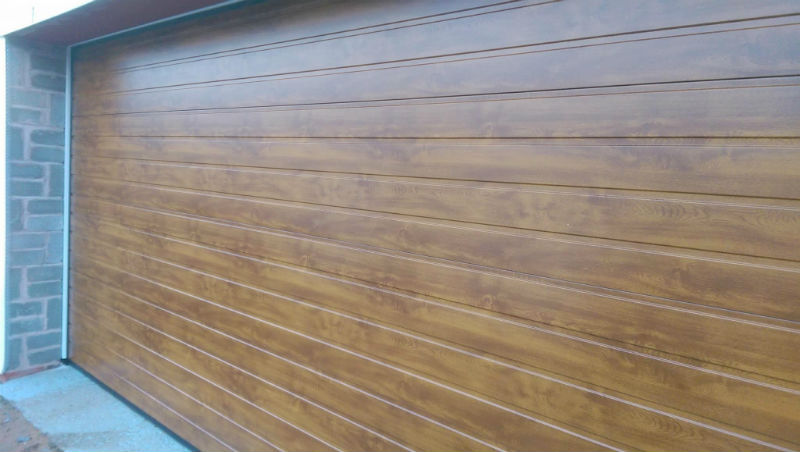 Alutech sectional small rib in Golden Oak in Gresford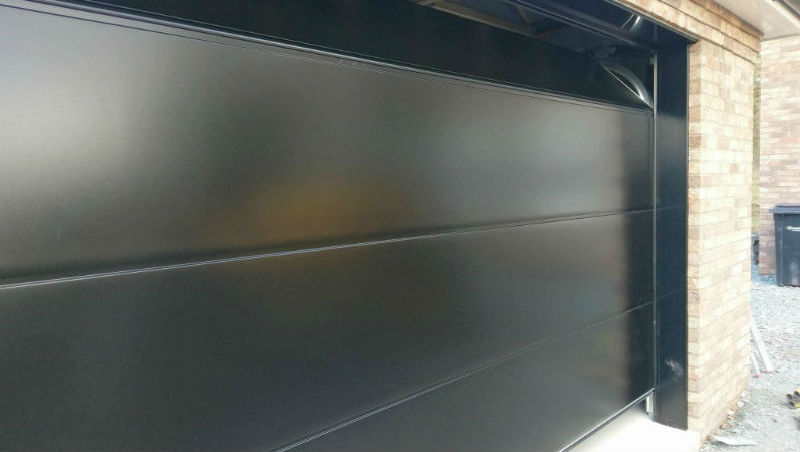 CarTeck GSW 40-L insulated sectional solid smooth
---
2. For traditional properties, listed buildings etc.: Cedar Door and Woodrite solid cedar doors.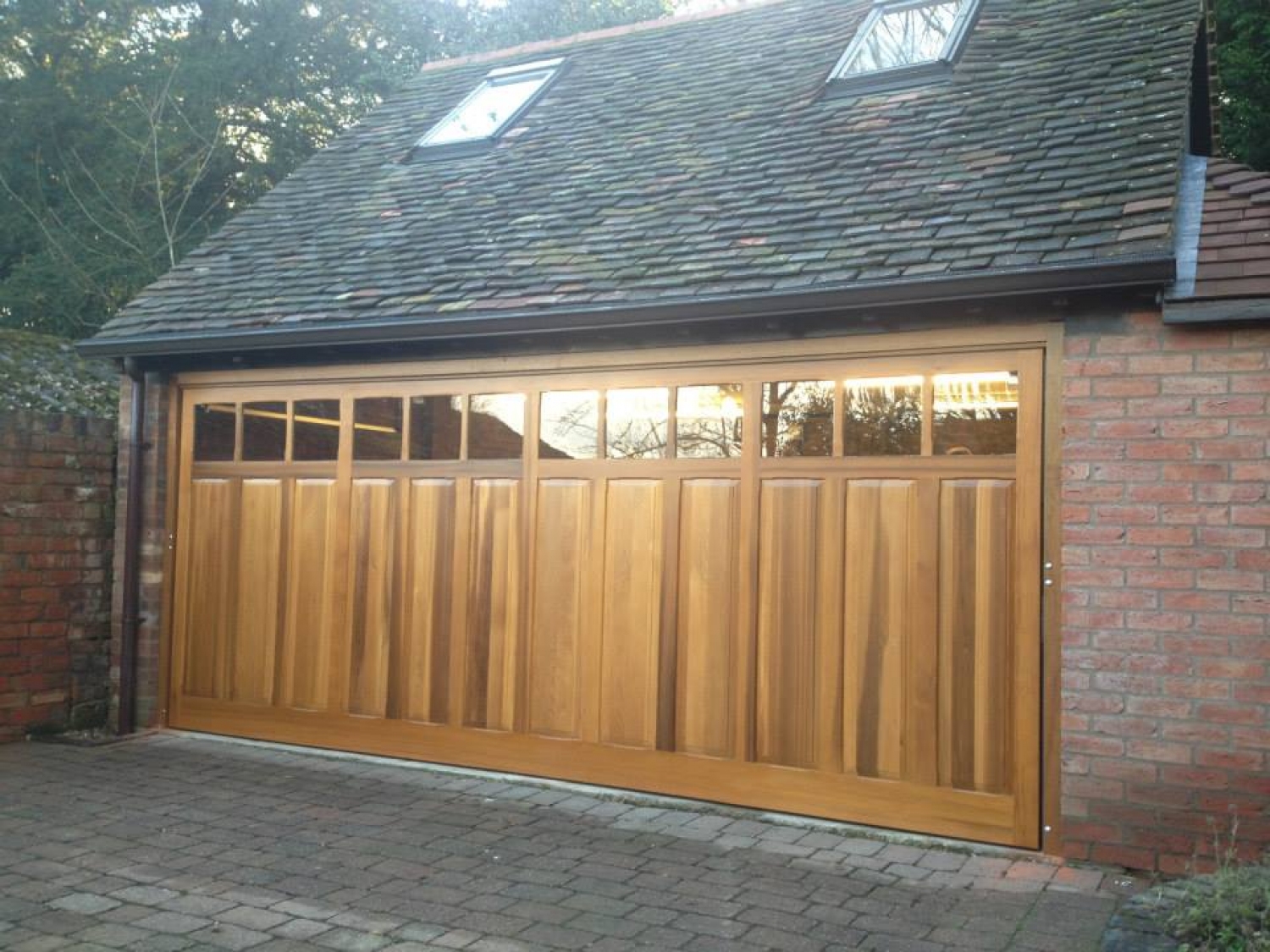 Woodrite cedar double up and over garage door with windows.
Cedar Door Warwick sectional garage door and matching side door
Who does the actual installation work in Cheshire?
Most of the South Cheshire work including Chester city itself is carried out by our Oswestry based installation team , Paul and Ashley. North of Chester we have Phil, based in Ellesmere Port, and heading out towards South Manchester, Geoff our Bolton based fitter does the work.
All of the above fitters have been installing doors for many years. They take pride in their work, demonstrate the doors once the installation is complete, sweep up and guarantee every installation.
Q&As:
Q: If there is an old door and frame to dispose of do the fitters take it away?
A: Yes.
Q: Do you charge for the removal of the old door?
A: No.
Q: If timber or UPVC trim or facia/soffit around the door is needed do you supply and install this?
A: Yes.
Q: Do you charge for supply and install of trim, facia and soffit around the door?
A: Yes. We can quote quite accurately for this based on your sizes and photos. We charge for extras like this at a competitive rate. At the survey we can confirm the exact cost for such "extras" if they are required.
More of the popular doors supplied and fitted in Cheshire by Arridge.
3. Replacement of old and broken up and over doors at fairly low cost.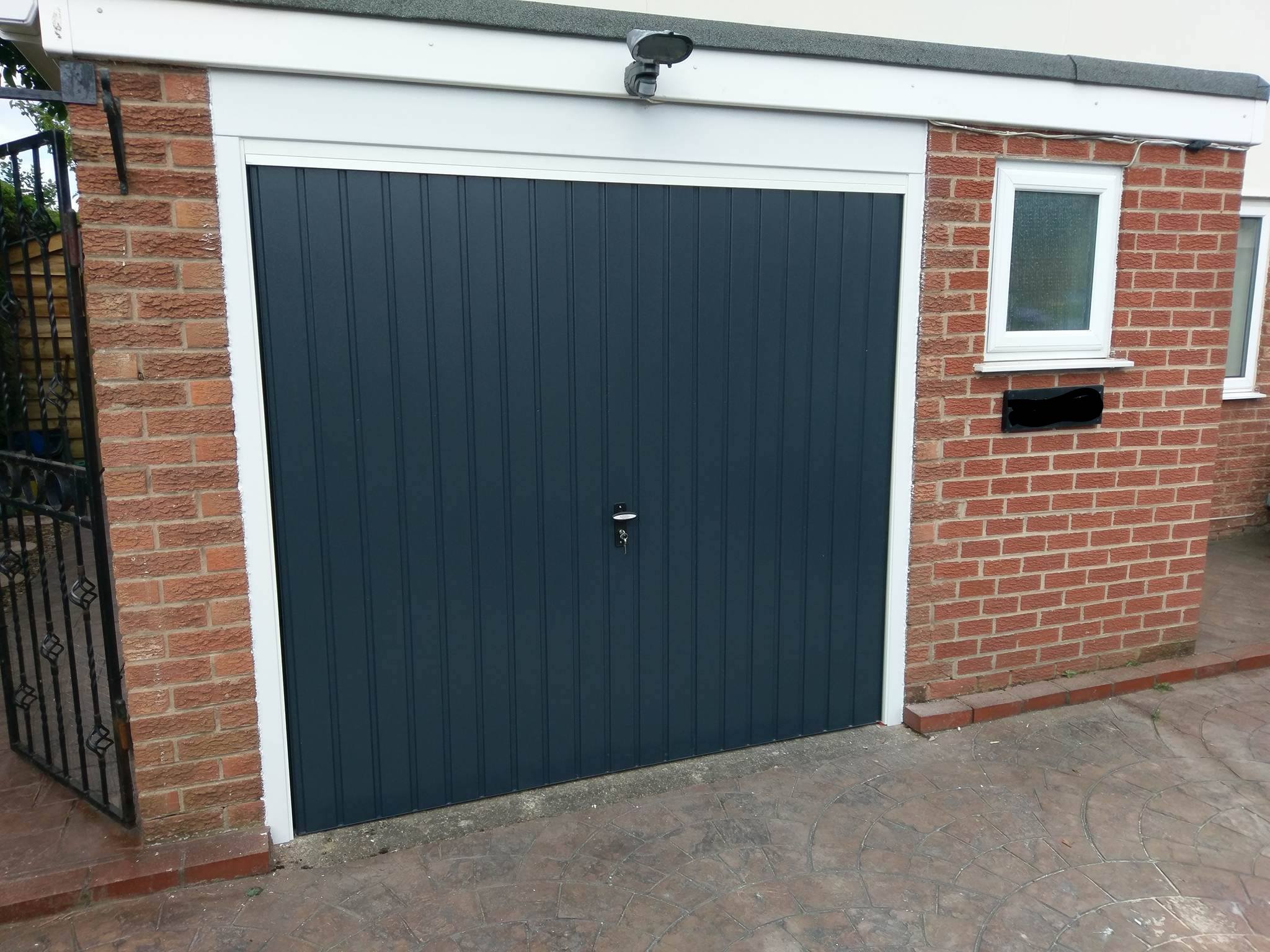 Fort steel up and over garage door in Anthracite Grey colour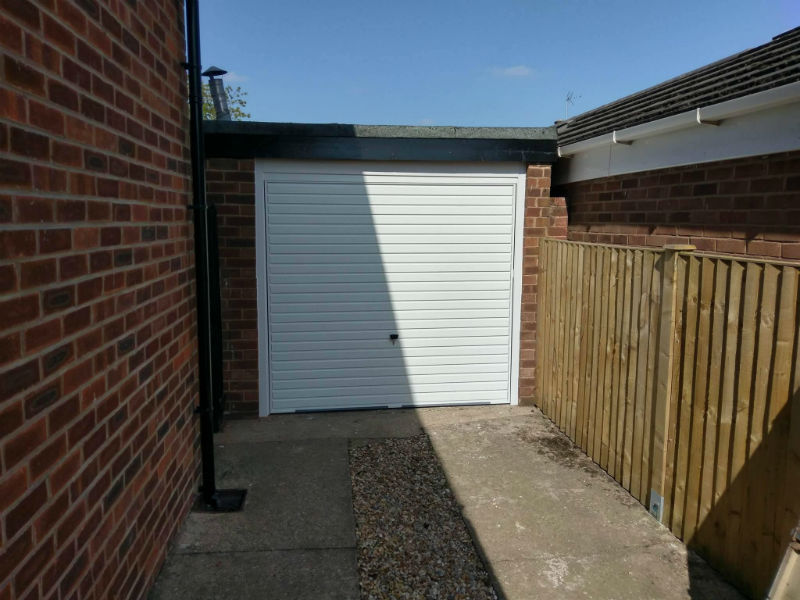 Hormann steel up and over garage door installation
---
4. Workshop, home gym, bike store type situation: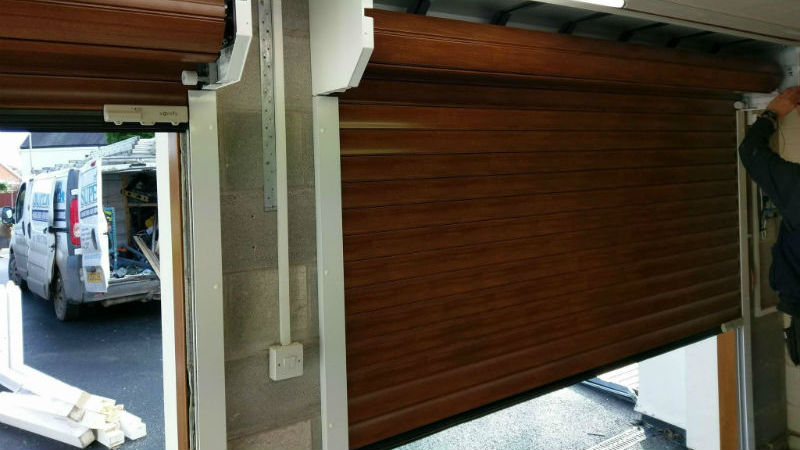 Picture of two Aluroll insulated roller doors mid installation before box covers are fitted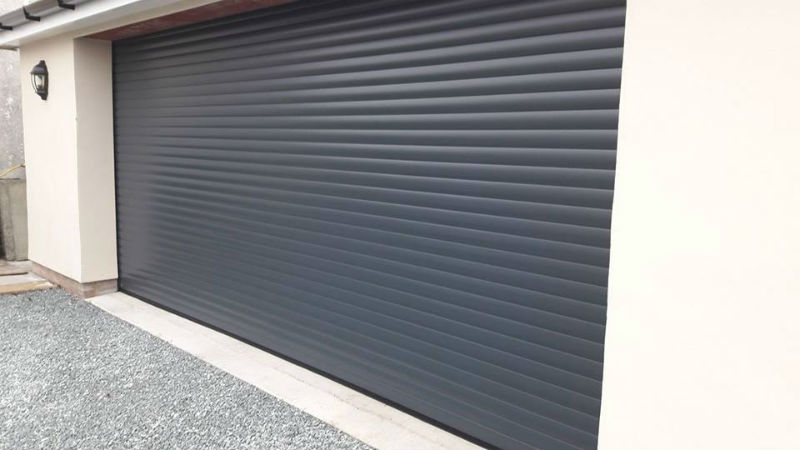 Picture of Hormann Rollmatic insulated roller installed by Arridge
---
We are sure you have got plenty of questions that need answering to help you select the correct door. We look forward to hearing from you.