Scratchproof plastic double glazed sectional garage doors from Alutech with a solid bottom section (40mm insulated) installed by Arridge Garage Doors.
One fitted, one to go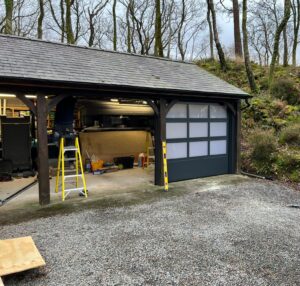 The white opaque glazing was requested by the customer as the garage is to be used as a gym. It will let plenty of light into the garage but privacy will be retained.
A haven of functional modernity hidden in the woods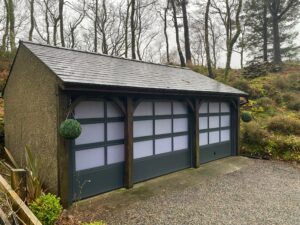 This image clearly shows how the new Alutech glazes sectional doors have been installed behind the two centre posts.
Side posts were constructed from timber then overcladded in matching anthracite grey UPVC trim to match the doors. These posts created sufficient sideroom for the doors to be installed.
Rear of the glazed sectional garage door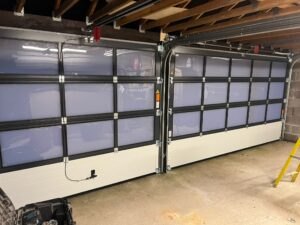 The larger right hand door has front mounted torsion springs to counterbalance the door. These are mounted across the rear of the lintel above the door itself. 210mm of headroom was needed to fit this gear, including the motor kit.
The smaller left hand door is a sidesprung door, with the counterbalance torsion springs fitting neatly within the frame leg uprights. Note the handle in the bottom section fitted purely to facilitate the installation of a through the handle manual override as both doors are electric and the garage has no other means of access. Used in the event of a power cut to disingage the motor allowing the door to be opened manually from outside.
Bond Street at night?, no Dolgellau, Gwynedd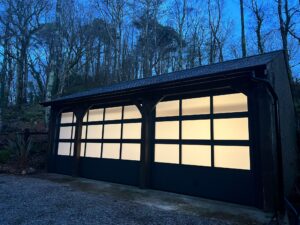 The 22mm thick scratchproof perspex double glazing helps to insulate the garage and allow light in and out. The deep rubbers on the bottom of the bottom section seal well to the concrete floor virtually eliminating draughts.
Soft neoprene seals in the frame legs and crossbar prevent draughts at the side and top.