One of our main suppliers, Fort Doors of Birmingham, recently launched a new range of insulated side hinged garage doors. They were created in response to the demand for insulated side hinged doors driven by the many and various uses that people have for their garage space. Ideal for home gyms, hobby rooms, home workshops and secure bike/motorbike storage.
Good U- value and sealing
They have good all round rubber seals which eliminate draughts and with a U value for the fitted door of 2.8 Wm2K your garage space will be transformed. It will be warmer and less draughty, with the spin off advantage of keeping adjacent rooms and bedrooms above warmer as well.
What do they look like?
                            Before                                                                After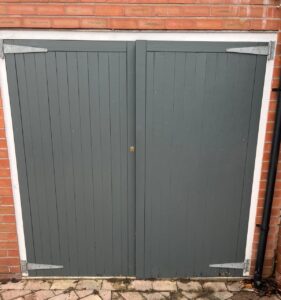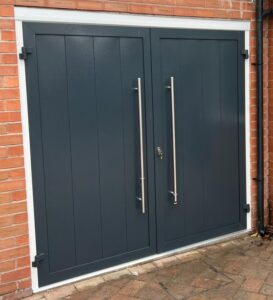 This particular customer in Shrewsbury chose the optional 1200mm long brushed stainless steel pull bar handles to give an enhanced modern appearance.
Quality Handles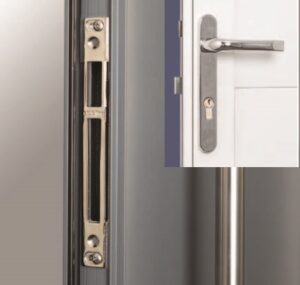 A robust high quality chrome handle comes as standard with a sturdy latch and deadlock. An adjustable keep allows fine adjustment to ensure precise latching. The thumb turn on the inside is nice and easy to use.
Multi – point locking option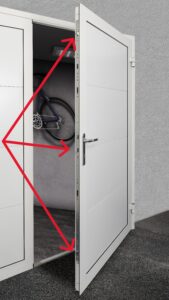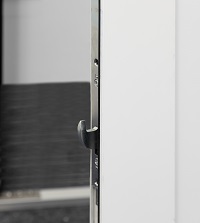 There is multi point locking available as an optional (costed) extra. This adds twin hook locks in addition to the standard lock.
Shoot bolts top and bottom secure the inactive leaf in position. These are fitted on the edge of the door for neatness and security.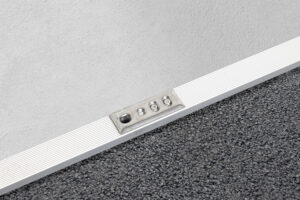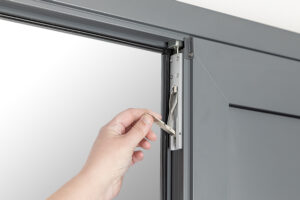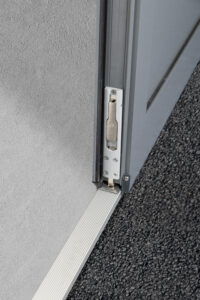 Double Seals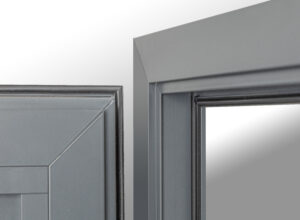 Double rubber seals on the door and frame help protect against the weather and limit dust and debris blowing into the garage
Colour matched hinges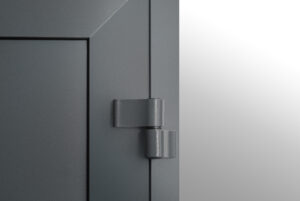 The colour matched hinges are 3 way adjustable allowing for easy adjustment of the leaves to ensure good door alignment and good compression on the door seals. Frames can be in white on a coloured door at no extra cost.
Long stainless steel handle option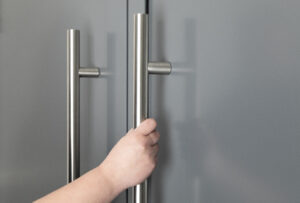 If the long stainless steel handles are chosen there is no standard external lever handle so the latch has to be activated from outside by a key or from inside with the thumb turn. The standard latch is replaced with a ball catch for convenience.
Value for money
This new range of Fort insulated side hinged doors are approximately 20% cheaper than the immediate competition – this can mean a saving of £200 – £300. If you prefer the Ryterna or Carteck options which are very popular, we also sell these at discounted prices.
Any questions please call 01691 670394 or email sales@arridgegaragedoors.co.uk