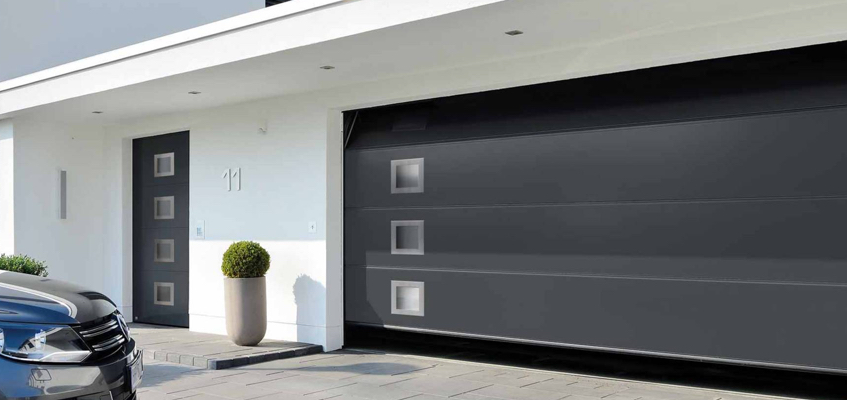 When you think garage doors, you immediately think Hörmann. They have, without a doubt, established themselves as the market leader when it comes to garage doors, with a reputation for quality, durability and reliability. As well as being one of the best known and most trusted garage door suppliers in the UK, they are also the leader throughout Europe.
So who are Hörmann and what makes them the brand of choice for so many people? Let's find out more.
A Background in innovation
The family owned and run Hörmann company was originally founded in the small town of Steinhagen, Germany, in 1935 and its world headquarters is still based there to this day.
The company as we know it today can trace its origins back to the 1950s and the industrial production of a new type of garage door: the iconic up-and-over garage door which is still a hugely popular solution even today.
In the 1960s, space-saving, vertically opening sectional doors for garages were introduced to the range, as well as for industrial and commercial buildings. This diversification initiated a future-oriented development and established the brand as a true innovator in the field.
Although the product range has been extended greatly since those early days, traditional garage doors remain a core product line and continue to be some of the most popular and best selling products.
Today, the Hörmann Group is managed by the third and fourth Hörmann generation, the grandson and great-grandsons of company founder August Hörmann. Thomas J. Hörmann, Martin J. Hörmann and Christoph Hörmann are personally liable partners.
A world renowned brand
Since its formation in 1935, Hörmann has has produced and delivered more than 15 million doors worldwide. It now boasts over 6,000 employees in 27 specialised factories in Europe, North America and Asia, who work together to develop and produce high-quality doors, hinged doors, frames and operators for use in private garages, homes and commercial properties.
The company has an annual turnover of more than 1 billion euros and is present in over 100 individual sales locations in more than 40 countries. It is also represented by sales partners in over 50 other countries.
Hörmann in the UK
In the UK, the company trades as Hörmann (UK) Ltd, a wholly owned subsidiary of Hörmann KG.
First established in 1979 from a small industrial unit in Leicester, Hörmann UK saw continual growth and in 1993 moved to new premises at Whetstone in Leicester.
In 2000, as the company continued to expand due to the popularity of Hörmann garage doors, they moved into purpose built offices at their current location in Coalville, Leicestershire, giving them a footprint of 8000 square metres.
In 2006, they built on remaining land to add a further 3800 square metres of assembly/warehouse space and 200 square metres of office space, providing a total building footprint of  12,000 square metres.
Today, UK production of Hörmann garage doors is carried out at their Yeovil site.
As an approved agent for Hörmann garage doors, Arridge Garage Doors offer the very best in quality garage doors at some of the most competitive prices on the market, as well as a full nationwide installation service. With almost 30 years of experience in the market, we are well known for our exceptional knowledge and customer service. To talk to an expert now about the right garage door for you, call us today on 01691 670394.