Choosing a new garage door can potentially be a confusing task and if you don't consider your requirements carefully, you could end up with a garage door, which isn't right for you or your house. Garage doors serve a number of purposes apart from security and protection from the elements. Here are four things to consider when choosing a garage door.
Consider your home
Ideally, the garage door should complement the house and its style, including the doors and windows that are in place. When choosing garage doors, it is best to consider your home and it's existing features.
Garage doors we sell are available in many different styles, materials and RAL colours so it should be easy to select a door, which fits in with the character of your home and the area you live in. For example our wooden garage doors will suit a period property in a conservation area and our insulated sectional garage doors or insulated side hinged doors will not look out of place in an urban environment.
How secure do you want your garage to be?
For many homeowners, security is now a key priority. If security is a serious concern, you will be interested in our range of secure garage doors that are designed with the security conscious in mind. Our range of doors includes Secured by Design accredited doors from Hormann, Garador and Aluroll that offer greater peace of mind and may also contribute towards lower home insurance premiums.
Secured by Design products are endorsed by police forces and offer significantly greater protection against intruders compared to standard garage doors, making them an attractive option for high net worth households and owners of prestige or classic cars among others.
What will you use the garage for?
Although garages are designed for cars to be parked in but are often used for other domestic purposes. Storage is one of the main uses for a garage. They are also commonly turned into home gyms, utility rooms, home offices and playrooms. If you use the garage for anything other than just storing the car, you may want to consider a garage door with an effective level of insulation and no metal tracks suspended off the ceiling. Insulated roller garage doors are ideal for this application.
If you have a garage that is an integral part of the house, you may also want to consider a garage door with higher insulation. All main manufacturers certify their insulated garage doors with a U value to help customers to comply with the current building regulations. Alutech insulated sectional doors and Hormann insulated sectional garage doors are perfect for this application.
Maintenance levels
Choose a garage door that has minimal maintenance requirements if you don't have time to spend repairing and painting it. For instance, steel garage doors require minimal maintenance whereas a timber garage doors need regular upkeep to protect and maintain their appearance.
If your property is located on or near the coast, your garage door will be more at risk of exposure to the elements. We recommend choosing your garage door finish carefully to ensure the maximum possible lifespan and in particular protection from salt corrosion. For example, Aluroll insulated roller doors and Wessex GRP Fibreglass up and over and side hinged doors.
Please note that most  manufacturers will not warrant salt corrosion damage if the door is within 1000m of the sea.
Please follow the above tips when choosing a garage door but also please consult our technical sales team for information on 01691 670394 or email us info@arridgegaragedoors.co.uk 
This will be one of the main purchases for your home and just like any other major home improvement, it should last for many years.
Photo 1: Woodrite Padbury solid cedar wood up and over garage doors in Light Oak finish with plain glazing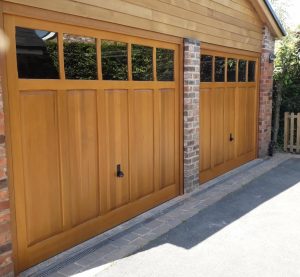 Photo 2: Carteck Medium Rib insulated sectional garage door in Anthracite Grey with cedar cladding above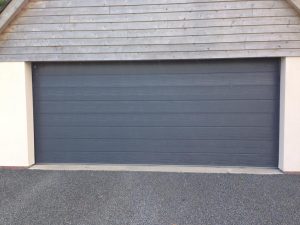 Photo 3: Alutech Small Rib insulated sectional garage door in Red RAL colour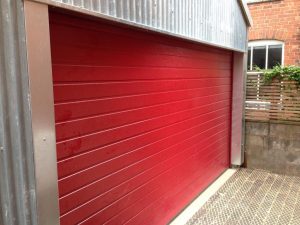 Photo 4: CarTeck Vertical Rib insulated side-hinged doors in Anthracite Grey in one third two third split with a long pull handle