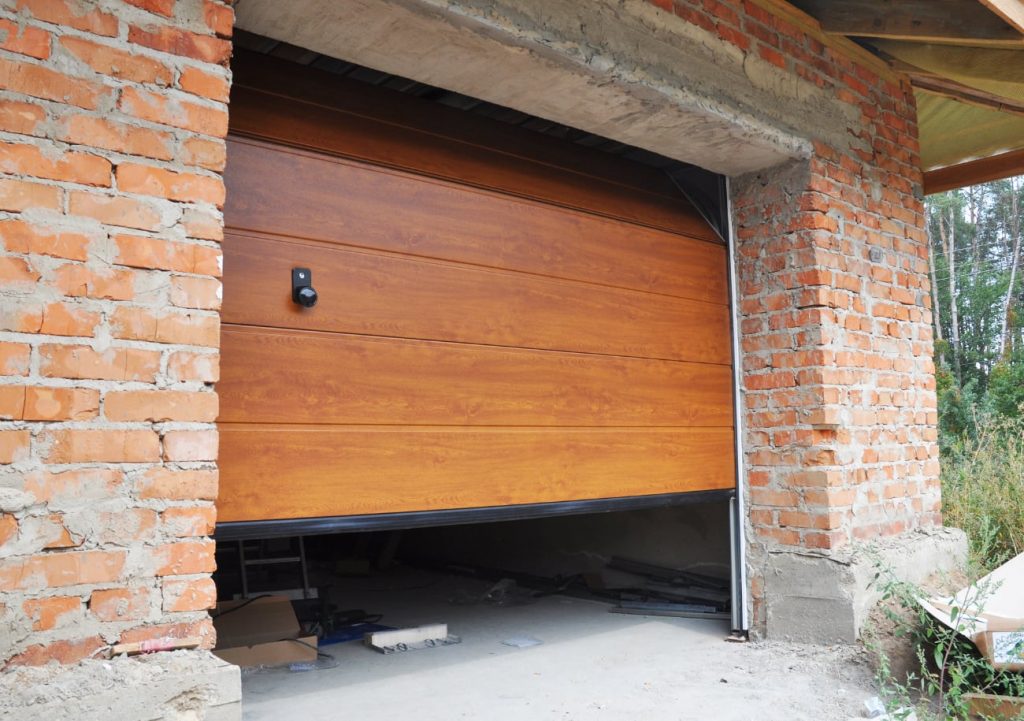 Spring is finally upon us and across the UK we were treated to a spell of unusually hot and dry weather over the Easter break. Most homeowners are now hopeful that the good weather will return through summer. The Easter and May Day holidays are traditionally a time for spring cleaning, and with the lovely conditions many people turned their attention outdoors to their grounds, gardens and garages for the first time this year. Whether you've been digging out the garden tools, attempting to restore order in your garage-come-storeroom or simply begun thinking about freshening up your property, you may well have found yourself wondering if a new garage door might be something to think about. Read on to discover the signs that it's time to replace your garage door.
1. Your garage door isn't working properly
If you have found yourself struggling to open or close your garage door or the mechanism appears to have seen better days, it may be a good time to consider replacing your garage door altogether. Although there may be a possibility to repair the door or mechanism, if the door has stopped working properly as a result of wear and tear due to age, investing in a new garage door may be the better option.
2. Your garage door is not practical
Many homeowners use their garage for an alternative purpose, from storing garden tools to outdoor equipment such as bicycles and fishing gear. Home gyms, offices and entertainment rooms are increasingly popular alternative uses for garages, while many small business owners use their garage to store items such as tools and stock. If this sounds like you, you may well have discovered that a standard up and over garage door is anything but practical. With the weather dry, calm and relatively predictable at this time of year, now is a great time to consider having your garage door completely replaced with something that is much better suited to your needs.
You may wish to consider a roller shutter door or a door with a 'wicket door' for easy pedestrian access. A wicket door allows you to access the garage without having to open the entire door, helping to increase privacy and avoid exposing the contents to the elements. It also allows you to make more use of the interior space. A roller door can be a good choice if you wish to free up ceiling space for lighting or a film projector, or fit floor to ceiling shelving.
3. Your garage door looks overdue for replacement
If your garage door is looking old and tired or simply isn't the right fit for your property, a new garage door may be a great way to invest in improving your home's appearance. Older doors may show signs of peeling or buckling, meaning that they fail to provide a good seal for protection against the elements. This can also be a security risk as it makes it easier for the door to be forced open. If you feel that your door is in need of attention, get expert advice now so that if a replacement is needed, you can get the work done well ahead of autumn. With such a wide range of colours and finishes across all types of garage doors, it has never been easier to choose a door that is a perfect fit for your home, be it a country cottage, a modern new build, a listed building or any other kind of property.
4. You want to improve security
With security becoming a major concern for more and more homeowners, spring is a good time to consider replacing your existing garage door with something that offers greater security. Hormann and Garador both offer a selection of enhanced security doors that are Secured by Design accredited, meaning that they are endorsed by the police force. They boast a range of features such as durable materials and construction, close fitting seals, force resistant locking mechanisms and more. As well as helping you to feel more secure, such doors may also help to reduce your home insurance premiums.
5. Your garage is too cold in winter
If you are using your garage for an alternative purpose such as a gym, home office or storage space, or would simply like to improve the overall energy efficiency of your home, then it may be worth considering investing in an insulated garage door. An insulated garage door will offer increased protection against the elements, helping to reduce heat loss and improve the comfort of your garage space by allowing a more consistent temperature to be maintained. For maximum insulation, the recently launched Hormann LPU67 door has a U-Value of 1.0 Wm2K for the fitted door making it a popular choice for many customers including builders of "passive houses".
For garage door advice, sales, fitting, repair and automation from a trusted, nationwide supplier with over three decades of experience, call Arridge Garage Doors today on 01691 670394 and discover the incredible range of options we can offer.