The last in our 2018 trend prediction series, we focus on the rise in popularity of windows featuring in garage doors.
A trend for customers to opt for glazed garage doors that emerged in 2017 is likely to continue in 2018 as people recognise the benefits of windows in their garage door.
Glazed doors – or doors with glazed sections – provide natural light into a garage space. This is particularly useful if the space is to be used for activities such as a gym, playroom or workshop. Windows are offered in a choice of finishes such as clear, stippled or frosted. The frosted finish provides natural light while giving privacy and security.
---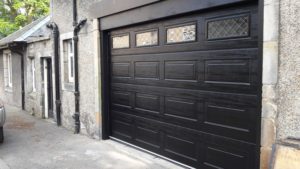 Glazing also provides an individual style to a garage door. An example can be seen here with this CarTeck insulated sectional garage door in Black Georgian panel design with four diamond leaded detail windows. This design was chosen by the client to match the existing glazing in his property.
---
Another example is this pair of CarTeck insulated side-hinged doors with rectangular windows set vertically in each door leaf.
---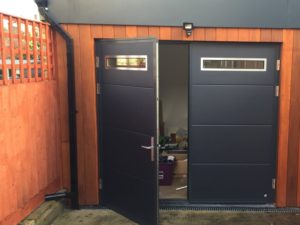 For a more contemporary effect, this set of Ryterna side-hinged doors have small rectangular windows with stainless steel frames set horizontally in each leaf. The stainless steel window frames and hinges complement the building's cedar cladding and create a very modern look.
---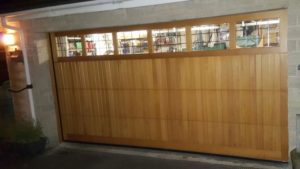 For a more traditional effect – suitable for period properties – is this up and over Derwent model from Cedar Door in natural cedar with a medium oak wood stain finish.
---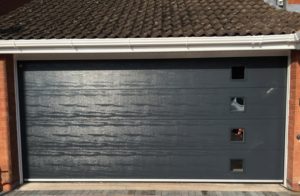 Windows can be added to each section of insulated sectional garage doors such as in this double Alutech large rib woodgrain door.
---
We expect new window options to be added by garage door manufacturers during 2018. If you would like to discuss the options available, please call us on 01691 670394.