Insulated Side-Hinged Garage Doors
Superior quality, 40mm thick, foam-filled insulated side-hinged garage doors from Carteck, Ryterna and Wisniowski and 20 mm thick panel from Fort at discounted prices. Double seals for excellent draught reduction, most styles available in 1/2-1/2 or 1/3-2/3 split (Carteck, Ryterna and Wisniowski only). Carteck doors are made in Britain using German-made panels. Ryterna doors are made in Lithuania. Fort are made in the UK and Wisniowski in Poland.These insulated, side-hinged garage doors offer significant thermal and accoustic insulation and draught-proofing. Door leaves come pre-fitted to the colour-matched frames with strong hinges. Carteck doors have new concealed hinges and high quality, brushed stainless steel door handles and escutcheons. Carteck and Ryterna doors come with telescopic door stays as standard, available from Fort and Wisniowski as an optional extra. All doors come with quality internal shoot bolts. The optional raised threshold profile is a sturdy, aluminium extrusion with crushable rubber insert against which the door leaves seal. Highly recommended to maximise draught-proofing. Various horizontal, vertically ribbed and Georgian designs available. The rear of the Carteck and Ryterna side-hinged door leaves are off-white, interior of Wisniowski is grey white ,smooth and wipeable. Ideal for integral garages, home workshops, home gyms, hobby and play rooms and numerous light industrial & commercial applications.
Different makes and designs of insulated steel side-hinged garage doors explained.
Why Insulated Side-Hinged?
Side-hinged garage doors have long since been popular on garages used as workshops, utility rooms, home offices, home gyms, playrooms and on the odd occasion to take a car! The conveniences of easy pedestrian access, privacy and space maximization inside the garage have been added to by Carteck in their insulated side hung door developed specially for the UK market. Carteck Teckentrupp Germany make twin-walled, steel, 40mm thick insulated panels which form the basis for the product.
---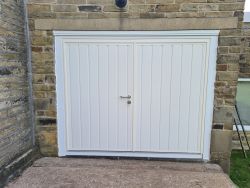 These Carteck Vertical standard rib woodgrain insulated side-hinged garage doors in Cream shown on the picture were supplied by Arridge Garage Doors Ltd and installed by Jeff, our North of England fitter. These were some of the first doors we have supplied with Carteck's new concealed hinges.
Carteck GSW 40-L insulated side hinged doors. Numerous options on size, design, finish, colour and windows.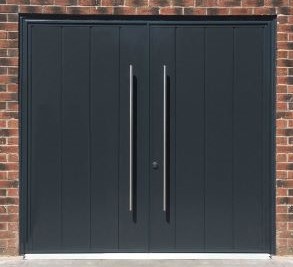 Carteck centre rib
vertical, smooth side hinged doors in anthracite grey with D handles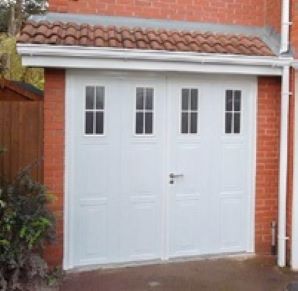 CarTeck georgian vertical side hinged doors
in woodgrain. White with cross mullian windows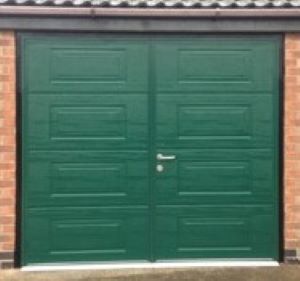 CarTeck georgian horizontal garage doors
in woodgrain and moss green.
---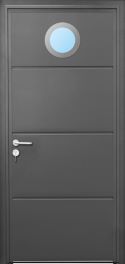 Matching Side Door with Stainless Steel Porthole Window.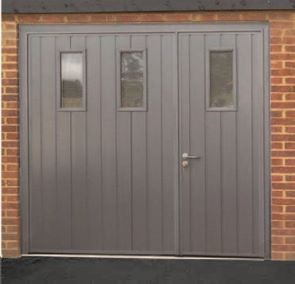 Standard vertical rib woodgrain side hinged doors with rectangle type 1 windows.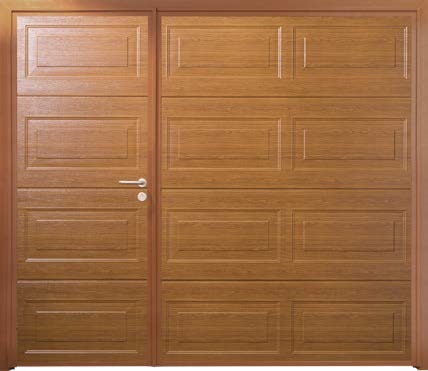 CarTeck Georgian Horizontal
side hinged doors in woodgrain golden oak.
---
Horizontal or vertical designs available in Georgian, Standard Rib, Centre Rib or Solid Smooth design and a choice of Smooth, Woodgrain or Stucco finish.

All doors are made-to-measure at no extra cost.

White, Golden Oak, Rosewood, dark Oak or a choice of 16 standard Trend colours. Any RAL or BS colour on request.

Widths available upto 2500mm wide including frame and heights upto 2359mm.

Numerous window types available including round and square porthole windows positioned within the door leaves to suit your specification.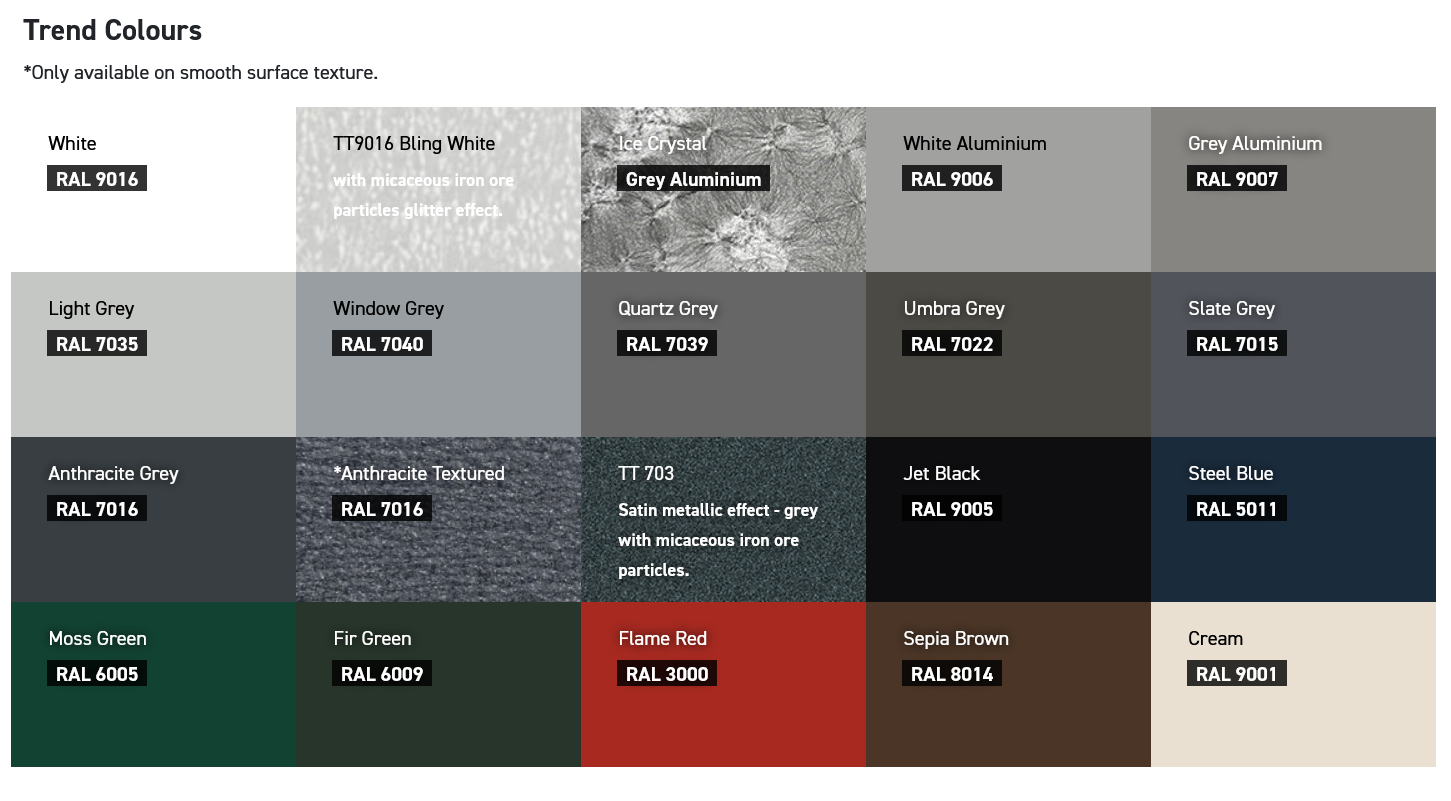 Carteck Trend RAL colour chart.
Carteck Georgian Door Panel Detail
Horizontal Georgian doors with the Georgian features in "landscape" orientation have 2 columns of panels. Widths of 2350mm and over have 3 columns and are asymmetrical as shown.
Vertical Georgian doors have 2 rows of features, as standard. Only on doors of 2200mm high and above have 3 rows of features. This height increases to 2250mm for doors with windows.

Minimum width Georgian single leaf 850mm, double leaf 1350mm.

N.B. if considering off centre split doors, maximum possible leaf size is 1300mm. If a greater width is required, please see the Ryterna Insulated Side-Hinged doors, in which this is possible.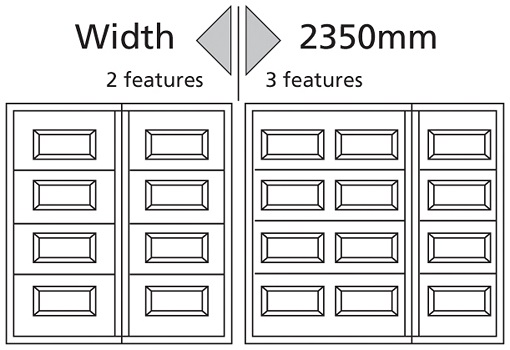 Carteck Horizontal Georgian doors with the Georgian features in "landscape" orientation.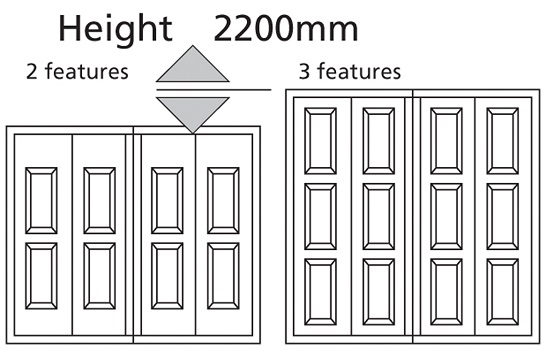 Carteck Vertical Georgian doors have 2 rows of features, as standard.
---
The Carteck panels are assembled into a perimeter frame to form the door leaves and these are hung on a matching box section aluminium goalpost.

Much increased strength, heat retention and noise reduction compared to standard side-hung garage doors, all round rubber seals, stainless steel handles, security locking and telescopic door stays make these doors an excellent choice.

The back of the doors is always in RAL 9002 grey stucco finish. It is light, but serviceable, easy to wipe clean with no ugly bracings on the back.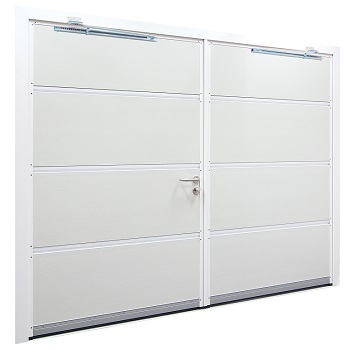 Inside view of Carteck side-hinged doors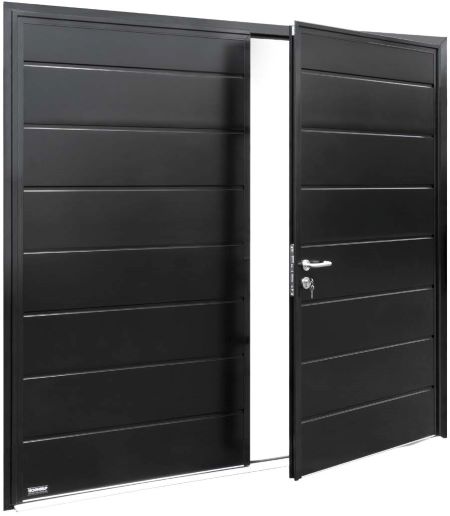 Outside view of Carteck side-hinged door.
Standard features included with Carteck GSW 40-L insulated side hinged doors at no extra cost.
All Carteck insulated side-hinged doors come with a colour matched frame. N.B. Wood laminate finish doors come with complimentary flat colour frame, not foiled woodgrain: Golden Oak RAL 8003; Rosewood RAL 8016; Dark Oak RAL 8014; Winchester Oak RAL 8001.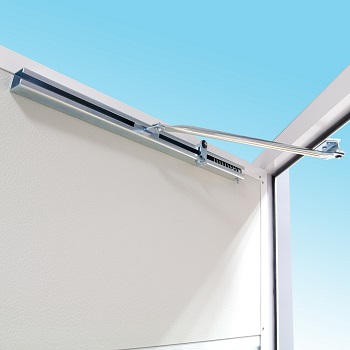 Extra neat, spring dampened door stays hold the doors in the 90° open position. They prevent wind slam or wind flinging the doors back on themselves.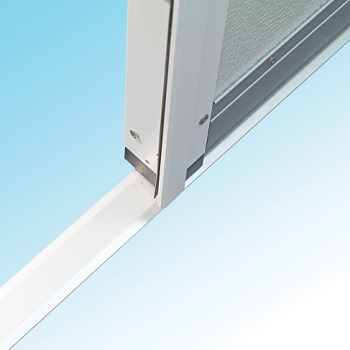 Standard brushed aluminium threshold braces the frame legs at the bottom and give the door seals along the bottom edge of each leaf something to seal against.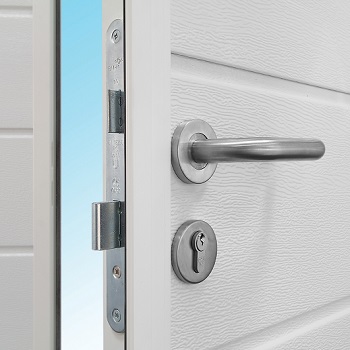 Attractive, high quality, brushed stainless steel handle and Eurolock escutcheon. Double throw sash mortice lock and secure centre cover strip on the active leaf ensure a high level of security.
---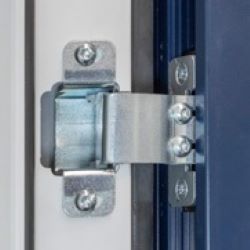 Depending on door size, 2 or 3 new concealed aluminium hinges are fitted per door leaf. These hinges are adjustable, enabling easy on-site fine adjustment of the doors. No hinges to the outside of the door removes an obvious point of attack and also makes it difficult to lever open the door should an attempt be made.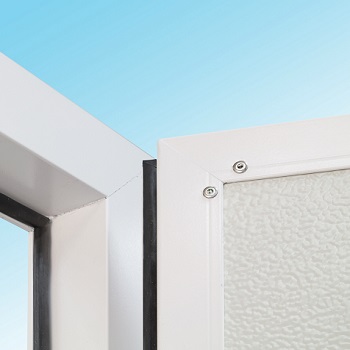 Quality weather strips on all four edges of the door and on the three sided door frame greatly increase draught sealing and weather proofing.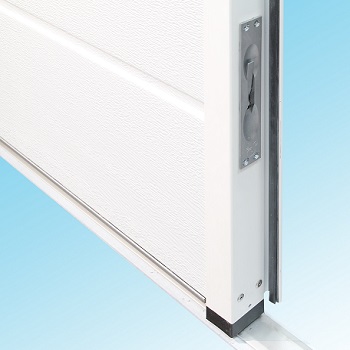 Sturdy shoot bolts top and bottom of the fixed leaf are neatly set into the door edge, giving a very neat internal appearance.
Optional extras for Carteck GSW 40-L insulated side hinged doors are available at additional cost.
Triple point locking and a heavy duty aluminium threshold with inbuilt seal are available as optional extras for Carteck GSW 40-L doors.
Please see photos below.
Triple point locking. The active leaf is available with key operated 3 point locking to further increase the overall security of the door.
Heavy duty aluminium threshold. A sturdy aluminium extrusion, with a rubber lined rebate into which the door leaves close, is recommended to improve the draught, weather and debris seal along the bottom edge of the doors. A built-in thermal break in the threshold reduces thermal transfer. Can be driven over by vehicles without fear of damage.
Any questions? Phone us on 01691 670394 or contact us with your specific questions or requests. We look forward to hearing from you.
---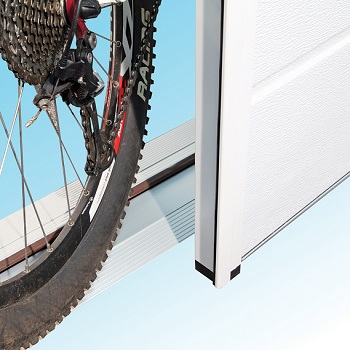 Optional heavy duty aluminium threshold with inbuilt seal for Carteck GSW 40-L insulated side hinged door.
---
Fort Insulated side hinged garage doors available in standard sizes or made to measure
One of our main suppliers, Fort Doors of Birmingham, recently launched a new range of
insulated side hinged garage doors
. They were created in response to the demand for insulated side hinged doors driven by the many and various uses that people have for their garage space. Ideal for home gyms, hobby rooms, home workshops and secure bike/motorbike storage.
---

This door set was one of the first new Fort side hinged that our fitter Paul had installed and this particular customer in Shrewsbury chose the optional 1200mm long brushed stainless steel pull bar handles to give an enhanced modern appearance.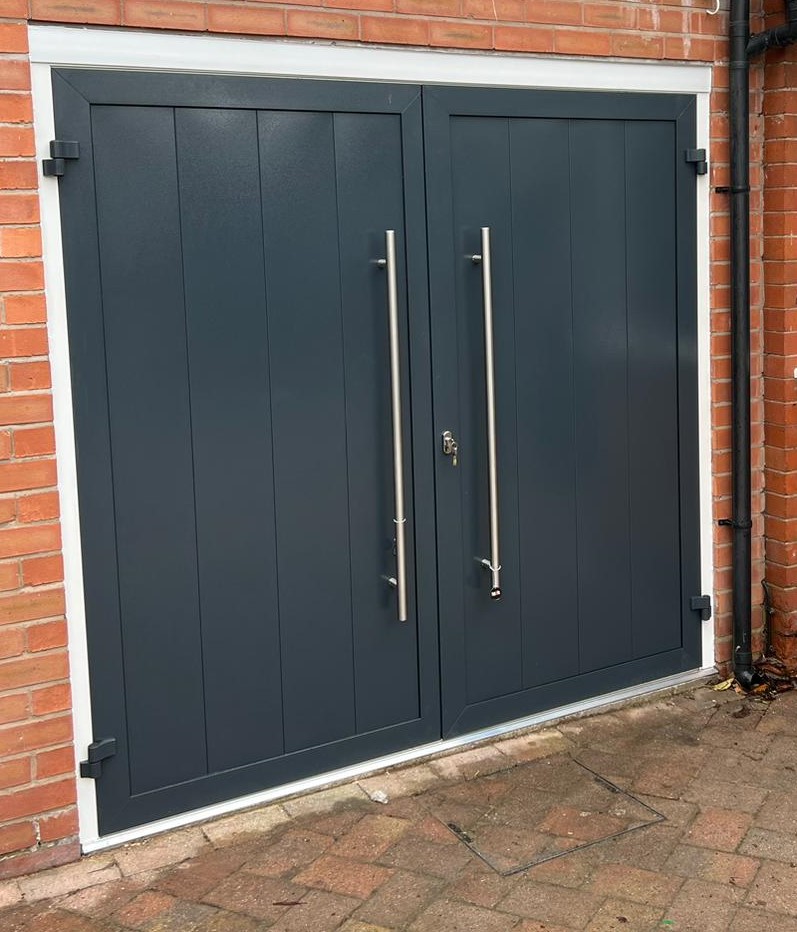 Made in Birmingham, these UK manufactured doors are UKCA marked and manufactured under Fort Door's ISO 9001 quality systems ensuring safety, reliability and quality
---
Features and custom options of the Fort insulated side hinged garage doors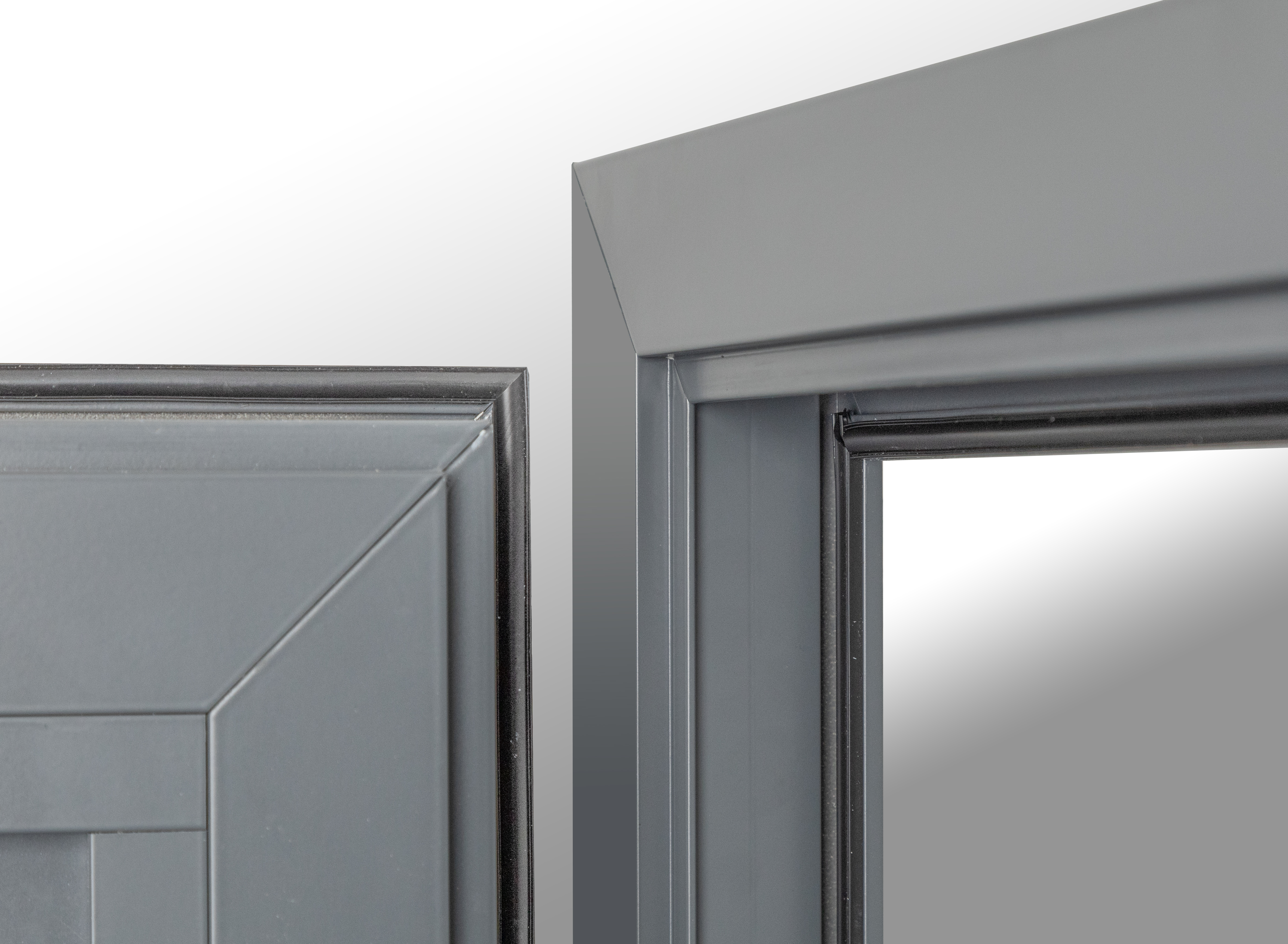 Double rubber seals on the door and frame help protect against the weather and limit dust and debris blowing into the garage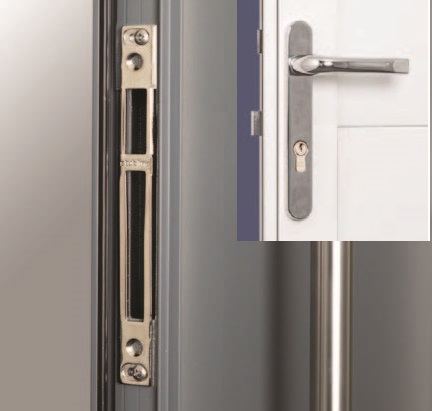 A robust high quality chrome handle comes as standard with a sturdy latch and deadlock. An adjustable keep allows fine adjustment to ensure precise latching. The thumb turn on the inside is nice and easy to use.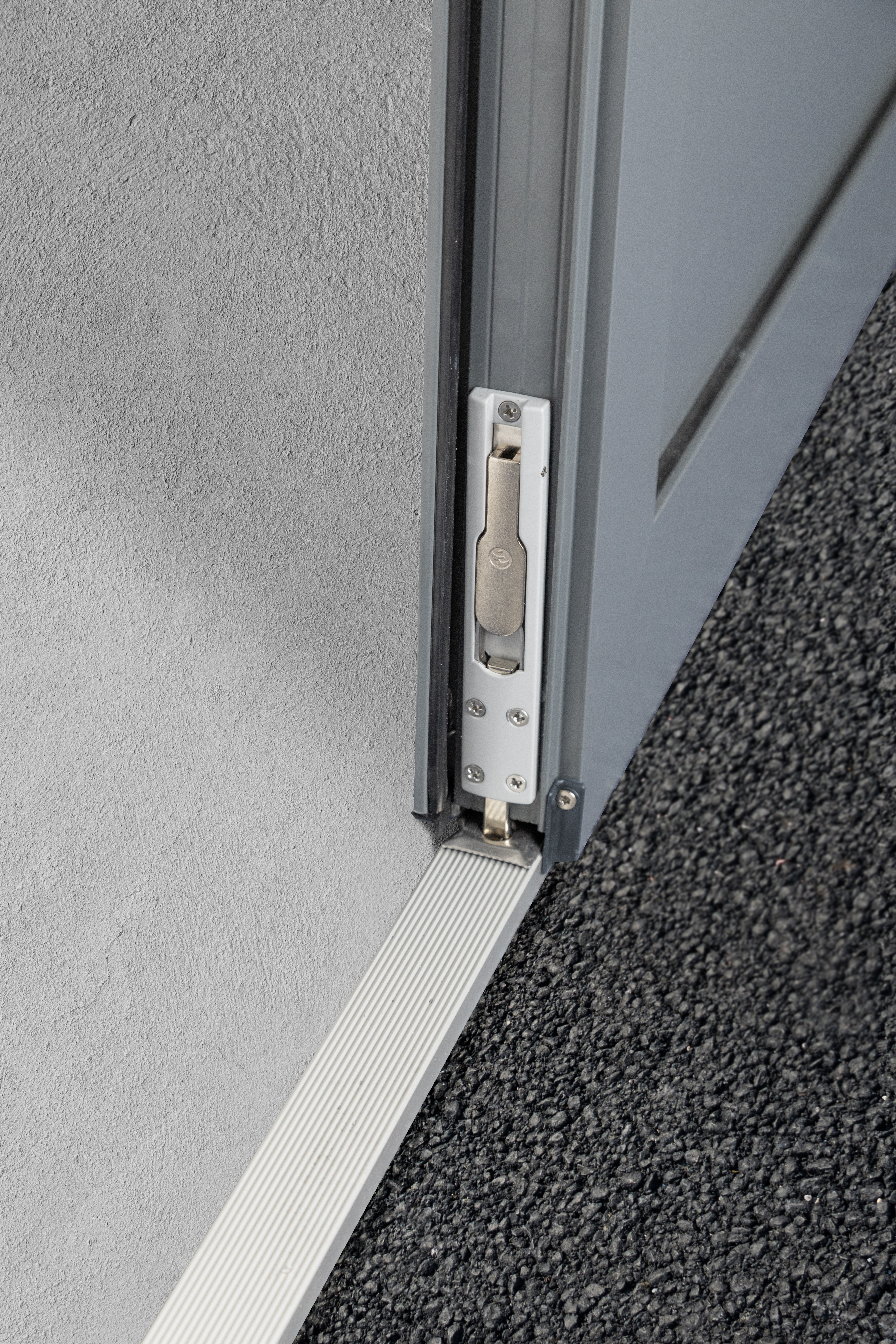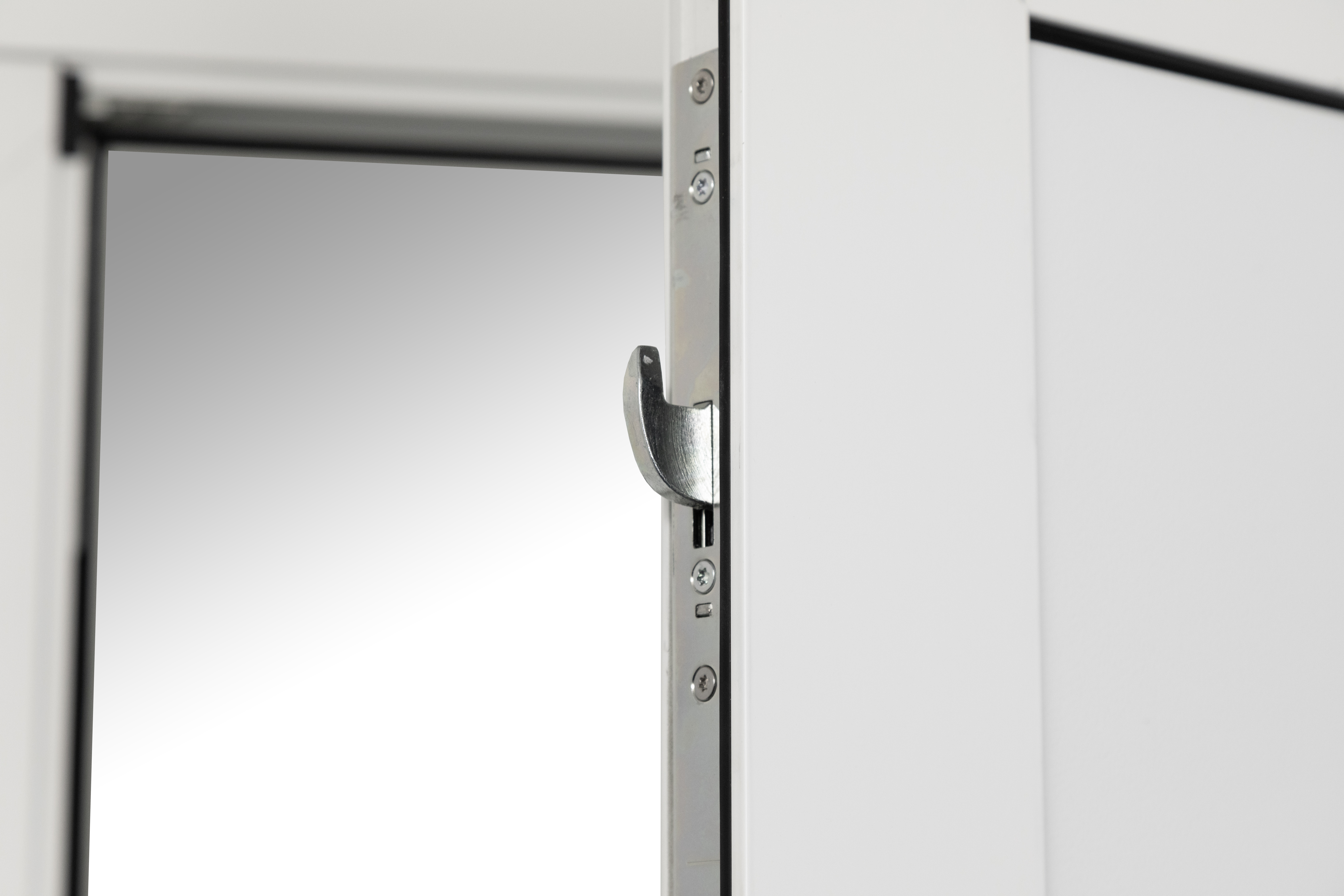 Shoot
bolts top and bottom secure the inactive leaf in position. These are fitted on the edge of the door for neatness and security.
---
The colour matched hinges are 3 way adjustable allowing for easy adjustment of the leaves to ensure good door alignment and good compression on the door seals. Frames can be in white on a coloured door at no extra cost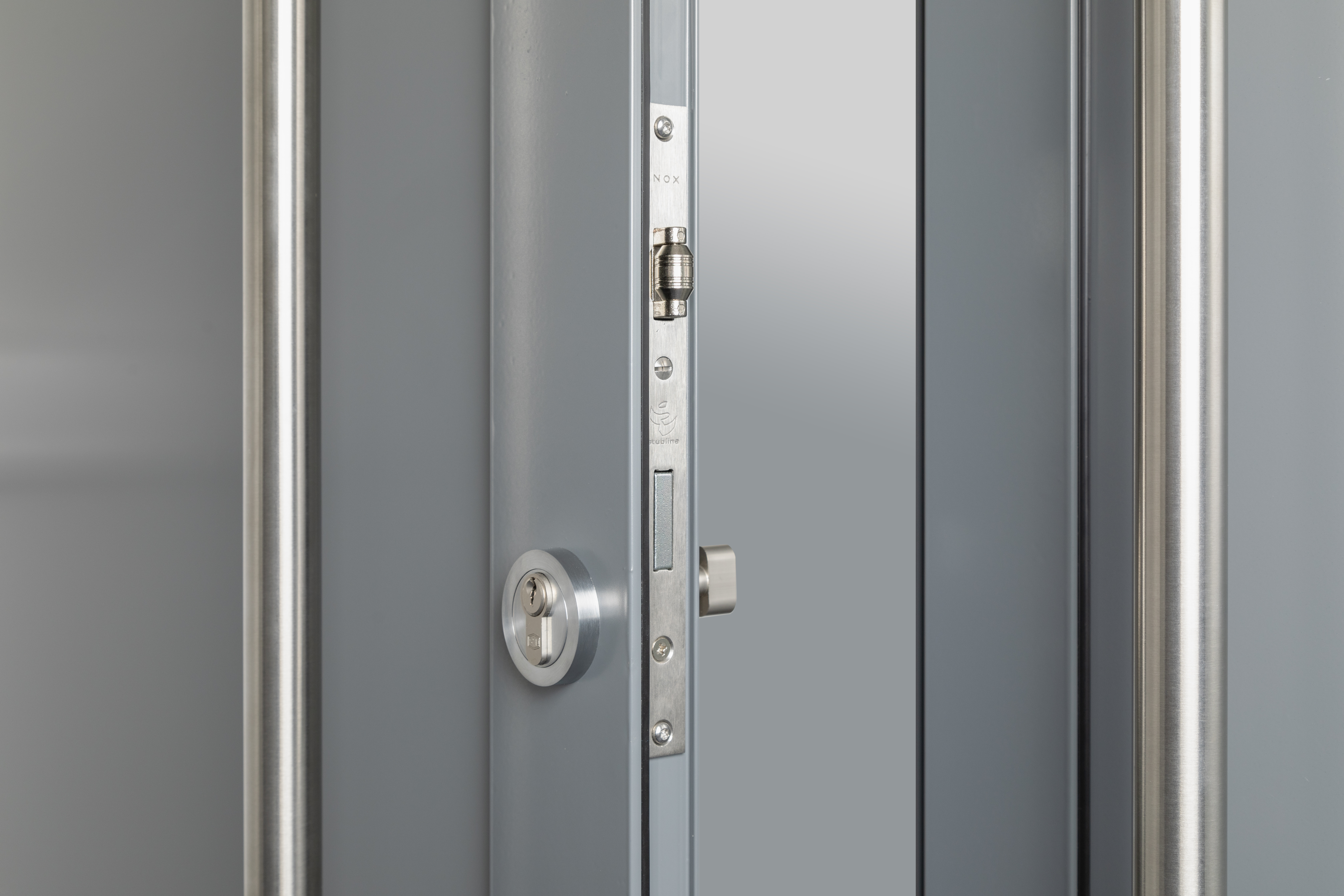 If the long stainless steel handles are chosen there is no standard external lever handle so the latch has to be activated from outside by a key or from inside with the thumb turn. The standard latch is replaced with a ball catch for convenience.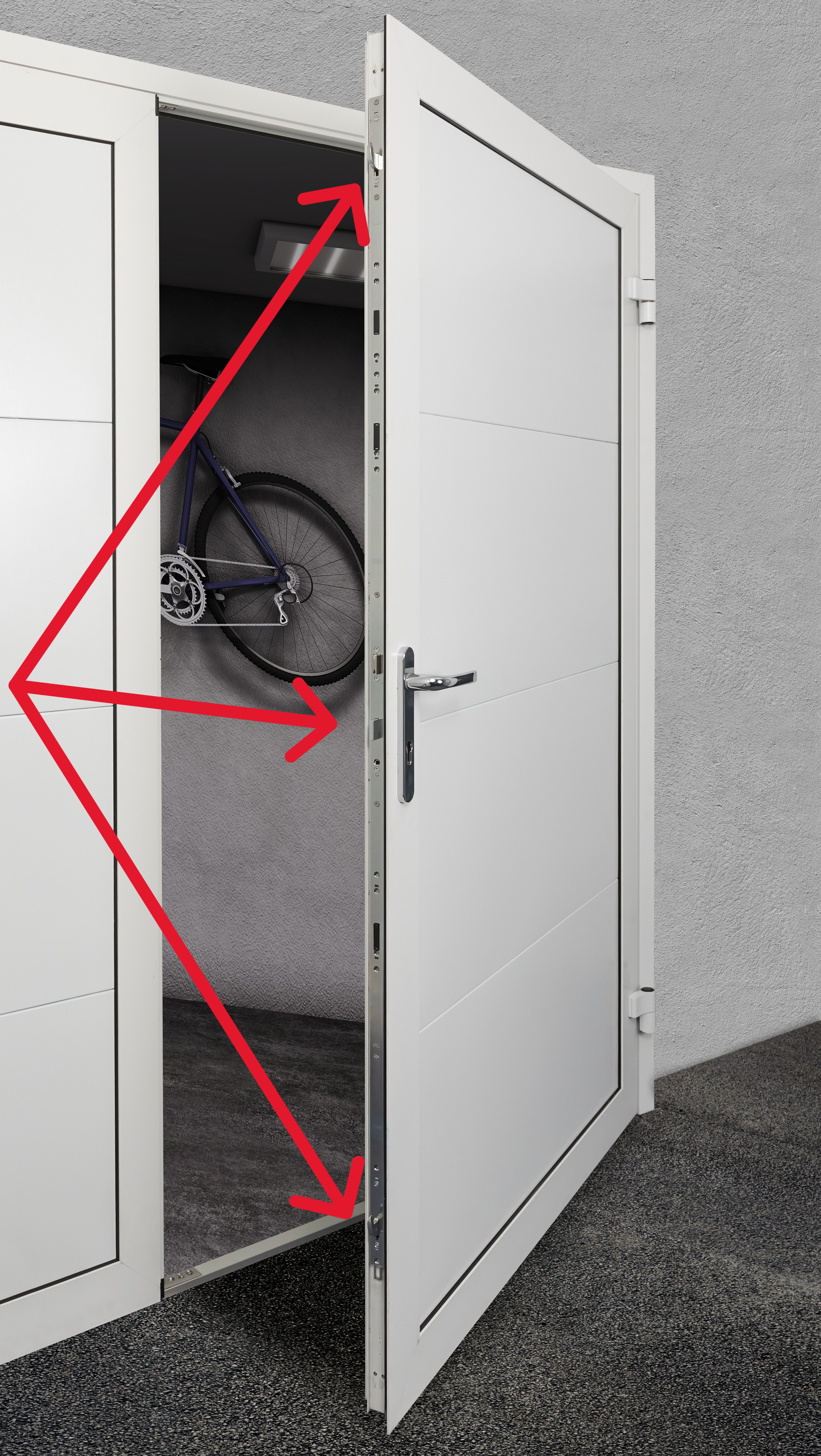 There is multi point locking available as an optional (costed) extra. This adds twin hook locks in addition to the standard lock.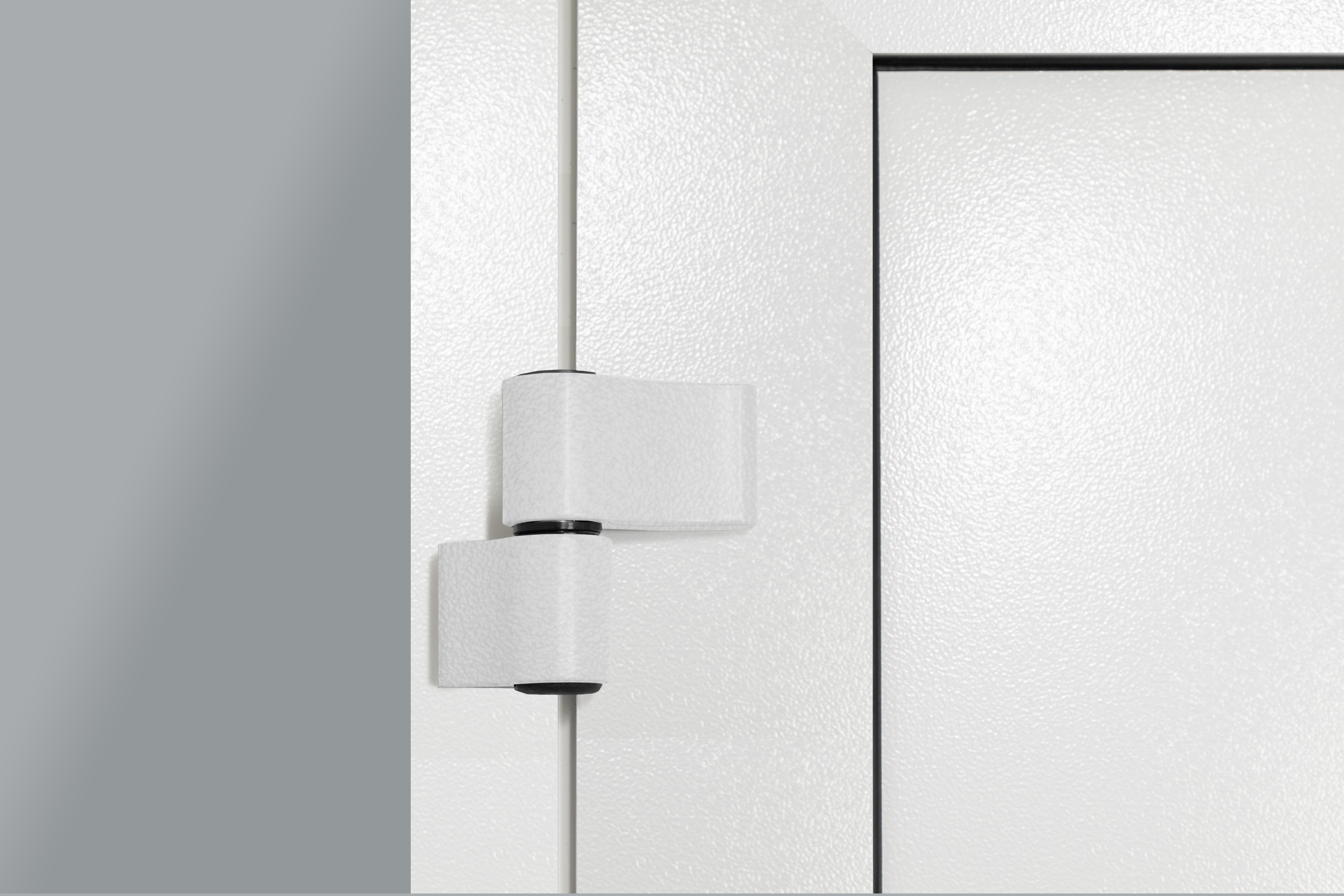 Doors are available in a classic ripple textured finish in a range of 28 colours.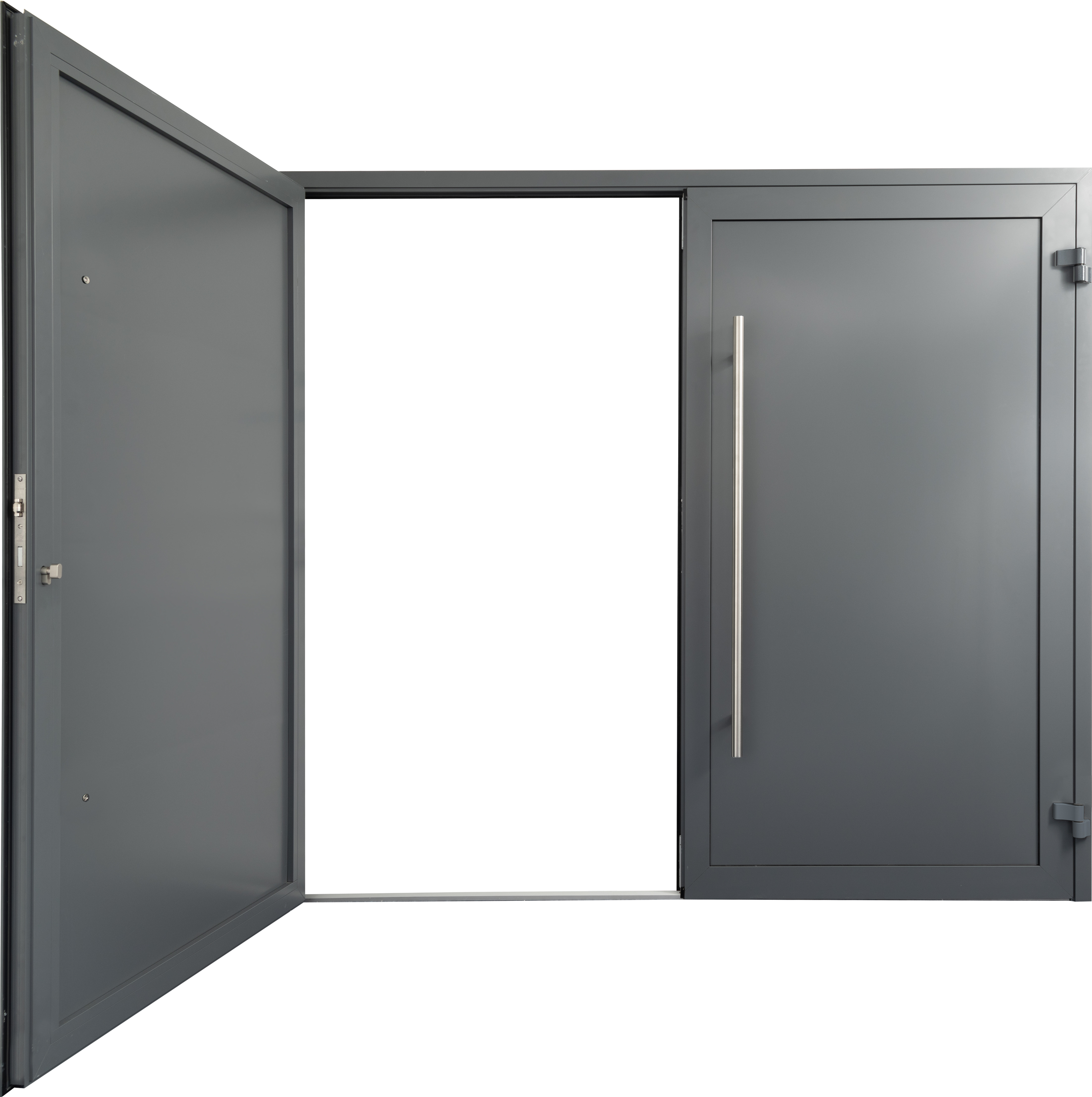 Doors have a very neat, flat inner face, free from joints.
---
Wisniowski insulated side hinge doors - all doors made to measure
Wisniowski are one of Europe's leading sectional door, front door, side hinged, personnel door and high quality fencing manufacturers. Now in the UK in 2022 they offer high quality and excellent value for money.
Insulated side hinged doors offer the possibility to adapt perfectly to the rest of your home. Thanks to the use of panel designs L ribbed, M ribbed and Georgian they can also be perfectly adapted to match a sectional garage door. A wide range of colours and laminates, as well as decorative applications and glazing, offer endless possibilities. Single leaf pass doors are the ideal solution in residential construction, as a side entrance or as a door to the garage.
DoorPro 45 insulated side hinged door set
---
Single or double leaf version available
Door chassis and door frame are 45mm aluminium profiles with a 1 chamber system
Non-thermal break
Vertical panel placement available
Door leaf panel is the same structure as UniPro sectional door panel.
The inside of the door panel structure is finished in RAL9002
Opening direction inwards or outwards, left or right
Rebated seal along the entire perimeter of the door leaf and frame
Symmetrical and Asymmetrical distribution available
Stainless steel handle supplied as standard
3 Point locking supplied as standard
Anti burglary bolts supplied as standard
34 Standard RAL to choose from
41 foiled finishes available
Exclusive - Home Inclusive colour range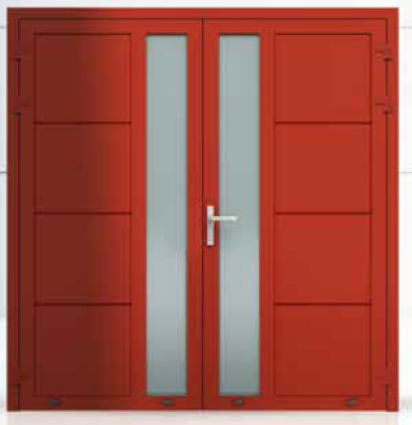 DoorPro 60, 70, & DoorTherm 86 insulated side hinged door set
---
Single or double leaf version available
DoorPro 60 door chassis and door frame are 60mm aluminium profiles with 3 chamber system
With thermal break
DoorPro 70 door chassis and door frame are 70mm aluminium profiles with a 3 chamber system
40mm insulated door panel with CFC-free polyurethane foam, DoorPro 60 & 70.
Vertical panel placement available Horizontal & vertical glazing available
60mm insulated panel with CFC-free polyurethane foam, DoorTherm 86
Side and top lights available Vertical panel placement is available
Symmetrical and Asymmetrical distribution available
Stainless steel handle as standard
5 Point locking as standard
DoorPro 70 - RC3 lock cylinder optional upgrade
DoorPro 60 - RC2 lock cylinder optional upgrade
34 Standard RAL available
41 foiled finishes available
Exclusive - Home Inclusive colour range
---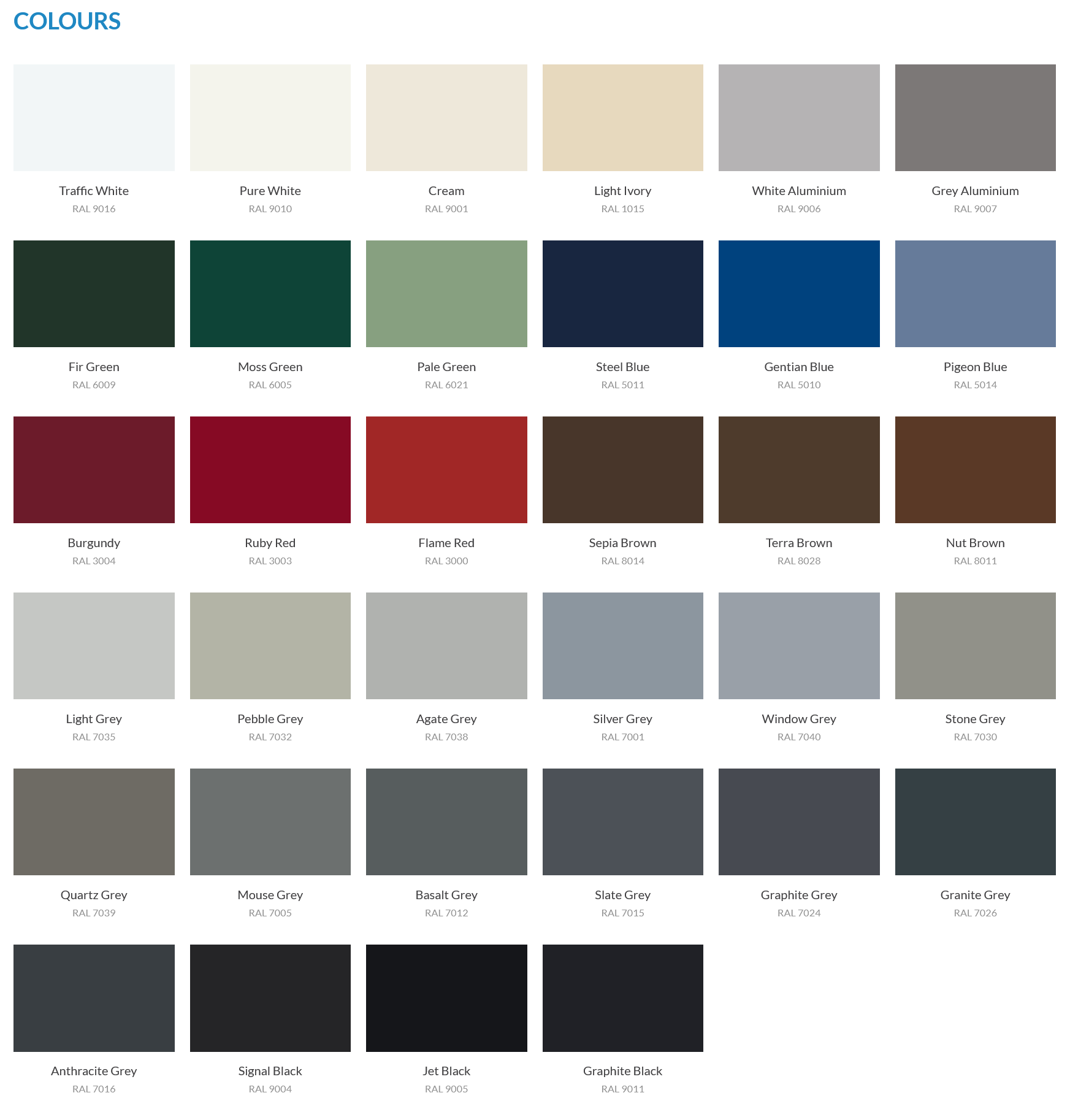 Colour range for side hinged doors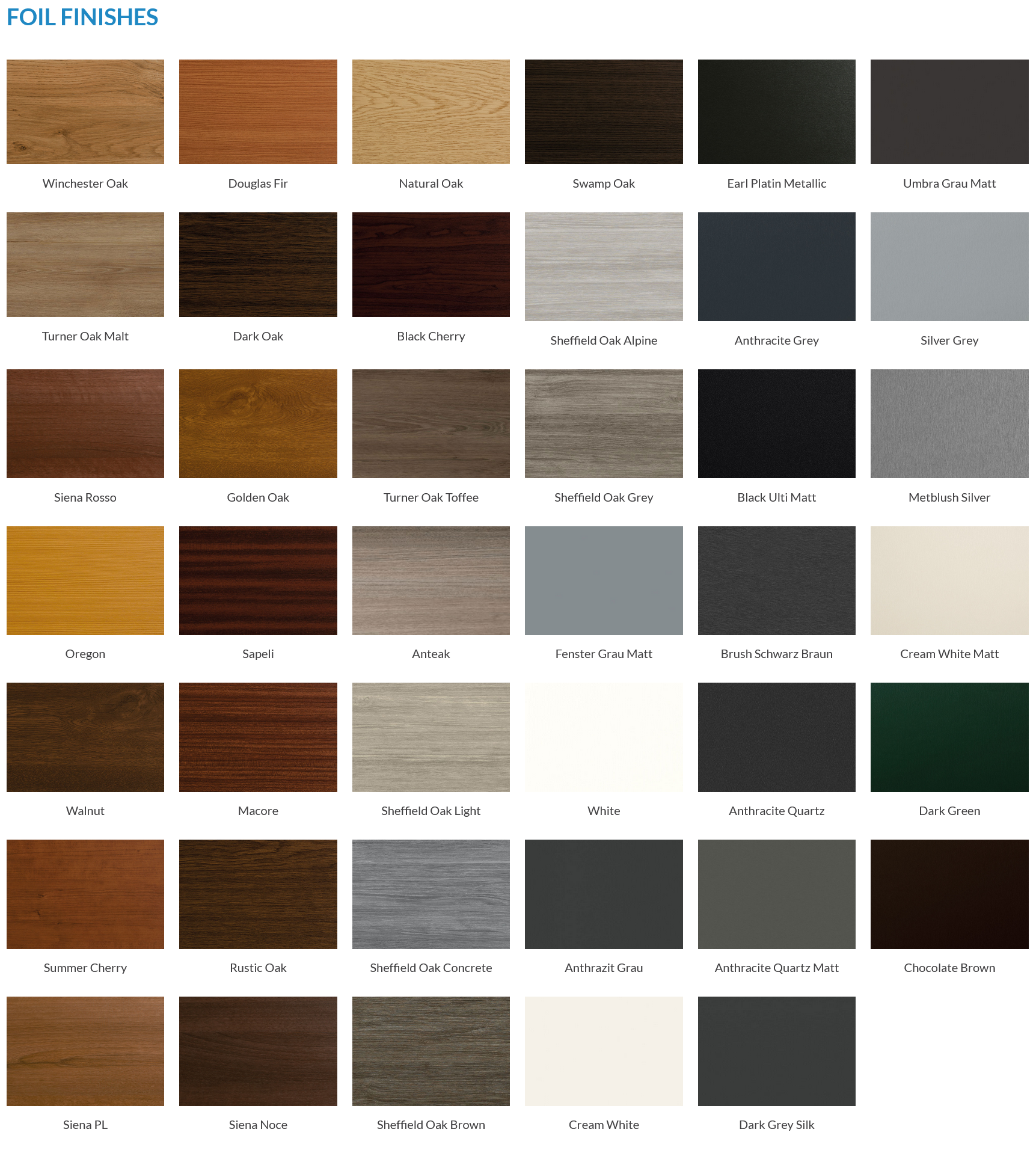 Foil finishes for Side Hinged Doors
---

Jupiter handle - standard with all doors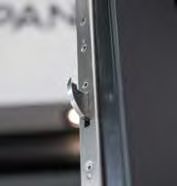 3 point locking as standard with all doors

Sill supplied as standard with the Doorpro 45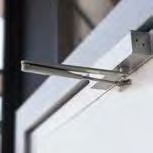 Optional Upgrade - Door closer

Optional upgrade - door stopper

Optional upgrade - Safety pin
---
Ryterna side-hinged garage doors available made-to-measure and in standard sizes.
Every side-hung Ryterna door is manufactured specially to suit a customer's sizes and specification. No bespoke price premiums apply and lead times are generally around 8 -12 weeks.

The two door leaves, goalpost fixing frame and inbuilt threshold are manufactured just 10mm narrower and 10mm shorter than your actual brickwork opening size.

Pairs of doors available upto 3000mm wide and upto 2450mm high. Matching single personnel doors also available.

The door leaves themselves are made from twin-walled, fully finished steel with a rigid foam core 40mm thick. Rubber seals fitted around the perimeter and between the two door leaves minimise draught ingress.
Features included with every Ryterna door:
Choice of various sill types:
Many customers purchasing insulated side-hung garage doors do not park cars in the garage, so a deep threshold improving security and draught proofing is preferred.
The new S5 threshold is a universal threshold 25mm tall which can be driven over. The flat threshold is a popular choice for regular car usage.
Please specify with your order.
No price premiums apply.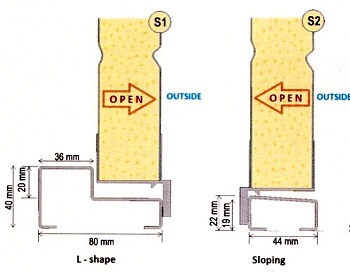 Ryterna threshold options S1 and S2.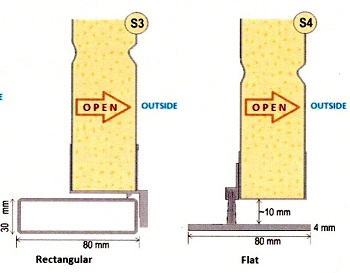 Ryterna threshold options S3 and S4.
---
Ryterna handle choices.
A white, black or aluminium painted handle can be specified with your order.

If a handle painted to match the door colour is preferred, this can be provided at a small extra cost.

---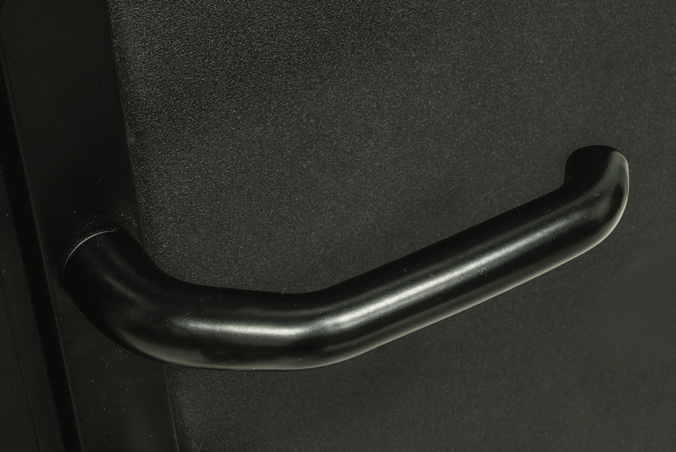 Ryterna standard black handle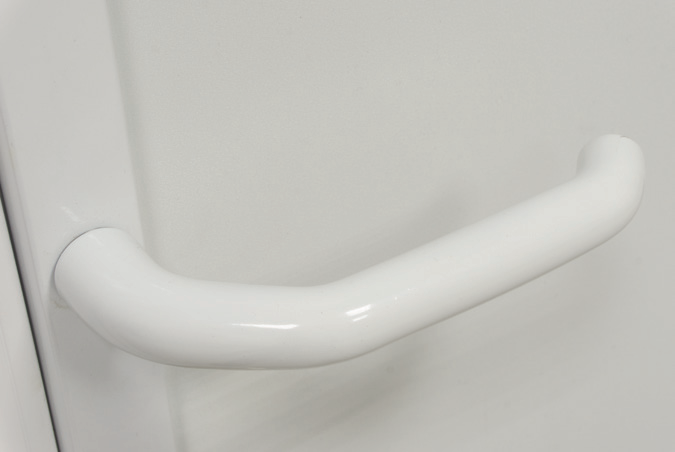 Ryterna standard white handle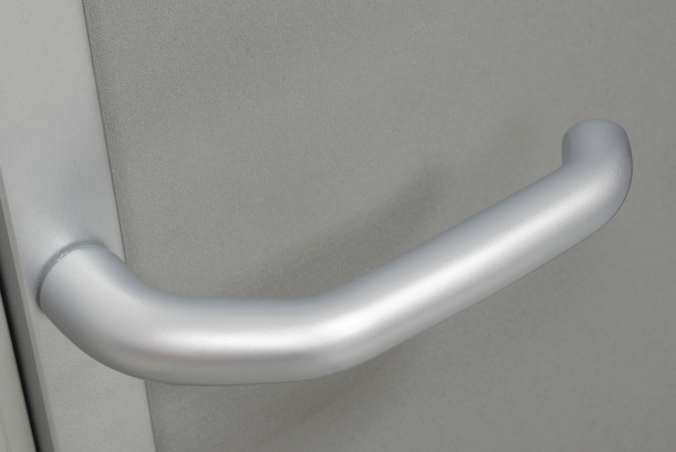 standard aluminium colour handle
Mortice lock and shoot bolt locking
The active leaf has a mortice sash lock fitted which can be locked and unlocked from inside and outside. Sturdy galvanized top and bottom shoot bolts on the fixed leaf are included.
Heavy duty cast aluminium hinges
Adjustable in two directions - allow precise installation. Casted aluminium alloy - robust & safe body, handsome shape. Easy to dismantle and assemble - putting door leafs on is a nice and easy job. Three standard colours: white, black, aluminium - perfect matching with handles.
---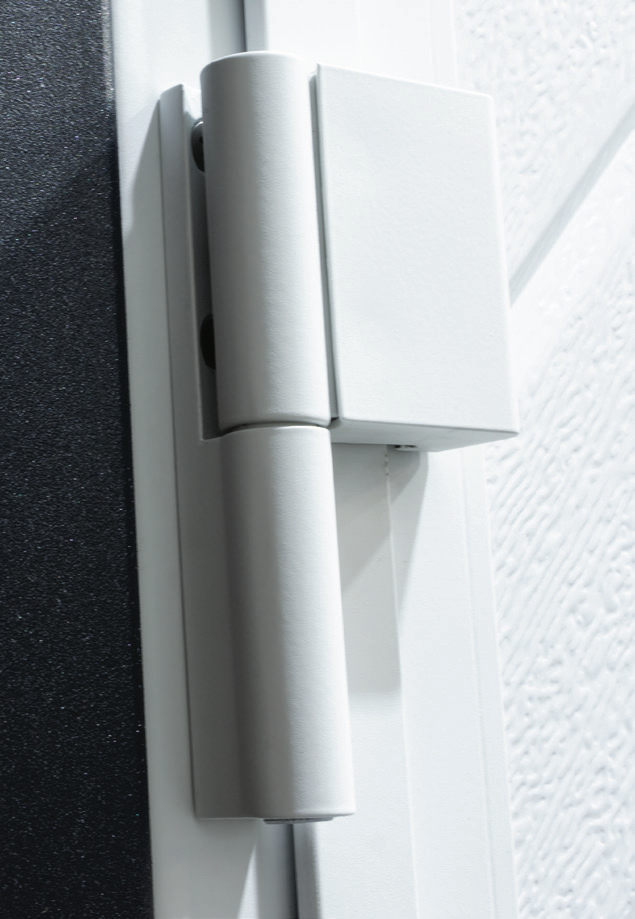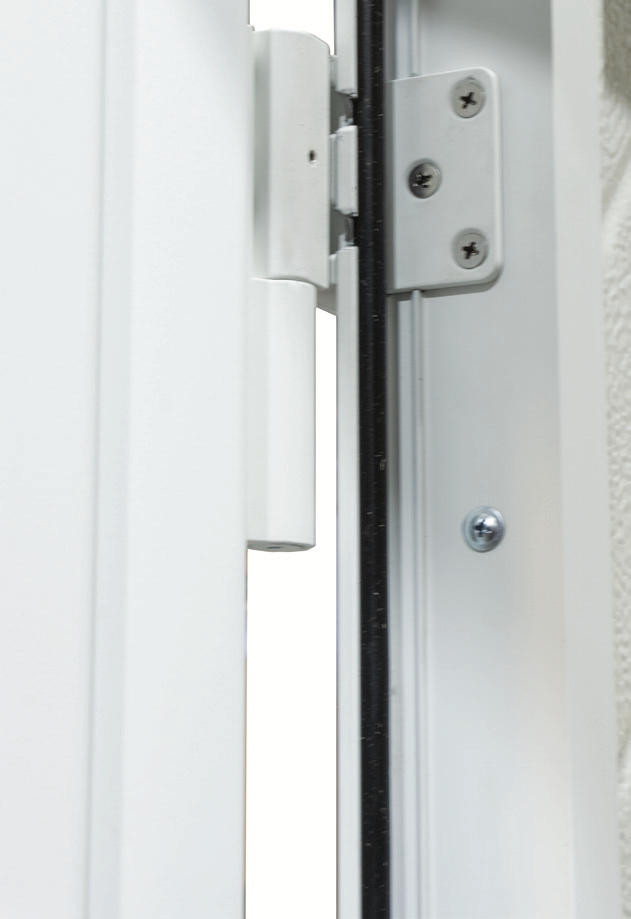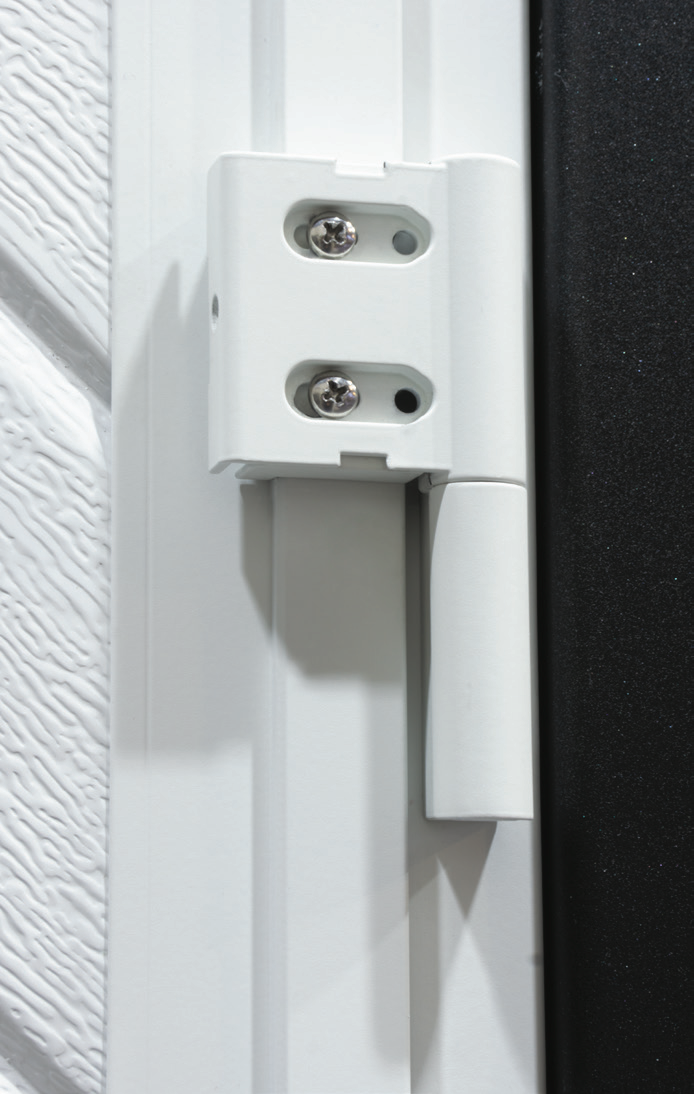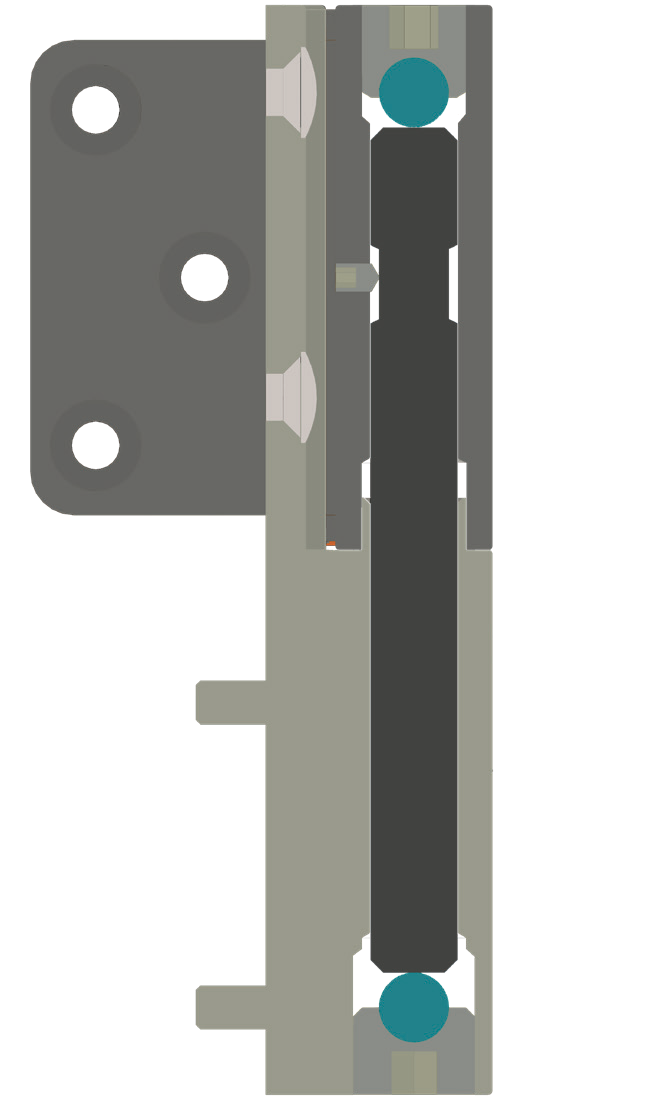 Off-centre split can add convenience
50/50 or Off Centre Split to your specification. Busy pedestrian use is often made easier with a 2/3 fixed door, 1/3 active door. Privacy and ease of use is maximized. Simply specify when you order.
Please see photos and descriptions of Ryterna door features described above:
---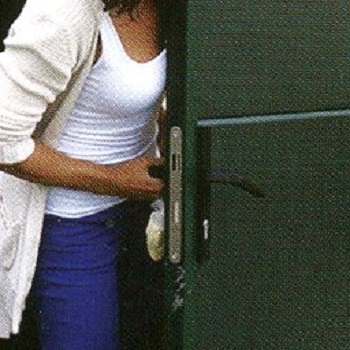 Ryterna mortice sash lock
Anodised aluminium hinges&handle set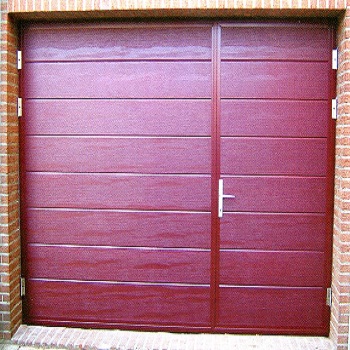 Off-centre split option
---
Low cost optional extras available on Ryterna side-hinged doors.
The espagnolette lock.
The espagnolette lock is a top and bottom shoot bolt activated by a sturdy lever located on the rear of the fixed leaf at chest height.

No reaching up or bending down to disengage the shoot bolts.
Door stays.
Door stays keep the door leaves fixed in the open position. Adjustable leaf opening angle 90° - 135°.

Very useful for garages which house a car to prevent door slam as you drive in and if you like to keep the garage doors safely open and damage free.
The multi-point locking upgrade
The multi-point locking upgrade is a very well priced security upgrade.

Three locks between the two leaves, similar to the locking on a upvc front door, increase the overall security level.
---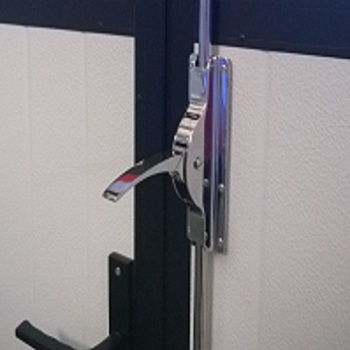 The espagnolette lock

Door stays.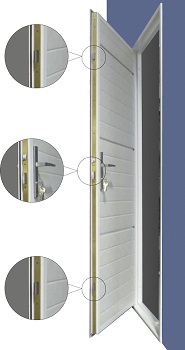 The multi-point locking upgrade
---
Ryterna window and glazing options, stainless steel feature windows and appliqués.
Window and glazing options.
The double glazed window units are available with a following choice of glass:
clear,

sandblasted,

obscure or

tinted polycarbonate.
Scratchproof and strong.
Please see the online brochure to view all glazing options available.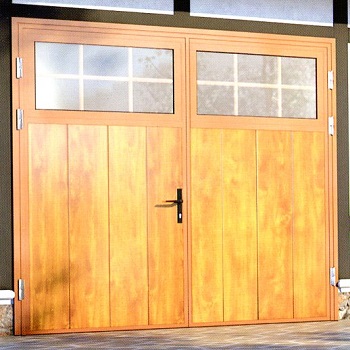 Ryterna traditional glazed side hinged door
---
Stainless steel feature windows and appliqués
Wide range of competitively priced stainless steel framed windows in the following shapes:
square,

round or

rectangular in shape in a range of sizes.
Stainless steel appliqués customise your garage door.
Numerous options and bespoke patterns available at affordable prices, please click here to see our online brochure.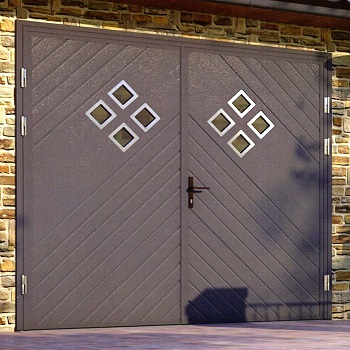 Ryterna Glazed Chevron garage door
Disclaimer
Images
All images are intended for illustration purposes only and are subject to change. Site layouts are intended for illustrative purposes only and may change. Information contained on this site should be treated as general guidance and is not intended to form of any contract or warranty. Images may also include optional upgrades at additional cost.
Prices
The prices shown are correct at the time of being published but are subject to change without notice. Please contact the sales office for accurate price information.