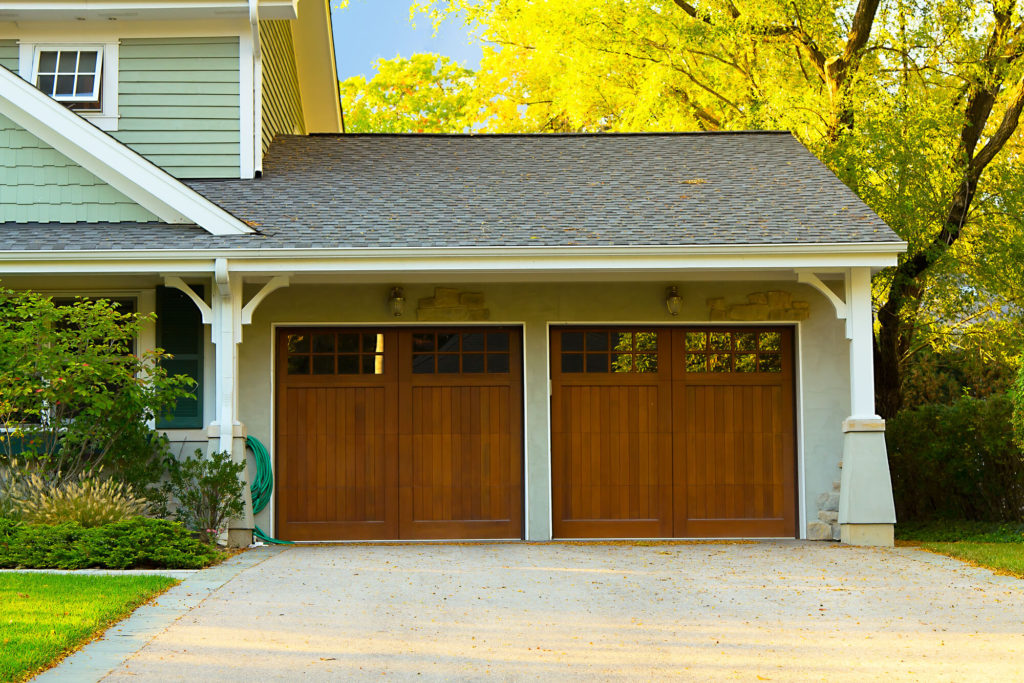 Arridge Garage Doors' founder, Mark Arridge, has been in the garage door industry for almost 30 years and throughout that time he has seen many different mistakes that architects, builders and developers make when designing and building a garage.
Unfortunately, many architects design garages that create unnecessary expense for their clients when it's time to order the garage door. This can lead to unfortunate disagreements at the end of an otherwise successful project and result in a negative impact on an architect's reputation.
Mark has put together a list of the 5 most common mistakes he sees when designing a new garage:
Brick and block pillars
Garage walls are normally built in the same way as the rest of the house – an outer wall of brick and an inner wall of block. This causes problems for the client when it comes to fitting a garage door if they want to park a car in the garage, because they will need maximum entrance width to avoid expensive accidents with wing mirrors.
To maximise the enrance width, the garage door needs to be fitted on the rear of the brickwork opening, but by doing this this the cavity between the outer bricks and inner blocks will be exposed. The only solution is to trim the opening in either timber or UPVC cladding – which is an unnecessary expense.
This problem can be avoided by simply building the garage's masonry pillars in solid brick. The result is a neat job without extra expense.
Double garage with single doors
Some planning departments insist double garages have two separate single doors but more often than not, the decision to have two single doors is based upon the architect's aesthetic principles.
Having two single doors on a double garage instead of one double door, can cause many different problems including not being able to easily park two modern cars in the space.
A double garage door also works out cheaper in the long run,  because one big door is cheaper per square metre than two single doors and a double door only has one motor.
Horizontal rain
The weather in the UK can be fierce at times, resulting in wind driven rain leaking under a garage door, putting the client's belongings at risk of water damage.
Even modern sectional insulated doors, which are designed to withstand rain and wind, can't prevent the rain from entering when it's blowing a gale.
In Scotland, they have a solution to this problem. They build a 'check' or 'step' about 10mm high at the front of the garage door which is designed for the garage door seal to sit in front of.
This solution is very low cost in comparison to the overall cost of a new garage build and can be highly effective.
Services on side walls
Sometimes it is impossible to prevent services such as a gas or electric meter, consumer unit or water supply pipes being fitted on a garage's side walls. However, these obstructions on a garage wall are often from the result of the architect being careless and not considering the problems services can cause when it comes to fitting the garage door.
For a trouble-free installation of sectional or up and over door, there must be a measure of unobstructed side wall space. This space can be calculated by adding a minimum of 510mm to the door height measurement. This distance from the height of the lintel back into the garage, must be free of any side wall obstructions for the tracks to fit properly.
Seeking advice too late
Considering a garage door can cost as much as a new kitchen, it's surprising how little thought architects give to the door itself. We have had many discussions with architects who have sought our advice simply too late in the building process.
Our advice is to consider the type of garage door that might be fitted at the start of the design process and ask for guidance on the required dimensions and the options available to your client. Our advice is free but might just save your client a lot of money.
These common mistakes can be avoided by simply spending some time investigating how modern garage doors are installed and what standard dimensions are required. This knowledge can save your client unnecessary time, trouble and expense, while at the same time building your reputation as an architect that thrives on detail.