Electric Garage Doors
We are experts in electric garage doors.
We supply, stock and install a wide range of electric garage doors from the leading brands and offer some of the best prices you'll find in the UK.
Whether you are looking to purchase a garage door for a new build or replace an existing one, we can help you to find the perfect, automated solution. We also stock automation kits for retro-install to existing garage doors.
As a family owned and run business with over three decades of experience, you can trust us to offer excellent service and advice.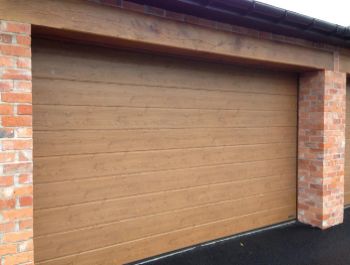 Hormann M rib automatic sectional garage door in Winchester Oak
Electric garage doors from leading manufacturers
We have an unbeatable choice of doors from a selection of top manufacturers including Hormann, Garador and Alutech.
We stock both up and over and sectional garage doors in a wide range of styles and colours, meaning that you will always be able to find the perfect match for your property. All the doors we sell can be purchased as manual or electric doors, with few exceptions. This is useful if you require the convenience of automation on one garage door, and some cost saving on an adjacent door which does not need to be electric.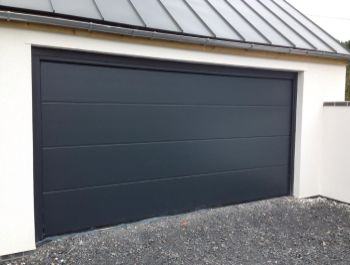 Alutech Lrib smooth automatic sectional door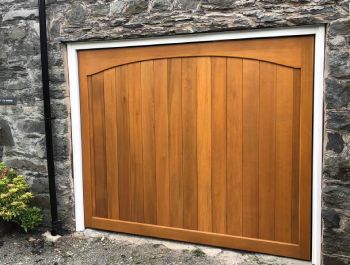 Cedardoor timber automatic up & over garage door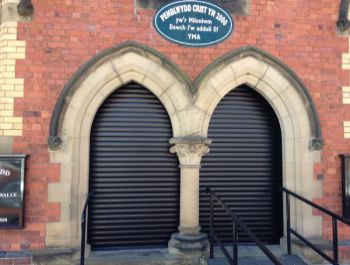 Aluroll Classic automatic roller shutters in Black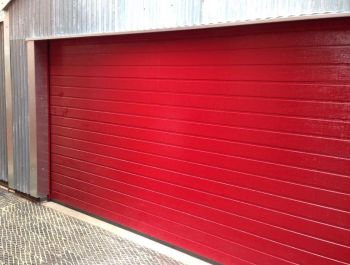 Alutech automatic insulated sectional S-rib in Red
Electric roller doors
As well as our up and over and sectional doors, we also provide a range of electric roller garage doors, which are automatic as standard including the Hormann RollMatic insulated roller and the Aluroll insulated roller door. These doors are manufactured as automatic doors, with the Hormann option available as a manual door if required, at a slightly lower cost.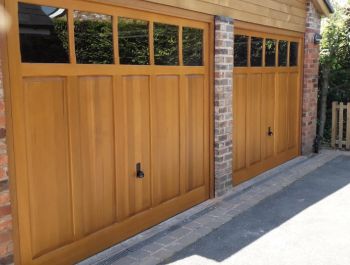 Woodrite Padbury automatic up and over garage doors Light Oak finish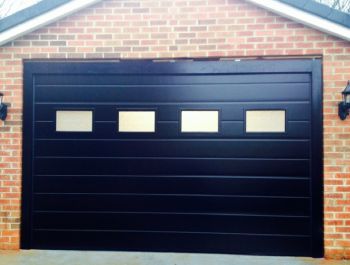 Alutech M-Ribbed Smooth automatic insulated sectional garage door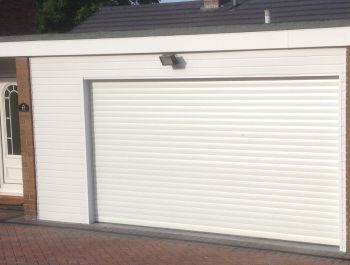 Aluroll Classic automatic insulated roller shutter in White
Why choose an electric garage door?
There are many advantages to choosing an electric garage door, not least the fact that you can open or close your garage door without leaving the comfort of your car.
Powered garage doors do not require any physical effort to open and close, making them a perfect choice for older people as well as those who are less mobile.
For those with children or pets, an automated door offers more safety for everybody as you will not have to take the risk of leaving them unsupervised inside the car, or running free when you are maneuvering into what is often a limited space. With auto stop and auto reverse, automated doors are designed to prevent collision or entrapment, protecting both your family and your car.
All our motor kits and electric doors are fully CE compliant, with an auto reverse feature built in which triggers the door to re-open if the door detects any obstacle restricting the door's movement.
Are electric garage doors secure?
Security is a major concern for many householders and as a result, modern garage doors are available with a wide range of security features such as reinforced gussets to prevent forced entry, high security bracing to avoid 'peeling' and steel frames to prevent the door being pried open.
One of the main differences between a powered door and a manually operated door, however, is the locking system. Whilst manual doors are key operated and typically feature anti-drill barrels and multipoint locks, in automatic doors the electric motor locks the door at the top where it is connected.
On an automated up and over door, the physical locking is generally disabled when a motor is fitted to ensure the door does not accidentally latch shut and burn out the motor. Although the physical locks are generally disengaged, they can stay in place if a special de-latch kit is fitted which de-latches the locks just before the door begins to open. As a rule, electric garage doors are just as secure as manual doors, if not more so.
The Hormann insulated sectional door is Secure by Design accredited when installed as an electric door. It is not when it is installed as a manual door. The Aluroll automatic insulated roller door is also a Secure by Design accredited door.
Can I automate my existing door?
If you already have a garage door and would like to automate it, we have a range of solutions available that are suitable for the vast majority of garage doors.
Our range of German made remote control garage door openers are manufactured to the highest standards and are fully compliant with the very latest safety requirements. They are extremely reliable and feature extra quiet soft start/soft stop operation to ensure almost silent use, ensuring that you won't disturb residents and neighbours no matter how early or late you need to use your garage.
Our automation kit includes two electric garage door "zappers" (hand transmitters) as standard, with digital keypads, key switches, battery back-ups and finger scanners and other features all available as optional add-ons if required. Low energy LED courtesy lights are also built in for extra convenience, so when you enter the garage in the car or on foot, the garage will be illuminated for 5 minutes after the door has been activated.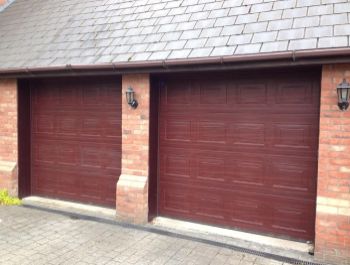 Two automatic insulated Georgian sectional doors in Rosewood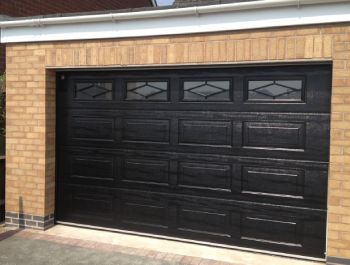 Carteck Georgian automatic insulated sectional garage door with glazing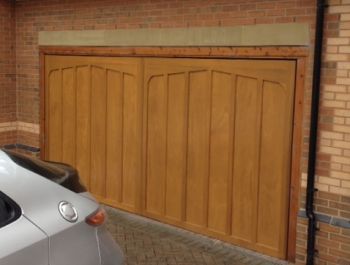 Garador Tudor solid cedar wood automatic up and over garage door
Nationwide supply, installation and service
We supply electric garage doors nationwide and also offer expert service and fitting for all doors and mechanisms supplied by us. We have trained installers covering every part of the country and work with both domestic customers house builders and developers.