Garador White GRP Garage Doors
Garador GRP garage doors come in high Gloss White. Garador GRP doors are maintenance free and hard wearing. Available in standard and made to measure sizes. Can be fitted on a steel or timber goalpost frame. Garador Fibreglass (GRP) garage doors are made in the same way as Hormann Fibreglass (GRP) doors i.e. strong steel chassis with a one-piece GRP door skin bonded to it. This makes the door strong and stable. The deep panel detail, created by means of detailed moulds, gives the door attractive lines and with a high quality appearance. The steel chassis is only visible from the front by means of a 10mm white powdercoated steel edge. Available with Garador's canopy or retractable lifting gear and with a pre-installed steel fixing frame, on request. Numerous glazing options including clear, tinted, smoked, square leaded, diamond leaded etc. Please ask. Like the Hormann door, the door skin is manufactured by Wessex doors.
Garador GRP Fibreglass Gloss White up and over garage doors.
Garador offer a wide range of Gloss White GRP doors.

Out of all the manufacturers of GRP doors Garador offer the widest range of window options giving ample opportunity to create a bespoke appearance at a sensible cost.

GRP Fibreglass is a unique material for garage doors. Glass Reinforced Plastic, GRP, is made of thousands of fine strands of glass set into a plastic resin, with the front face being smooth gloss white.

No maintenance needed apart from an occasional wash down with soapy water.

Glass fibre is incredibly strong and has a better strength to weight ratio than steel. GRP does not rust, rot, warp or shrink.

Door panel is cast into bespoke detailed mould that creates deep and detailed embossments and attractive panel detailing.

The door is cast as a single panel and the door face has no seams, rivets, fastenings or joints.
White steel chassis, white glass fibre panel in standard and bespoke sizes.
Garador manufacture the door's high quality chassis, counterbalance gear and frames.
The GRP door panels, made at Wessex Doors, are bonded onto this strong, stable and lightweight chassis developed by Garador over many years.

Both the door chassis and door panel on all models are available in numerous popular standard sizes and in the popular models of door, made to measure sizes are also available. Made to measure in millimetre increments in width and height, up to 16ft wide (4877mm). Please send us your garage opening sizes with any questions you may have.

The edge of Garador GRP door chassis is very neat but is visible from the front. It forms a 10mm wide picture frame effect on all 4 edges of the panel. All Gloss White doors have a white steel chassis edging the gloss white panel itself.
Window options for Garador GRP panel doors.

Plain.

Square leaded.

Diamond leaded.
---

Semi-translucent design, only on Stamford

Black imitation design, only on Stamford
Garador Standard and Premium quality explained.
Garador Standard quality GRP garage door.
The slightly hairy rear face of any glass fibre item (remember the inside of the old canoes) when studied closely reveals the thousands of glass strands set into the resin. This is the Standard door finish, acceptable as the finish to a garage door, however some customers do upgrade to the Premier quality.
Garador Premier quality GRP garage door.
For a small additional cost the rear face of the GRP panel can be coated in a smooth white flow coat that removes the slight hairiness of the Standard quality door. This smooth white flow coat adds some strength, allows the back of the door to be easily wiped down and reduces translucency to light.
Up and over mechanism types available on Garador GRP doors.
Retractable mechanism is available on all sizes of single and double width Garador doors. This is a very robust mechanism type and it is ideal for adding automation to. Retractable mechanism allows the door to retract along ceiling mounted tracks.
Retractable Plus gear is used to maximise the drive through entrance width at wing mirror height. Retractable Plus gear is available on single width doors up to and including 7'6" wide.
Canopy mechanism. All single Garador GRP doors up to and including 8ft wide (2438mm) can come with Canopy mechanism. Canopy mechanism is easy to install, there are no tracks suspended from the ceiling and it is ideal on manual doors. Canopy doors are not recommended for automation.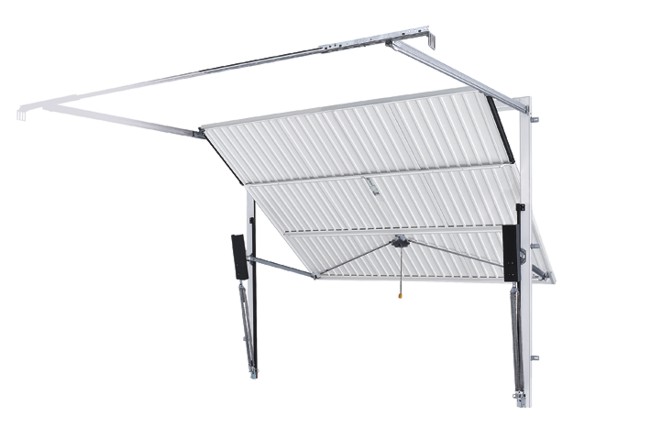 Garador retractable door retracts into the garage along the ceiling mounted tracks.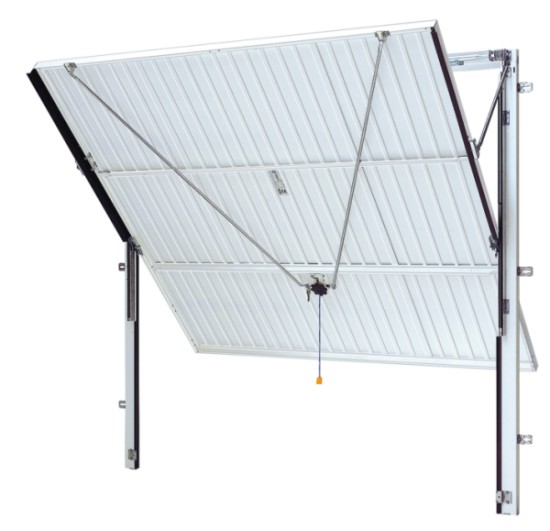 Garador canopy door forms a canopy of approx 1/3 of the door height when open.
Optional pre-installed steel frames.
Both Canopy and Retractable door types can be fitted onto the garage opening via a goalpost fixing frame made from either timber or steel. The steel frames are galvanised and powder coated in white and are pre-fitted to the door in the factory on all doors up to 3048mm (10ft) wide. The 3 piece fixing frame is supplied separately for quick assembly on site on doors over this width. The pre-installed frames on the single width doors have the counterbalance mechanism factory fitted enabling quick onsite installation.
Locking options and Security.
A high percentage of GRP garage doors are made automatic with the locking in the electric motor. For this reason doors can be specified with or without a handle fitted.

All Garador GRP manual doors, at no extra cost, are supplied with 2 point rod operated locking.

4 point locking upgrade is available.

Please see images of Garador well priced feature door handles, the ideal compliment to a GRP door.

The high gloss Chrome handle gives a high-class contemporary look to the door. The cast aluminium White handles also being popular to create such an effect.
Diecast handle options for GRP and timber panel doors.


Chrome effect
White

Brass effect
Contemporary or traditional? A style for every home.
The seamless panels, quality, high gloss and detailed embossments universal to all models of Wessex GRP doors means there is sure to be a model of door to suit your property from the wide range of styles available. The full Garador brochure indicates the many and varied glazing options available on the various models of doors. Glazing can be in Clear or Stippled Perspex. On certain models Square or Diamond leaded light detail is also available to further complement your property.
---