Oak / Idigbo Side-Hinged Garage Doors
Woodrite Idigbo Side-Hinged garage doors are all made-to-measure and come fully finished, as standard. Made in the UK. Idigbo looks very similar to Oak, but is lower in price. Most importantly Idigbo timber is more stable than Oak and naturally moves a lot less than European or American oak when used in exterior joinery. Like Oak, Idigbo is yellow brown in colour, durable and strong. It is very resistant to shrinkage, bowing and warping and has natural resistance to moisture due to the oils in the timber. The grain pattern is more subdued than Oak but the overall appearance is as good a match as possible. These high quality Woodrite Idigbo side hinged doors have rebated centre stiles, come with a full set of door furniture including hinges, door stays and security shoot bolts. Matching Idigbo goalpost frames to fix the doors onto the opening are available. The doors are made to measure, priced in size bands, and the price includes Teknos clear matt finish similar to an oiled finish but with better preservative qualities. To further emulate Oak but still harnessing the improved characteristics of Idigbo, various models of door are available with wide planking. Not all models are shown in our Oak Idigbo online garage doors shop facility below but all models can be seen in the online Woodrite brochure. If a curved top door or a specific bespoke design is required simply ask. You can phone us on 01691 670394 or send us your sizes and questions or requests using our contact us form.
Idigbo side hung garage doors, the practical alternative to Oak.



"It has to be oak, they must be oak, everything else on the property is oak!"
We offer oak up and over garage doors only, but in the side hinged category we only offer Idigbo.

The reason for this is simple, oak is a wonderful timber but it can give problems when used to construct wide and tall exteriour joinery items (eg) garage doors.
The problems with oak built doors include:
binding and rubbing doors,

lifting planks and twist in the doors due to the sheer size of the doors.

the location of doors (i.e.) the front of the doors are outside, the back of the doors are inside, and

oak's unpredictable properties.
Please see our Idigbo and Oak properties comparison guide below to make an informed decision.
---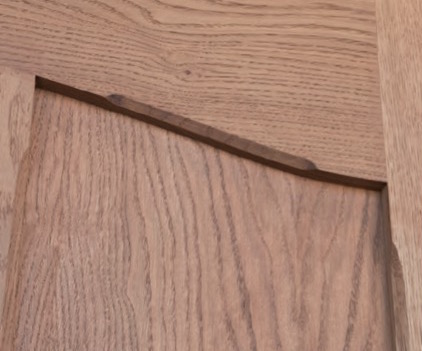 Oak grain is very similar to Idigbo. We offer a range of oak up and over doors.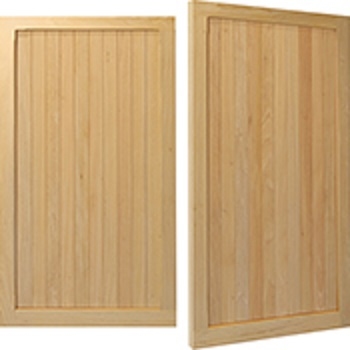 Woodrite Warwick Kenilworth beautifully crafted side hinged garage door.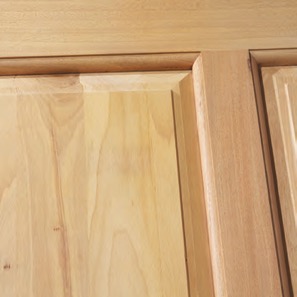 Idigbo is a beautiful, certified hardwood that looks very similar to oak.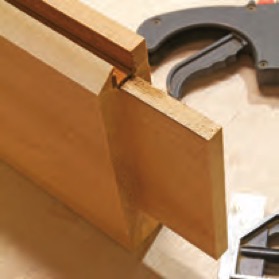 Woodrite use mortice and tenon joints in their Balmoral range.
---
Compare Oak and Idigbo timber properties.
Please take a look below at the properties of both timbers to help make an informed decision:
Idigbo Working Properties
Dries rapidly with minimum degrade

Little movement in performance

Easy to work with hand and machine tools

Good nailing and gluing properties, best to pre-bore

Finishes well

Turns well

Natural resistance to moisture

Good overall strength

Moderate hardness

Durable
Main uses: Joinery, flooring and furniture.
European Oak Working Properties
Oak dries very slowly with a marked tendency to split

Subject to a large shrinkage and moderate movement in performance

Machinability varies from well to with moderate difficulty

Good for nailing and screwing, pre-boring recommended

Glues well

, s

tains, waxes and polishes well

Considerable risk of honeycombing if the drying is forced

High strength properties

, d

urable

Medium bending and crushing strength

Low stiffness and shock resistance
Main uses: Joinery, flooring, furniture and construction.
Woodrite Idigbo side hinged garage door options.
A Teknos Natural Oak, almost clear oil-type finish is factory applied to all doors, at no extra cost.

Other colours shown also available.

Glazing options available with the low cost upgrade from Perspex to 4mm toughened glass highly recommended.

Glass can be in clear or stippled.

Side hinged doors can be automated using a barn door adaptor kit in conjunction with a standard garage door operator.

Matching personnel doors and frames are also available if required.

We look forward to answering any questions you have please click here to send your enquiry. Thank you for looking at this product.

---

Natural Oak

Old Oak

Brackley Oak

Rustic Oak

Conker

Red Oak

Green Oak

Golden Oak

Mid Oak

Chocolate

Aged Oak

Midnight Oak