Export Garage Doors
Beginning with established customers buying a garage door for holiday properties in France Arridge Garage Doors has steadily increased the number of garage doors it exports year on year. We have numerous one off and some regular trade garage door customers in the Channel Islands of Jersey, Guernsey and Alderney. VAT is not charged for these areas.
Customers within the EU who have a valid EU VAT Number, and all customers from outside the EU, are not charged VAT.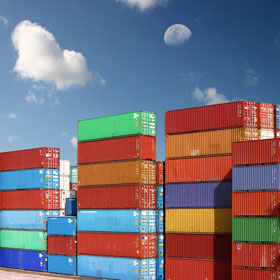 Keen buying rates and low margins keeps us competitive at national and international level. The insulated roller shutter and sectional doors are popular for export due to the way in which they are packaged/crated together with their universal appeal and high security.
Among the countries we currently export garage doors to are:- France, Spain, USA, West Indies, Falkland Islands and Nigeria.
Most customers choose to organise their own shipping (i.e. we deliver the door to any designated UK freight handler, port terminal or domestic address) however, on request, we do organise export packing together with air, land or sea freight at the appropriate cost.
Due to the potential for payment problems all garage doors etc. must be paid for in full by Bank Transfer at the point of order.