Steel Powder Coated Garage Doors by Hormann, Garador & Cardale
These Steel Powder Coated Garage Doors from Hormann and Garador are available in white or in a wide range of different colours. These up and over doors come with a 10 year Manufacturer's guarantee and are available with canopy or retractable mechanism. These steel powder coated doors can be fitted on matching steel or timber goalpost frames, between the bricks, or on the back of the opening. White and a selection of popular, low gloss colours available, preventing the need to paint the garage door on-site. Baked-on powdercoat finish. High quality canopy or retractable counterbalance mechanism and multi-point locking. If a pre-installed garage door frame is preferred to make on-site installation very quick and easy, this can be in white or the colour of the door. Coloured doors have an extended lead time compared to white or brown doors. CE marked anti-drop mechanism, as standard. Standard and made-to-measure sizes available in this style and colour of popular up and over garage door.
Steel Powder Coated Up and Over Garage Doors.
Durable hard powder coat finish is tougher than paint, factory applied onto pre-made galvanized steel garage door panel and chassis. The powder coat finish does not require painting, but can be over painted if required.
White is the standard colour. Numerous standard RAL colours available at nominal extra cost. Coloured doors are also available on extended lead times.

Heavy gauge high quality steel chassis and panel.

Invisible secret weld technology ensures high strength. No ugly pop rivets.

Two point rod operated locking, ergonomically designed internal and external handles, Euro lock profile cylinder with keys. The garage door can be locked and unlocked from inside and outside.

Fixings for fitting to timber goalpost frame included. If fitting with pre-installed steel fixing frame, bracket kit included.

Four point locking available at extra cost.

CE marked anti-drop device on all models.
Canopy Model
Counterbalance system consists of overhead torsion spring and shaft fitted to rear of head frame.
Canopy doors have vertical tracks on the back of the frame.
Approximately 1/3 of the door height forms a canopy when open.
Ideal manual doors.
Canopy mechanism is not ideal for automation.
Retractable Model
Horizontal tracks suspended from the ceiling or sidewalls support the door in the open position. Retractable doors fully retract into the garage along ceiling mounted tracks. Robust mechanism.
Ideal for adding one of our automation kits.

Extra safe multi-spring counterbalancing ensures light smooth operation and safety. Minimum three springs each side, upto 6 on large double doors. If a spring brakes the door will not fall.

Extra small spring windings prevent finger trap for small children.

Burglar resistant latching. The new Hormann bottom latch design fixes the bottom corners of the door to secure steel bars.

Top latches 4 point locking upgrade is available.

Retractable plus gear, available at small extra cost, is ideal for doors upto 7'6" wide to ensure maximum entrance width is achieved.

Track roller well at rear of each horozontal track allows the roller to be gently retained in the track to prevent accidental closure of the door.
Thanks to the wide variety of styles of up-and-over garage doors, you are sure to find the right one for your home.
---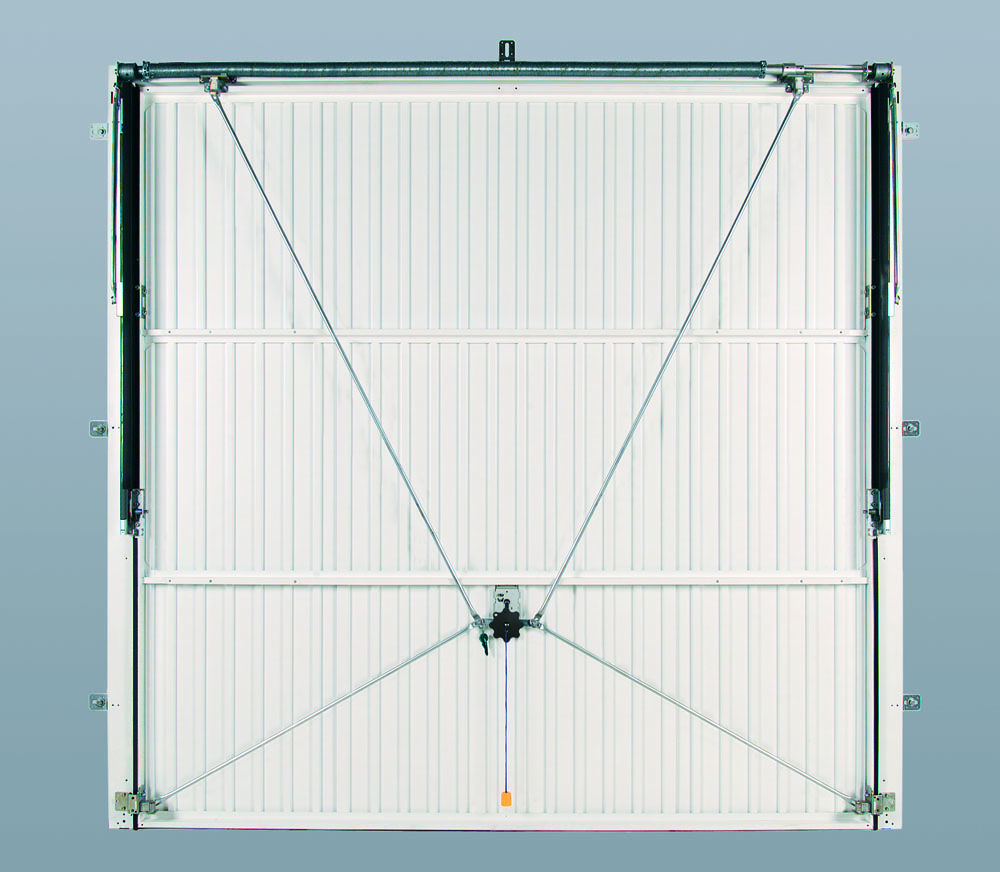 Rear of canopy with optional four point locking.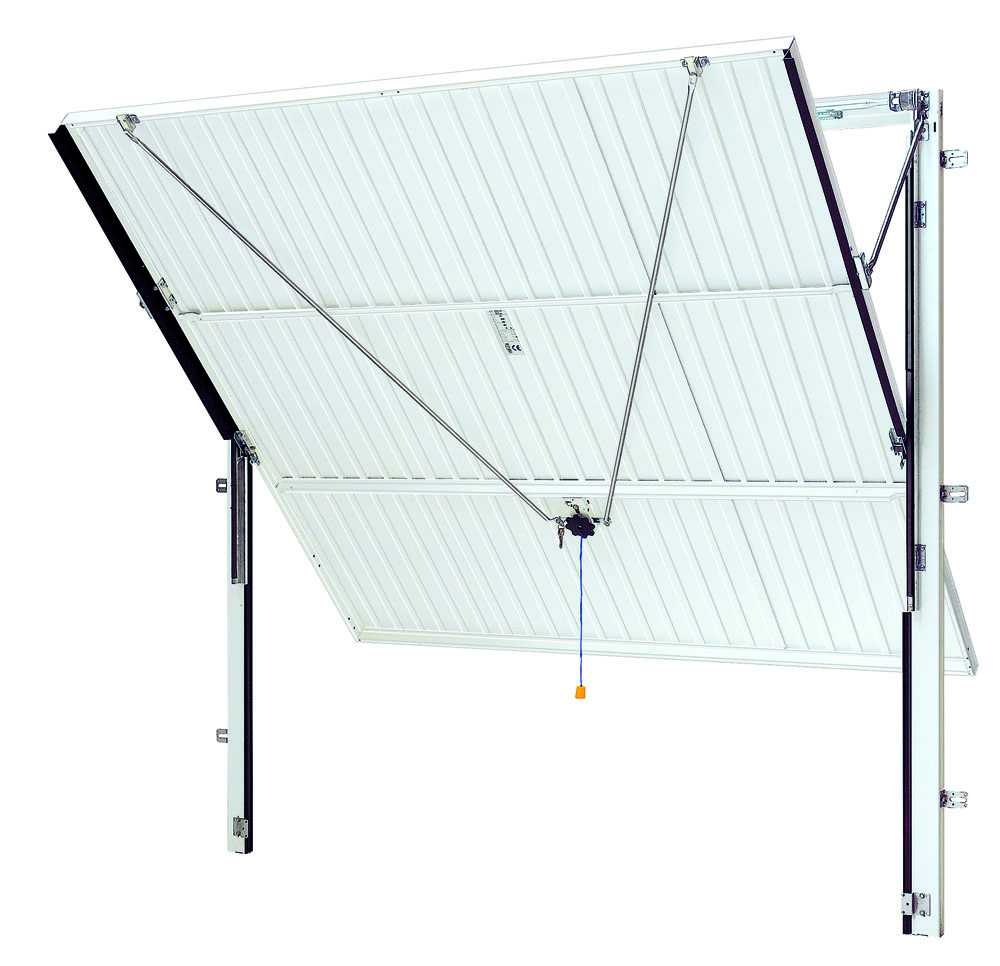 Canopy door installed on a steel frame.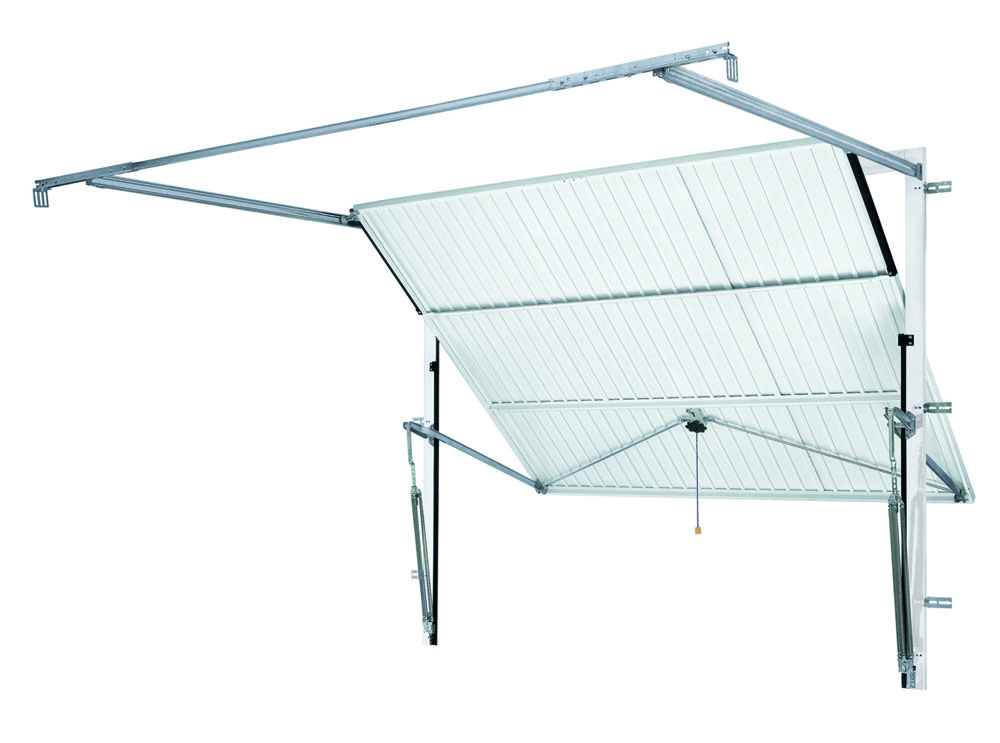 Retractable door installed on a steel frame.
Standard sizes and made to measure steel up and over doors.
Out of all up and over garage doors, powder coated steel is by far the most popular. Their strength, durability and low cost is very attractive to trade and retail customers. Most popular standard size doors in white are available ex-stock from the manufacturers on a 5-10 working day lead time.

Due to the large number of standard sizes and the option of wide-fit or narrow-fit frames we are usually able to recommend a standard door size to fit your specific brickwork aperture sizes.

Click on the link to send us your sizes and ask any questions you may have. Digital photos of the aperture and the inside of the garage are most useful to help us give you accurate advice.

These durable well priced garage doors are also available made to measure from 1830mm wide upto 4877mm wide, so if one of the many standard sizes is not ideal for your brickwork aperture we can have a door specially made for you. This generally adds approximately 20% to 30% to the cost and extends the lead time up to approximately 4 to 6 weeks.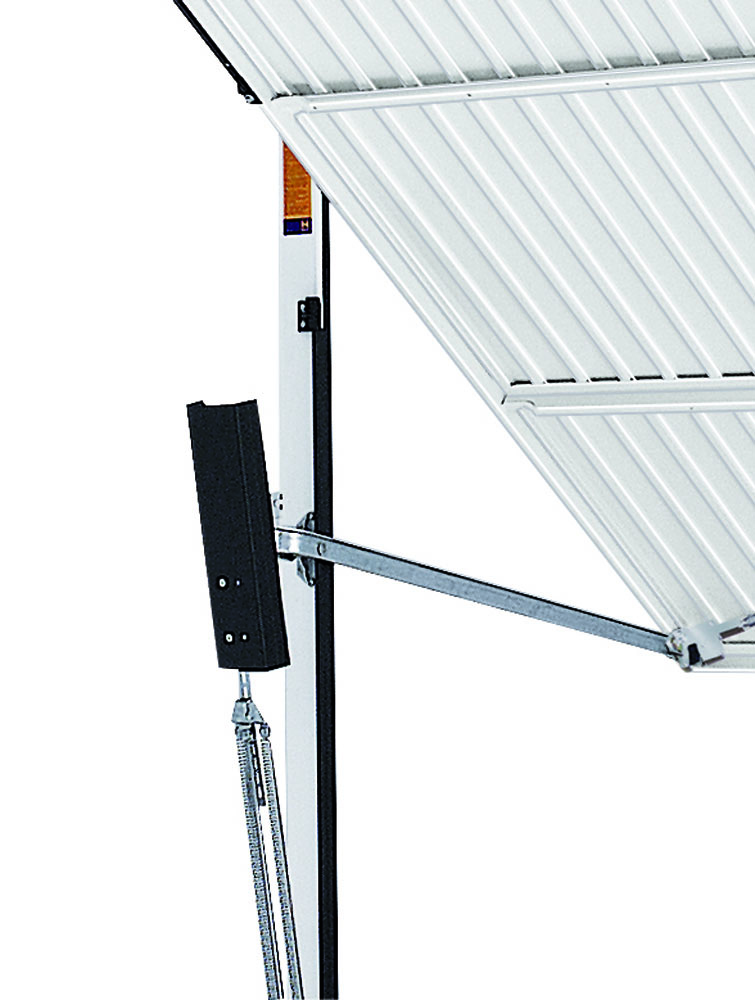 Retractable door finger trap protection.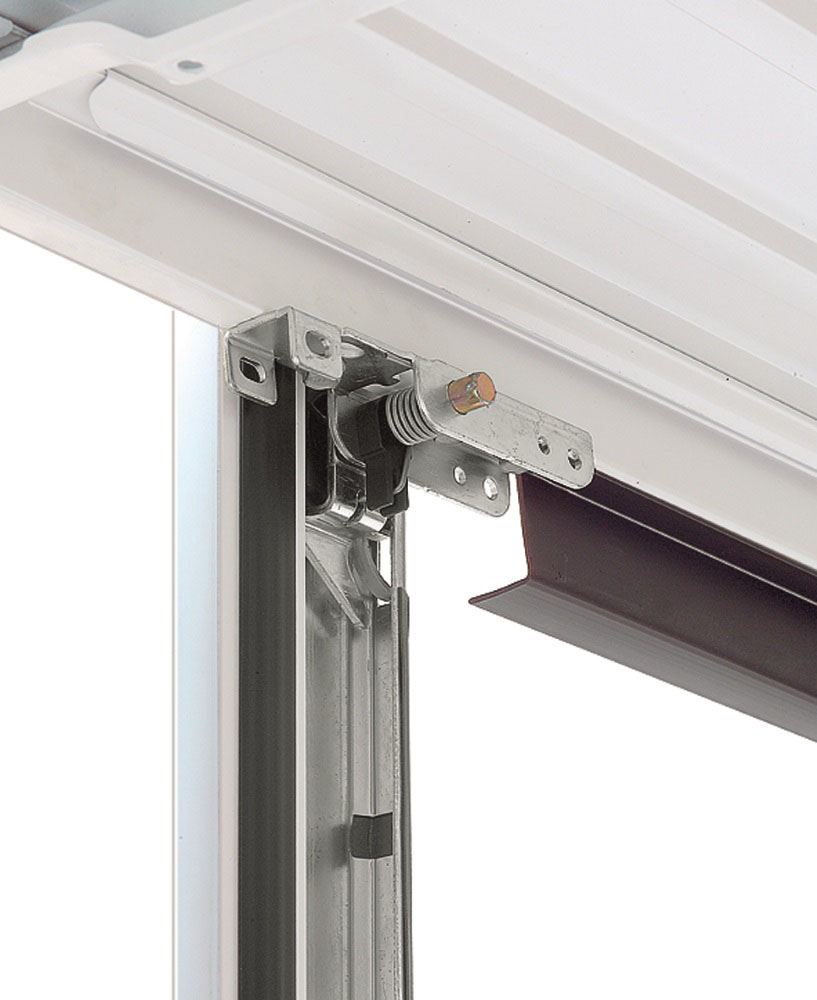 Canopy door anti-drop mechanism.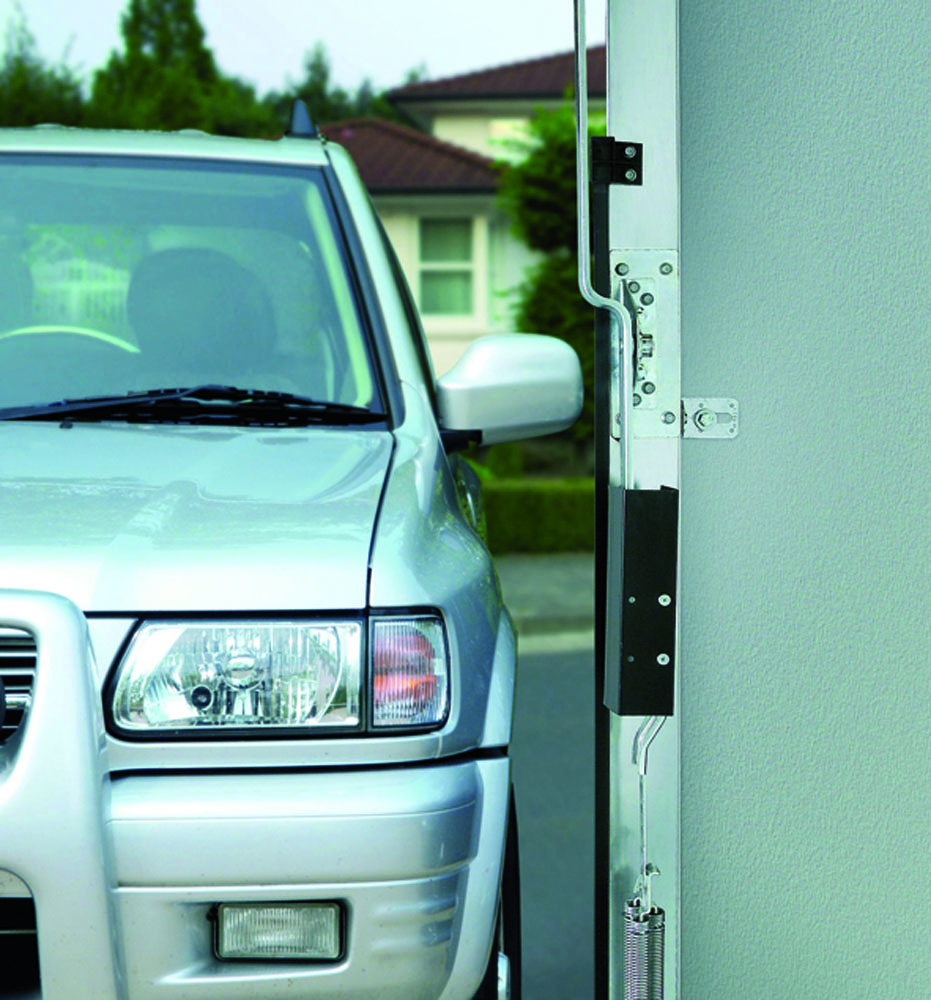 Retractable plus gear.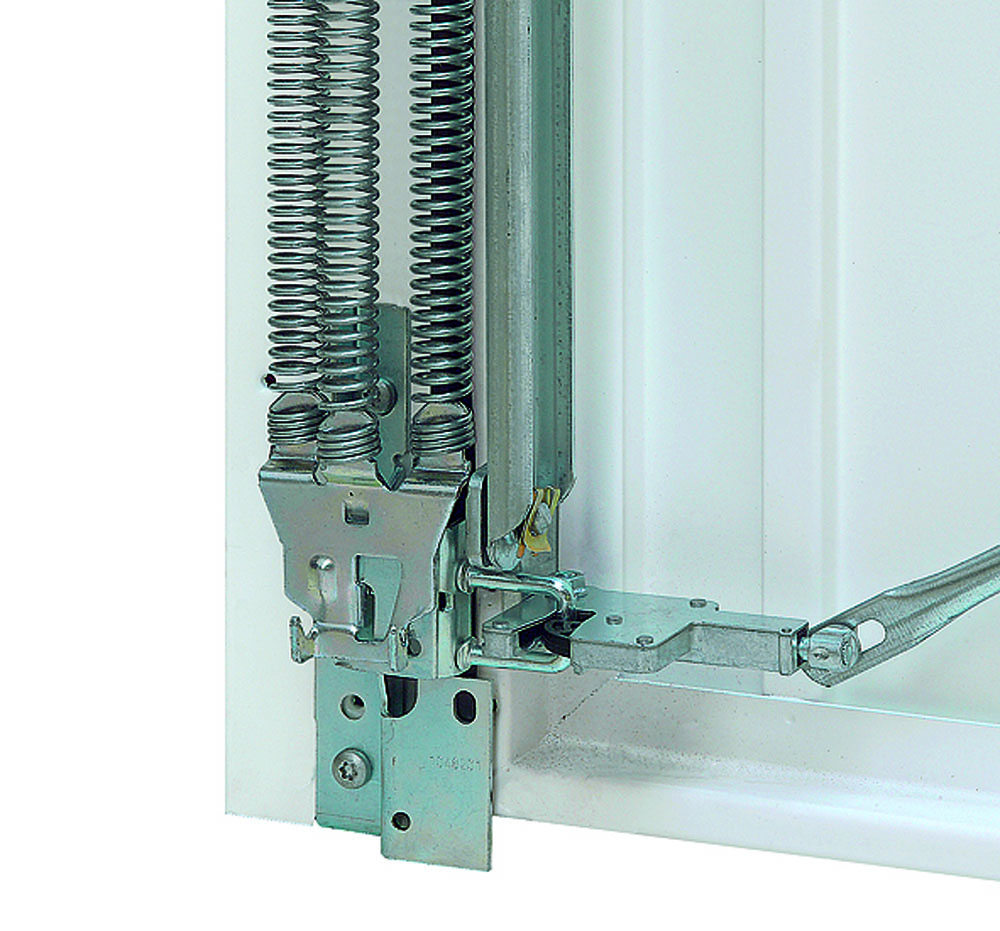 Multi-spring counterbalance system.
---
Disclaimer
Images
All images are intended for illustration purposes only and are subject to change. Site layouts are intended for illustrative purposes only and may change. Information contained on this site should be treated as general guidance and is not intended to form of any contract or warranty. Images may also include optional upgrades at additional cost.
Prices
The prices shown are correct at the time of being published but are subject to change without notice. Please contact the sales office for accurate price information.