Timber Side-Hinged Garage Doors.
Softwood side-hinged timber garage doors by Jeldwen in two standard sizes (7' x 7' and 7' x 6'6") and two standard designs, are a popular choice. Dowel joint construction to stiles and rails with 14mm thick tongue and groove boarding. Should be painted on site on all faces and edges. Cedar Door and Woodrite garage doors are traditionally made, made-to-measure doors and can be fully factory finished, with a choice of furniture packs. Cedar Door solid cedar side-hinged garage doors have mortice and tenon joints on all stiles and rails. Highest quality western red cedar ensures maximum stability against movement, strength and light weight. Rebated meeting stiles. Matching solid cedar 90mm x 70mm fixing frames available to ensure a very attractive, quality finished job. All door furniture included (choice of 3 styles). Made-to-measure at no extra cost. Numerous styles available. Variations on standard designs or bespoke designs of side-hinged cedar garage doors available. Please enquire. All glazed doors come with 4mm toughened glass. Basecoated treated, as standard. Sikkens woodstains or any RAL colour available, at nominal extra cost. Woodrite timber side-hinged are similar in quality to Cedar Door, also made with solid timber stiles & rails and mortice & tenon jointed for stength & longevity. Various attractive designs, many exclusive to Woodrite. Available basecoated or fully finished in Teknos woodstain or paint. Garador side-hinged timber garage doors are unusual in that they are manufactured using a steel chassis, which is planked in cedar. Strong, sturdy and stable unlike some solid timber garage doors, which can be prone to movement. Available in basecoat or fully finished.
Timber side-hinged garage doors – different manufacturers explained.
Side-hinged garage doors offer a great level of convenience for pedestrian access into the garage.

Arridge Garage Doors offer a wide range of side-hinged doors constructed from timber to suit modern and traditional properties alike and a wide range of budgets.

We offer timber side hung doors from the following manufacturers: Jeldwen, Cedar Door, Woodrite and Garador.

Cedar wood is the preferred timber of all the leading manufacturers due to it's stability, natural rot resistance, strength and lightness.
---
Jeldwen softwood side-hinged doors.
Framed ledged and braced softwood, available in two popular standard sizes only, 7' wide x 7' high (2134mm x 2134mm) and 7' wide x 6'6" high (2134mm x 1981mm).

Made-to-measure sizes are not available in this product. Please see Cedar door, Woodrite and Garador options if made-to-measure required.

Rebated centre styles, built from approx. 46mm thick kiln dried softwood framing with dowelled joints.

14mm thick tongue and groove board infill.

Glazed model comes with top lights pre-glazed in 4mm toughened glass.

All faces and edges to be painted on site, ideally before and after installation to ensure good weather protection.

Door furniture not included.
Cedar Door, solid cedar made to measure side-hung garage doors.
High quality solid cedar doors. These doors compliment any home.

Glazing options available in 4mm toughened glass in clear or stippled (not perspex).

All door styles shown are available upto 9ft (2743mm) wide.

Off centre split and choice of left hand or right hand leaf to open first when viewed from the front.

Matching personnel doors available.

All doors made to order to suit your sizes.

If you require a bespoke design or a variation on any of the models shown, ask one of our technical sales team or send us your specification and sizes.
Door construction.
The Cedar Door timber side-hinged garage doors are made from V jointed tongue and groove vertical cedar planking set within a solid cedar boundary frame.

The traditional solid panelled models have raised and fielded panels made of solid cedar.
The traditional panelled models have solid cedar stiles and rails with cedar-faced 9mm ply making up the wide stable panels.

The frame of each door leaf is traditionally constructed with solid cedar stiles and rails, with all joints morticed and tenoned, glued and wedged.

Where the two door leaves meet in the centre, the door leaves are re-bated to give weatherproof centre joint.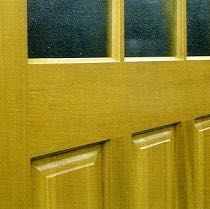 Cedar Door Middleton door detail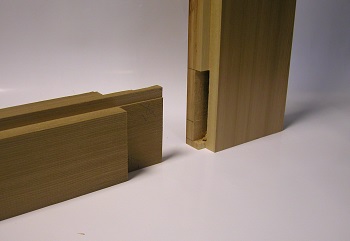 Mortice and tenon construction for quality and strength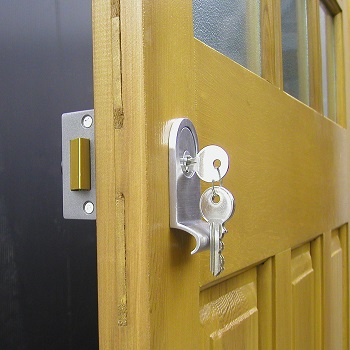 Rebated centre stile with night latch and finger pull.
---
Cedar Door hardware packs.
Three hardware packs are available supplied free of charge with any Cedar side hinged garage door:
Modern Hardware Pack

Antique Hardware Pack

Traditional Hardware Pack
These include hinges, shoot bolts, night latch and a pair of door stays. Select your choice when self-quoting or buying your chosen door.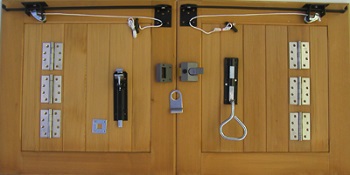 Cedar Door Modern hardware pack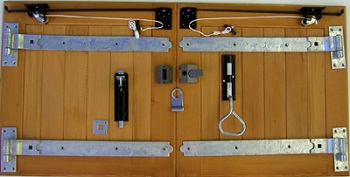 Cedar Door Traditional hardware pack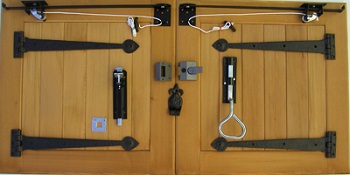 Cedar Door Antique hardware pack
---
Cedar Door basecoat finish and colour options.
Cedar side hung doors come dip-coated in Light Oak basecoat, as standard.

It is strongly recommended by the manufacturer to apply top coating immediately before or after installation on all surfaces.

Available factory fully finished in a choice of 9 standard colours, at extra cost. Select your chosen colour from the drop down box when ordering. These can last up to 7 to 10 years but re-coating beforehand is recommended.

Doors also available painted in a Remmers woodstain, RAL or BS colour of your choice, at extra cost. Please ring 01691 670394 for details.
***N.B.Darker finishes may not be covered by manufacturer's warranty if installed in a sunny or south-facing position.
---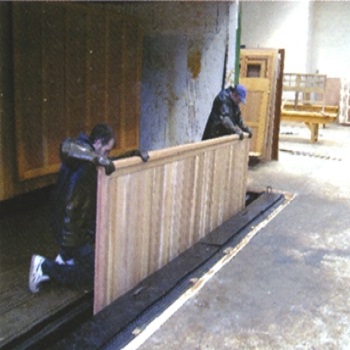 Dip coating in basecoat at the factory on all doors.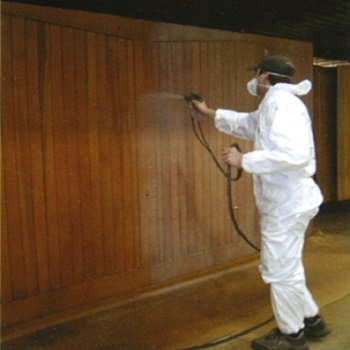 Water-based spray applied finishes available at little extra cost
---
Woodrite Side-Hinged Doors constructed from Solid Cedar
Woodrite side hinged doors are all made-to-measure at no extra cost. Available from 6' wide - 10' wide (1828mm – 3048mm).

They are constructed with grade one cedar from replenishable sources.

Constructed using traditional build methods that employ mortice and tenoned joints for rigidity, longevity, strength and quality.

The side, top and bottom rails of each door leaf are all machined using 43 mm thick timbers and rebated centre rails eliminate gaps between the door leaves.

Finely machined cedar mouldings, cedar boards and cedar faced exterior grade ply are used to create the various designs shown.

Matching personnel doors also available

.
---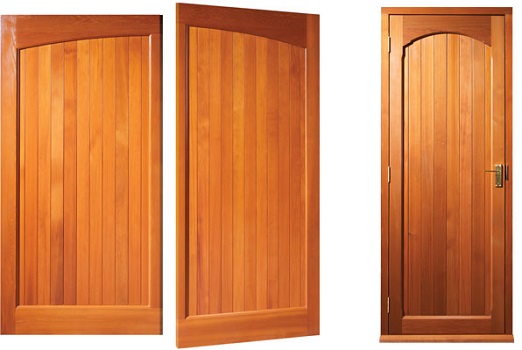 Woodrite York Chartridge with matching personnel door, shown with rebated frame and threshold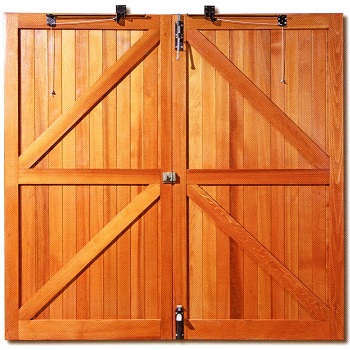 Rear of Woodrite door. Please note sturdy frame ledge and brace construction and door furniture included.
---
Woodrite basecoat finish and colour options.
All Woodrite doors come treated with a factory applied basecoat ready for staining on site to your chosen colour.

Woodrite strongly recommends applying the topcoats to all surfaces before the installation.

Fully finished doors are available in 8 classic timber colours at nominal extra cost.

Select your chosen colour when self quoting or ordering your chosen model of door.

Also available in 4 Silver shades, at nominal extra cost. Please see more examples of these in the Woodrite brochure.
Woodrite uses Teknos wood finish system and recommends this, or other quality proprietary brand, for on site finishing.

Doors also available painted in a RAL or BS colour of your choice, small cost supplement applies. Please ring 01691 670394 for details or to ask any specific questions you may have.
**N.B. If door installed in a south-facing position, darker finishes may not be covered by Woodrite's warranty due to the potential for extreme heat uptake.
---
Colours and finishes available on Woodrite doors.
---
Woodrite hardware packs.
All Woodrite side-hinged doors are supplied with a "Contemporary" furniture pack, as standard.

This consists of 3 pairs of brass effect or stainless steel butt hinges, brass effect night latch lock / finger pull (available in chrome effect at no extra cost), a monkey tail top shoot bolt, foot operated bottom shoot bolt to the inactive leaf and a pair of door stays to hold the doors open at just past 90°. Ideal for breezy days.

Black steel strap hinges are available in place of the butt hinges in the "Classic" furniture pack or Wrought iron strap hinges in the "Traditional" furniture pack. Small additional cost applies for these upgrades.

All doors open outwards with the right hand leaf opening first when viewed from the outside, as standard, but left hand leading and off-centre split available, if required.
---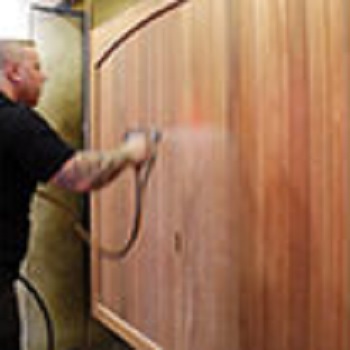 Factory applied and baked on spray finish available in many colours and finishes on all Woodrite side hung timber doors.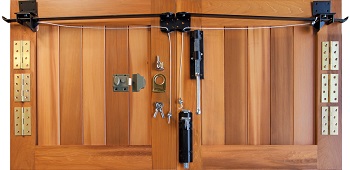 Picture of Woodrite Contemporary furniture pack included in door price
---
Garador cedar side hinged garage doors.
The Garador cedar side-hinged garage doors are constructed from top quality, solid cedar, vertical planking, set into an attractive, visible and sturdy steel chassis.

The chunky, visible, dark brown, steel edge to each door leaf suits modern and contemporary properties. It ensures stability which is very important in any side hung timber door and removes some of the potential risks of owning solid timber doors.

Matching personnel doors also available.

Send us your garage opening sizes and questions or phone on 01691 670394.
---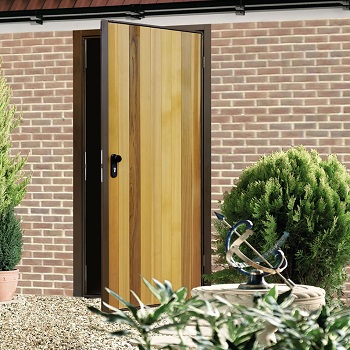 Garador timber matching personnel doors create the perfect match.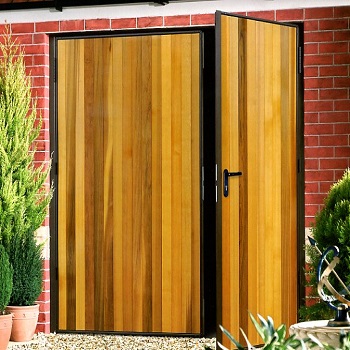 1/3rd : 2/3rd split Garador timber side-hinged with brown steel fixing frame.
---
Garador cedar side hinged door options.
The door comes as standard with matching steel fixing frames for easy on-site installation, right hand door opening first (when viewed from outside). Left hand door leaf leading available, at small extra cost.

Doors come finished in basecoat, as standard, fully finished in colour at extra cost.

Garador side-hinged doors come 50:50 split. The Vertical design is available as 1/3:2/3 split (as shown) at no extra cost.

Please note the 1/3 door leaf is always 800mm wide with the 2/3 element varying to make the desired overall width. The 1/3 leaf is always leading.

Standard sizes from 6ft - 8ft (2032mm) wide and 6ft - 7ft (2007mm) high, with made-to-measure doors also available.

A black lever handle is standard with this door. If required, Brass effect, Chrome effect and White lever handles are available at extra cost. Black knob handle is also available if preferred.

Thank you for looking at our range of timber side-hinged doors. We look forward to hearing from you.
---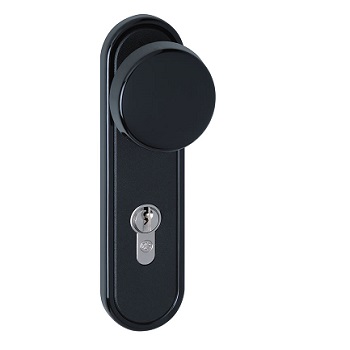 Optional Garador Black knob handle.

Choice of lever handles available.

Colour finishes available

.
---
Disclaimer
Images
All images are intended for illustration purposes only and are subject to change. Site layouts are intended for illustrative purposes only and may change. Information contained on this site should be treated as general guidance and is not intended to form of any contract or warranty. Images may also include optional upgrades at additional cost.
Prices
The prices shown are correct at the time of being published but are subject to change without notice. Please contact the sales office for accurate price information.