Hormann Non-insulated Sectional Garage Doors
These doors have been discontinued in the UK
More useful information on Hormann LTE42 single-skinned fully finished sectional door.
General Hormann LTE42 door details.
Hormann sectional garage doors are usually fitted on the rear face of the garage opening, therefore maximising the drive through width and height.

Door opens vertically so you can park in front of the door and still open it. Ideal for garages that open onto a public highway, short driveways and city or town garages.

Doors come complete with fully finished white steel fixing frame and all fixings.

Included in the price of the door is the easy to install Hormann frame and counterbalance mechanism.

Excellent level of security, much more secure than up and over doors.

Models available in the LTE range are S-Rib, M-Rib and S-Panelled Georgian.
L-Rib doors are not available; they are only available in the LPU42 insulated range.

Even though the door is non-insulated, the deep all round rubber seals greatly reduce draughts and debris ingress into the garage.

A U-value of approximately 3.0 Wm2K is achieved which is much better than an up and over door because of the rubber seals and gap-free installation.

Hormann give 10 years manufacturer's guarantee on these doors.
---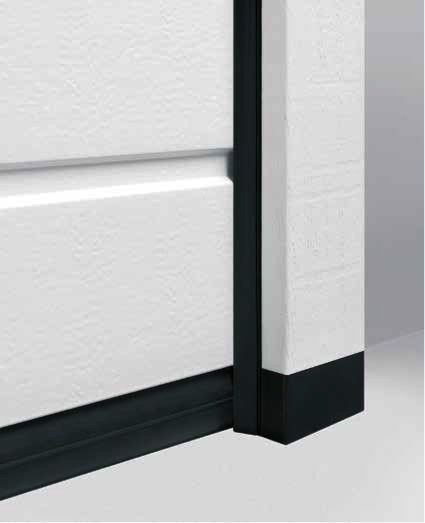 A non-brittle, 4 cm plastic frame shoe covers the frame where it is prone to rusting and offers long-term protection against corrosion.
Tension spring assembly with spring-in-spring system. Z spring counterbalance system, which comes as standard on all doors upto 10' wide.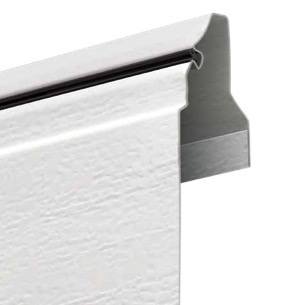 Hormann Woodgrain single-skinned LTE doors are the inexpensive solution for detached garages that do not require additional insulation.
LTE42 sizes.
Available in numerous standard sizes. Made to measure also available. Hormann do not offer a factory width cut on this door. Hormann factory width cut service only available on any of their LPU42 insulated sectional doors.
For a quote and advice please contact us, alternatively please phone us on 01691 670394 to speak to one of our technical sales team who can answer any questions you may have on the Hormann LTE door.
Woodgrain Door Finish.
The most popular durable Woodgrain finish is a light surface embossment with an authentic sawn timber look.

A very light wood grain surface finish ensures durability and good looks.

The wood grain finish is easily touched up if the door gets blemished over the years.

Silkgrain, Sandgrain and Decograin finishes are not available in the single-skin door, only in the 42mm insulated version.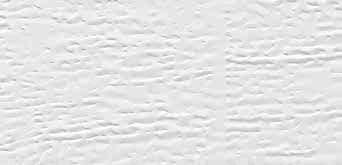 Hormann LTE40 Woodgrain door finish.
Available Colours for the Hormann LTE42 single skin sectional garage door.
Standard LTE42 colour is fully finished White RAL 9016.

There are 16 other standard colours and special RAL colours are available at extra cost.

N.B. The crossbar of the frame comes in the same colour/grain effect as the door. The legs of the frame are always supplied in white. If the edges or any of the face of the frame is visible on the final installation we recommend the purchase of matching frame Leg Cover Profiles in the same colour as the door. The cover profiles ensure the vertical white edge of the standard fixing frame is discretely coloured to match the door. This is a neat low cost way of achieving an excellent finish to the job.
RAL 9016 Traffic white
RAL 9007 Grey aluminium
RAL 9006 White aluminium**
RAL 8028 Terra brown**
RAL 8003 Clay brown
RAL 8001 Ochre brown
RAL 7040 Window grey
RAL 7035 Light grey
RAL 7030 Stone grey
RAL 7016 Anthracite grey **
RAL 6009 Fir green
RAL 6005 Moss green
RAL 5014 Pigeon blue
RAL 5011 Steel blue
RAL 3003 Ruby red
RAL 1015 Light ivory
** Preferred colours for Sandgrain
surface finish
Automation for your Hormann LTE42 non insulated sectional garage door.
Sectional doors are manual as standard, but ideal for automation with Hormann Promatic or Supramatic auto kit.

If door to be MANUAL, then "Handle and Lock kit" required, as Hormann do not include a handle and lock kit as standard with the door.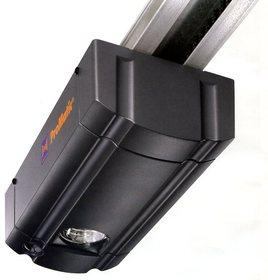 Hormann ProMatic STANDARD BOOM Garage Door Operator

Hormann ProMatic as standard with 2-button hand transmitter HSE 2 BS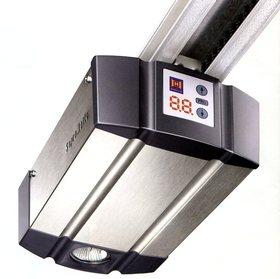 Hormann SupraMatic E STANDARD BOOM Garage Door Operator

Hormann SupraMatic as standard with 5-button hand transmitter HS 5 BS