Garador Design Range Steel Garage Doors
The Garador Design Range features stylish, modern garage doors with optional design elements cut out of 2mm thick, brushed stainless steel bonded to the door. The contemporary Garador Design Range of garage doors can come plain or with a wide choice of stainless steel design features to make this a truly bespoke garage door. Ultra neat secret welding of door chassis and panel ensures high strength and clean, simple, modern appearance. The Antracite Grey colour has a subtle metallic fleck. All Garador Design Range garage doors come with a brushed stainless steel door handle. Lower cost than the equivalent design sectional style of garage door. CE marked anti-drop mechanism (canopy or retractable) comes pre-fitted to the door, as standard. Can be fitted to a timber frame or come pre-installed to a matching steel garage door frame.
Garador Design Range, extra information.
The Garador Design range door was launched at the NEC Homebuilding and Renovating Show in 2012.

The very wide Horizontal Rib 100 range and the Vertical flat panel 200 range designs both give a very expensive, contemporary appearance at relatively low cost to any property.

A wide range of brushed stainless steel appliques, if required, bonded onto the surface of the door panel creates a striking appearance.

The Anthracite Grey (CH 703) subtle metallic fleck colour is exclusive to this range of up and over doors.
As always, both canopy and retractable up and over door mechanisms are available on design range doors.

The canopy mechanism is recommended if the door is to remain as a manual door.

For automation of the door, now or in the future, the retractable mechanism should be selected.
Other colours available in the Garador Design range are:
White RAL 9016

Terra Brown RAL 8028

Moss Green RAL 6005

Ruby Red RAL 3003

Signal Blue RAL 5005

Jet Black RAL 9005

Steel Blue RAL 5011

Light Ivory RAL 1015

Pigeon Blue RAL 5014
Fir Green RAL 6009

Anthracite Grey RAL 7016

Stone Grey RAL 7030

Light Grey RAL 7035

Ochre Brown RAL 8001

Clay Brown RAL 8003

White Aluminium RAL 9006

Grey Aluminium RAL 9007

Window Grey RAL 7040
Please note, Garador only offer the Design range doors in the following standard sizes:
7'0" wide x 6'6" high (2134mm x 1981mm)

7'0" wide x 7'0" high (2134mm x 2136mm)

7'5" wide x 6'6" high (2259mm x 1981mm)

7'5" wide x 7'0" high (2259mm x 2136mm)
7'6" wide x 6'6" high (2284mm x 1981mm)

7'6" wide x 7'0" high (2284mm x 2136mm)

8'0" wide x 6'6" high (2439mm x 1981mm)

8'0" wide x 7'0" high (2439mm x 2136mm)
All sizes stated are internal frame sizes. Most customers choose to purchase their Design range door pre-installed to a matching goalpost fixing frame. To check if your garage brickwork aperture can have a Design range door fitted, simply send us your sizes and specific questions by clicking on the link or phone on 01691 670394.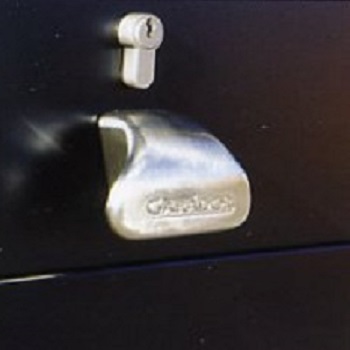 All Design range doors come with a brushed stainless steel handle.
---
Disclaimer
Images
All images are intended for illustration purposes only and are subject to change. Site layouts are intended for illustrative purposes only and may change. Information contained on this site should be treated as general guidance and is not intended to form of any contract or warranty. Images may also include optional upgrades at additional cost.
Prices
The prices shown are correct at the time of being published but are subject to change without notice. Please contact the sales office for accurate price information.