Hormann Cedarwood Timber Garage Doors
Top quality cedarwood up and over garage doors by Horman, at heavily discounted prices. Doors can be fully finished in a Remmers woodstain in a range of beautiful colours, RAL colours also available. Standard sizes, can be automated if required. Matching side doors available. Hormann tried and tested steel chassis with timber cladding. Standard sizes from 6'6" wide to 14'0" wide. Come with pre-installed canopy or retractable counterbalance mechanism. CE marked anti-drop system. Rod operated locking with eurolock and keys, pre-fitted to door in factory. These contempory and traditional timber garage doors are constructed from solid cedar or solid cedar with cedar-faced marine plywood panels. A 10mm wide dark brown steel edge is neat yet visible round the four edges of the door. All glazed models have stippled perspex windows. Can be installed to a timber garage door frame or come pre-installed to a dark brown powdercoated steel garage door frame for quick and easy installation. Please enquire if made-to-measure timber doors required.
Hormann Cedarwood Timber Garage Doors.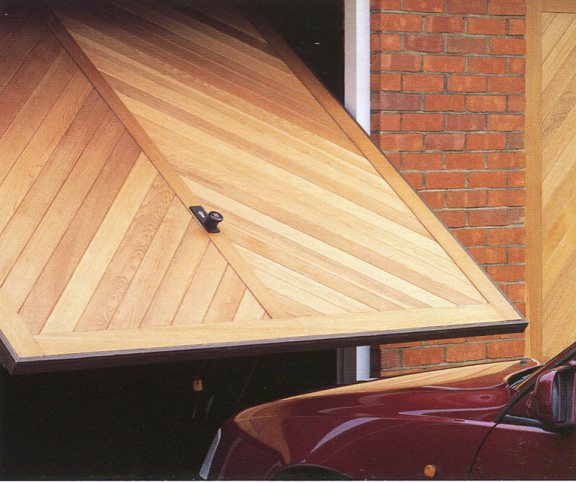 Hormann Chevron timber door with visible chassis powder coated in dark brown.
Superior quality garage door, hand made from durable solid cedar wood.

This door has a strong but lightweight steel and aluminium door panel framework.

Door chassis are powder coated in dark brown.

Please see the image of the neat, but visible, brown steel edge to the door panel.

Hormann timber doors come with manufacturer's 10 year Safe and Reliable Guarantee.
CE marked anti-drop mechanism ensures safe, smooth and reliable door operation.

Door comes with factory fitted counterbalance lifting gear mechanism, sturdy locks and latches and side seals for quick and easy onsite installation.

All prices shown are supply only. If installation is required please see our recommended fitters by clicking on this link.

Available with canopy or retractable counterbalance system.

Hormann timber up and over doors can be purchased with Retractable Plus gear on doors up to 7'6" wide, if required, to ensure maximum entrance width achieved.

These doors can also be purchased with a Hormann factory fitted dark brown powder coated steel fixing frame, for easy onsite installation.

Doors over 10' wide can come with loose knockdown frame for quick onsite assembly.

Alternatively, doors can be fitted to the brickwork via a 70mm x 70mm timber goalpost frame.
Hormann timber doors Colour choice and Automation.
Any of the high quality Hormann timber garage doors can be made automatic, at little extra cost, by the addition of a Hormann Promatic or Hormann Supramatic operator.

Hormann cedar wood doors are supplied with a dip immersion coat of Remmers Induline GW306 base stain primer 006 Light Oak; this coating is for TEMPORARY protection only.

If purchased in this temporary finish, a finishing coat must be applied IMMEDIATELY before or after installation to all exposed surfaces - inside AND outside - with a Remmers or similar finishing coat system.

Fully finished option is available, at extra cost, in a choice of woodstain colours: Light Oak, Medium Oak, Dark Oak, Golden Oak, Mahogany, Rosewood, Walnut, Teak, and Ebony.

N.B. Darker finishes may not be covered by manufacturer's warranty if installed in a south-facing position.

Black handle is fitted as standard. Numerous feature handle options available including Brushed Stainless, Chrome, White, Brass etc. Doors can be ordered without a handle and lock hole, simply specify when ordering. Glazed timber doors in the Hormann range come with stippled Perspex windows.

Raised and fielded cedar panelling is featured on the Chesterfield and the Middleton for example. Models of doors with wide front panels such as the Measham and Rutland, are made in exactly the same way with steel chassis with timber infill, however, the large flat panels are made from high grade Cedar faced plywood for stability and strength.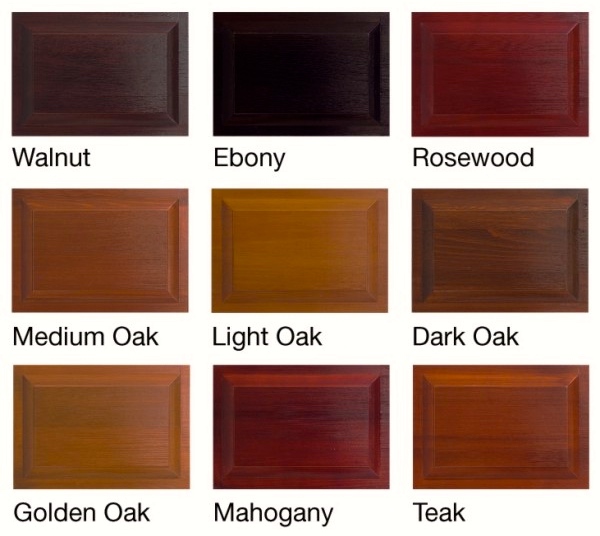 Hormann timber doors colour samples.
Hormann 2011 OFI Open For Infill option.
The Hormann 2011 OFI - Open For Infill is a good way of creating your own bespoke timber garage door by cladding the steel chassis in your chosen timber or other material.

All counterbalance gear and locking is included with the door.

Steel goal post fixing frame also available if required.
Any questions, please phone on 01691 670394 or send us your questions and sizes using our easy but accurate self survey form.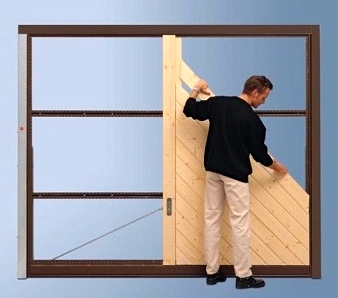 Hormann timber garage door built on OFI steel chassis.