Hormann Sectional Garage Doors
Hormann, Europe's largest garage door manufacturer, is the market leader in high quality sectional garage doors and insulated sectional garage doors. Available at discounted prices from Arridge, Hormann sectional garage doors transform any garage into a draught-proof, warm and secure room.
Sectional Hormann doors feature deep, all-round rubber seals, rubber seals between the sections and the insulated foam core to the sections create a highly insulated, draught-proof and secure garage door. Available as Hormann sectional insulated LPU 42mm , or in a single skin non-insulated version.
A full range of styles, finishes and colours enables you to easily choose the right Hormann sectional garage door for your home or building project.
Hormann Sectional Door Construction
All Hormann sectional doors are manufactured from fully finished steel which requires no maintenance. The foam core on the twin-walled insulated versions makes them extra rigid and, in 2013, the twin-walled and timber sectionals fitted with a Hormann electric opener were awarded Secure by Design accreditation, a first in the industry for a domestic sectional garage door.
The garage doors come manual as standard, but can be automated with the addition of a Hormann remote control motor kit (5 year guarantee). The Hormann Promatic and Supramatic automation kits are an affordable addition to make your garage door very convenient in use and extra secure.
Hormann Timber Sectional Garage Doors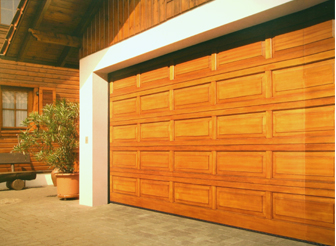 Hemlock Hormann sectional garage door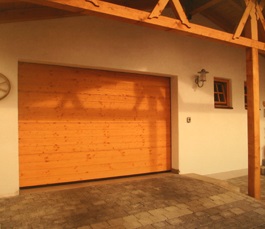 Hormann door shown is Horizontal Ribbed in Nordic Pine. Subtle and full of quality
A range of Hormann sectional timber doors are available from Arridge Garage Doors. The timber Hormann sectional garage door shown is the panelled design in Hemlock. This is a truly high class garage door, successfully blending the natural beauty of timber with the engineering excellence of the sectional door design and mechanism.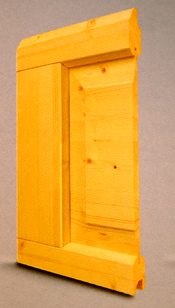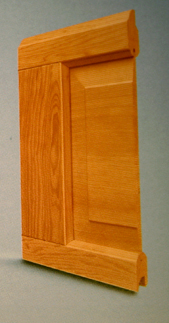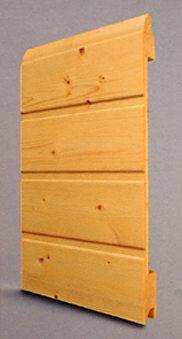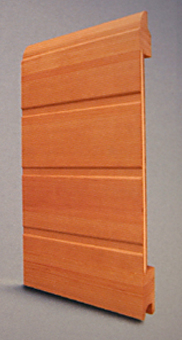 Hormann wooden sectional garage doors are constructed from Nordic Pine or Hemlock. All timber is naturally insulated and these doors have draught seals all round. The timber is double impregnated against fungal and insect attack. Various designs are available. U value of timber sectionals is 3.0 Wm2K.
Hormann Sectional Doors with wicket doors
Hormann offer their sectional overhead door with an inbuilt wicket door with a trip-free threshold. Adds significant cost to the door, but extremely convenient for garages used as utility rooms, home workshops and home offices, which need to be insulated and have the facility to be fully opened when needed.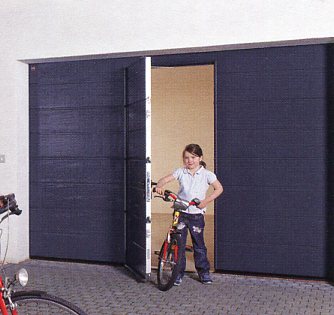 Hormann M-Rib Woodgrain Sectional with in-built Wicket door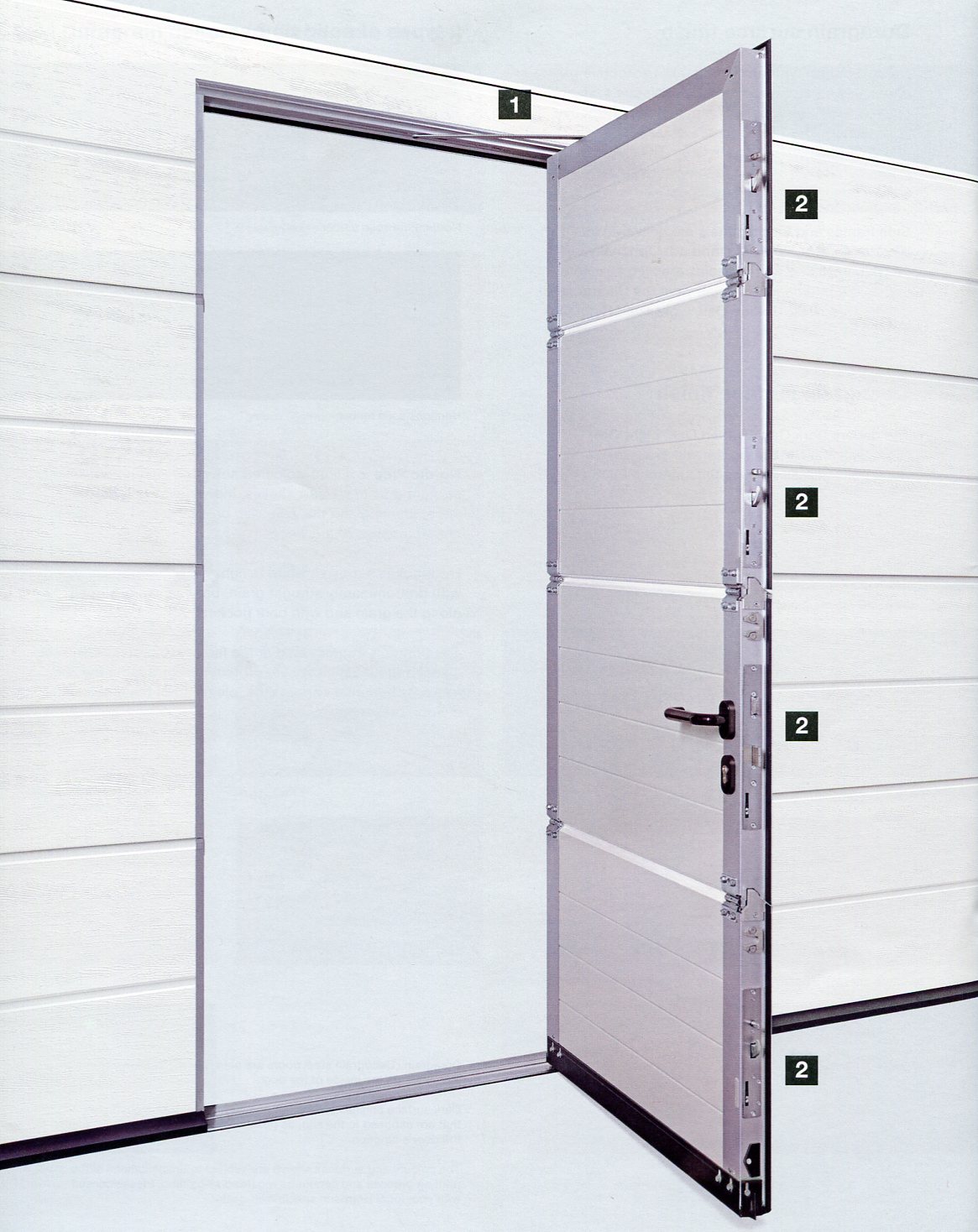 Sectional door with wicket Note 1) optional extra neat closer with hold-open device and 2) optional Multi-point locking
Insulation Values for Hormann Sectional Doors - LPU40 (42mm thick)
All the U values quoted are for a 10m2 installed door.

42mm Thick (LPU)
U Value: 1.3W/M2K
Double skinned door 42mm thick throughout the panel.
Draught seals all round.
High wind resistance - quiet operation
Excellent acoustic insulation
The single skin door (LTE) has no thermal advantage but it is draught proof. It is more secure than an up and over door and a white fully finished steel fixing frame with inbuilt rubber seals is included in the price. The U Value is 6.4W/M2K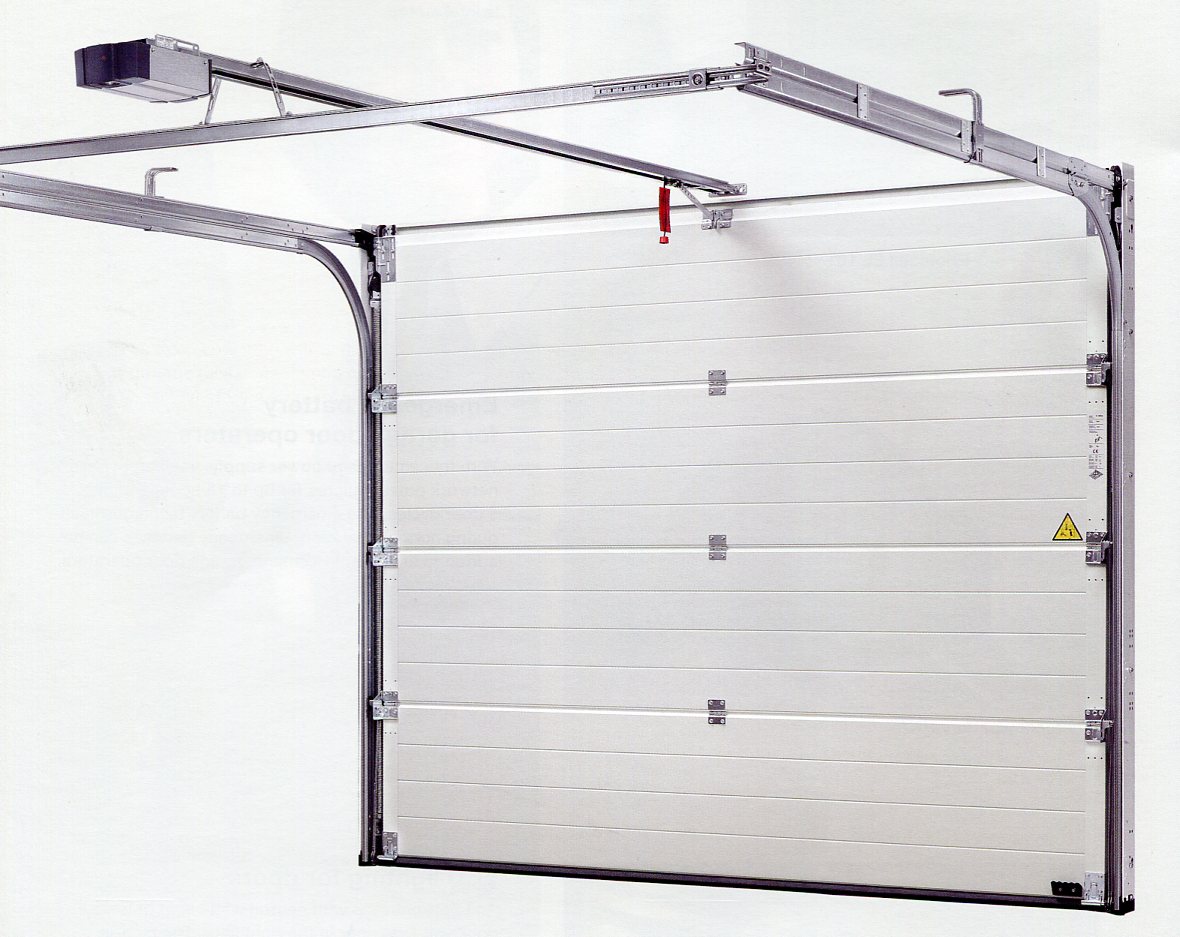 Sectional door viewed from the inside. Please note the double horizontal tracks designed to reduce ceiling height requirement. All adjustable fixings provided for safe and quick installation. The door is shown with the Hormann Supramatic electronic operator fitted.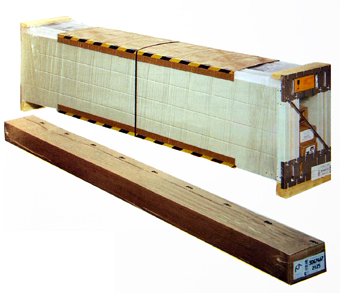 The Hormann sectional garage door arrives in crate format with the panels stacked facing inwards, keeping the door safe and sound.
Hormann sectional garage doors are available in single skin or 42mm insulation. NB: Doors available ex-stock are in White, Golden Oak or Rosewood laminate. Coloured doors options are available on request.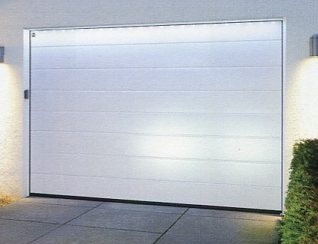 Ribbed sectional door shown from the front. All Hormann sectional doors come complete with a fully finished fixing frame. The frame is fitted directly onto the back of the brick opening - similar to a roller shutter door. Rubber seals all around the door prevent draughts. Sectional doors also have rubber seals between the individual sections. Installing the Hormann sectional door between the brickwork and under the lintel is possible. Please complete the self-survey form and e-mail us any digital photos, so we can give advice / help and quote accurately.
Hormann garage door furniture and window options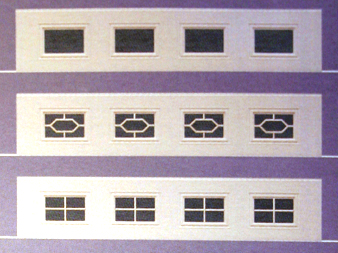 Window fitting options are available in either clear or crystal panes. Windows on single skin garage doors are single glazed. On insulated doors they are double glazed.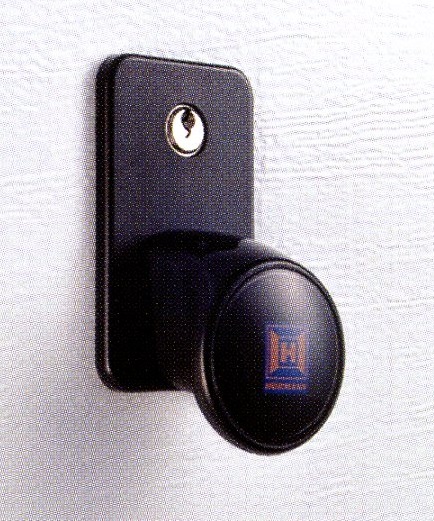 The handle is only required when doors are to be manual. Doors come without handle/Lock Hole. All doors can be Automated. The standard black handle shown comes complete with internal locking mechanism. Chrome/Brass/Stainless options available at extra cost. Click here to view options with prices.
Sectional door headroom considerations
The headroom required for doors up to 10' wide and doors over 10' wide on low headroom gear is 100mm. For doors that are to be automated add 25mm. The headroom required on double doors with standard headroom gear is 210mm, for manual and auto.
Low headroom gear is available on double doors when headroom above door up to the ceiling is limited. Made-to-measure doors are available, and UK factory width and height cuts, which often remove the need to purchase a bespoke garage door.
Hormann Sectional Garage Door Pricing and Ordering
Arridge Garage Doors offers highly competitive prices on all Hormann sectional garage doors and remote control electric automation kits.
If you require the door to be installed, please see our installation service section, showing our quality garage door installers in your area.
See more details on the other types of Hormann Garage Doors we sell.