Hormann Timber Doors Full Specification
Superior quality garage door hand made from durable, solid cedar wood.
This door has strong but lightweight steel and aluminium door panel framework. This door chassis is powdercoated in dark brown.
CE marked anti-drop mechanism ensures safe, smooth and reliable door operation.
Door comes with factory fitted counterbalance lifting gear mechanism, sturdy locks and latches and side seals for quick and easy on-site installation.
Available with canopy or retractable counterbalance system.
Can be purchased with Retractable Plus gear on doors upto 7'6" wide, if required, to ensure maximum entrance width achieved.
These doors can be purchased with a Hormann factory-fitted, dark brown, powdercoated steel fixing frame, for easy onsite installation. Doors over 10' wide can come with loose knockdown frame for quick on-site assembly.
Alternatively, doors can be fitted to the brickwork via a 70mm x 70mm timber goalpost frame.
Manufacturer's "10 year Safe and Reliable Guarantee" comes with the door.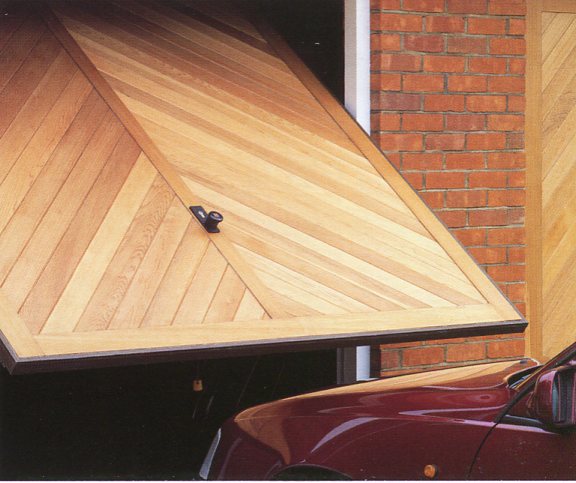 Please note the neat, but visible, brown steel edge to the door panel.
Any of the high quality Hormann timber garage doors can be made automatic, at little extra cost.
**Supplied with a dip immersion coat of Remmers Induline GW306 base stain primer 006 Light Oak; this coating is for TEMPORARY protection only. If purchased in this temporary finish, a finishing coat must be applied IMMEDIATELY before or after installation to all exposed surfaces - inside AND outside - with a Remmers or similar finishing coat system.
Fully finished option is available, at extra cost, in a choice of stain colours: Light Oak, Medium Oak, Dark Oak, Golden Oak, Mahogany, Rosewood, Walnut, Teak, and Ebony.*
*N.B. Darker finishes may not be covered by manufacturer's warranty if installed in a south-facing position.
Black handle is fitted as standard.