Insulated Garage Doors
Insulated garage doors are available in various types from roller doors through to up and over and sectional. The buttons above take you to the details and insulated garage door prices for each manufacturer and type of doors. Please see the general info below on each of the insulated garage door types available.
The main benefit of an insulated garage door is that they create a draft and dust free sound deadening warm environment, enabling you to use your garage all year round. At Arridge Garage Doors we sell garage doors with two different thicknesses of insulation depending on your warmth and budget requirements.
All of our insulated garage doors are sold on a supply only basis at the heavily discounted website prices or on a supply and installation basis, where the discounted website price is charged for the door, motor etc and a separate installation price is quoted.
Insulated Sectional Garage Doors
Insulated sectional doors are made up of 4 or more sections which rise vertically and travel back into the garage on ceiling-mounted tracks. The individual sections of the garage door are generally made from fully finished steel with a rigid foam core (cfc-free). In addition to the high thermal insulation of the panels, the all-round rubber seals prevent draughts between the door and the frame and also between the door and the floor. Rubber seals between the sections ensure that draughts are practically eliminated.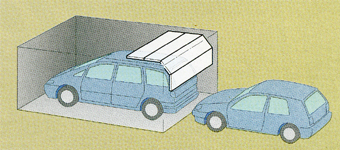 How an insulated sectional garage door opens and closes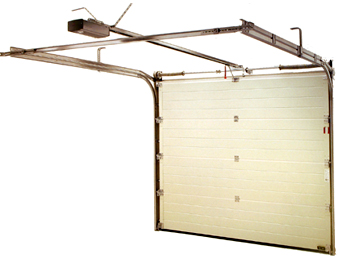 Inside view showing individual sections and frame/tracking and optional motor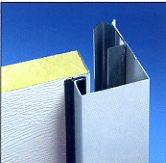 Rubber side seals prevent draughts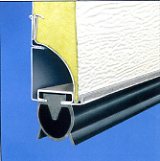 Deep bottom rubber compresses to the floor to stop debris & draughts blowing in
Hormann Insulated Sectional Garage Doors
Hormann is a market leading manufacturer primarily due to the high quality of their garage doors and affordable prices. Hormann insulated sectional garage doors are available ex-stock in white, Golden Oak and Rosewood. Standard and special colours generally take 3 to 6 weeks for delivery.
Hormann insulated doors are available in various horizontally ribbed designs in smooth or wood grain finish or Georgian design which requires no maintenance. Steel fixing frame with rubber seals, tracks and springs etc are included in the price, with manual or electric operation available. All doors are made in Germany and Hormann offer a 42mm thick door which is highly insulated (U value 1.3Wm²K).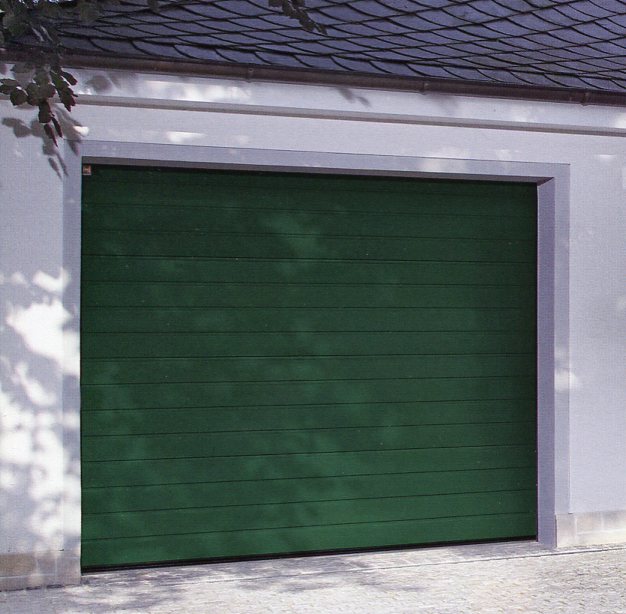 Hormann S-Rib Sectional in Fir Green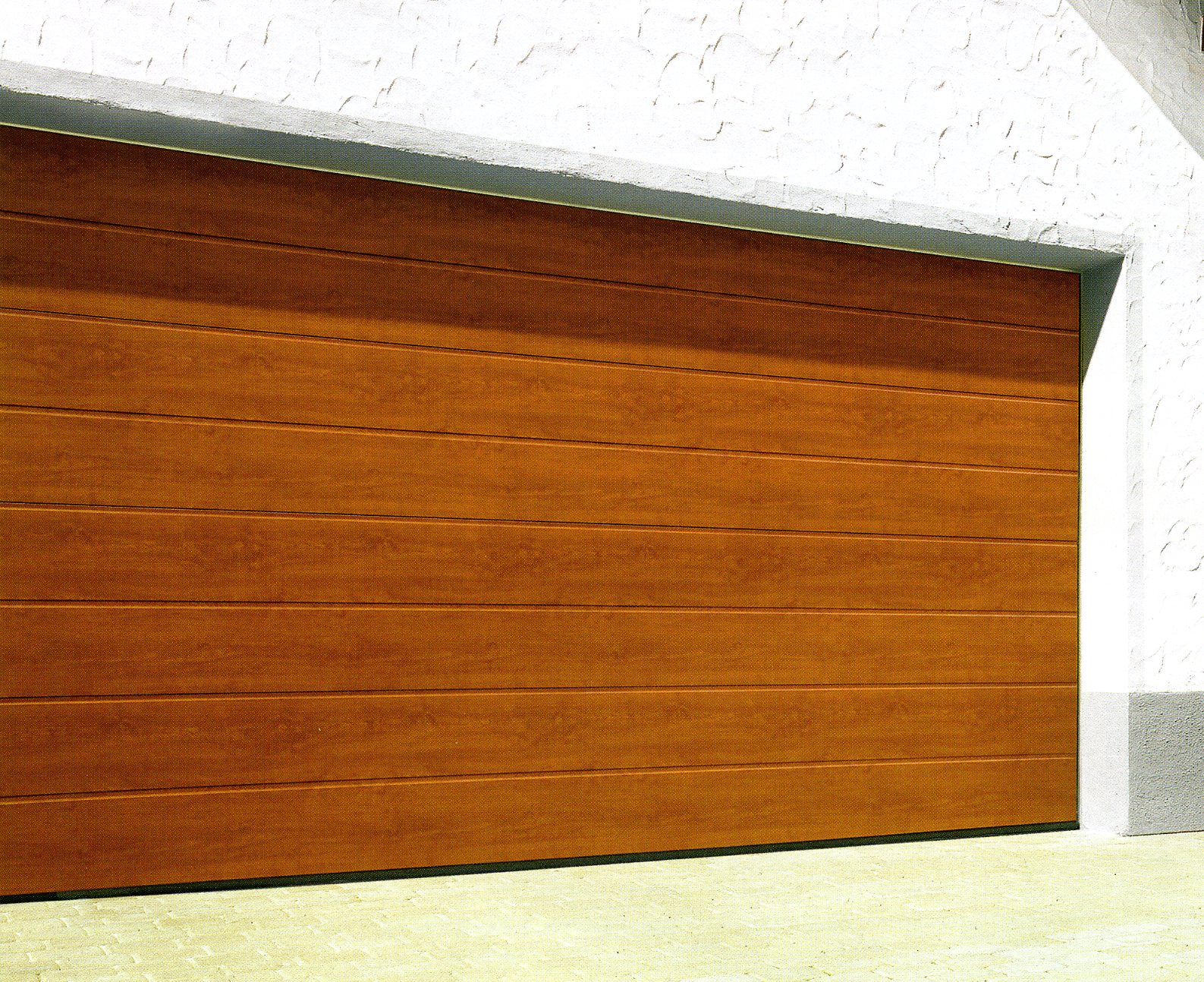 Hormann M-Rib Sectional in Golden Oak Laminate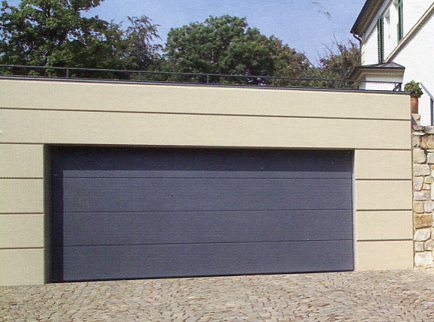 Hormann L-Rib Sectional in Titan Silkgrain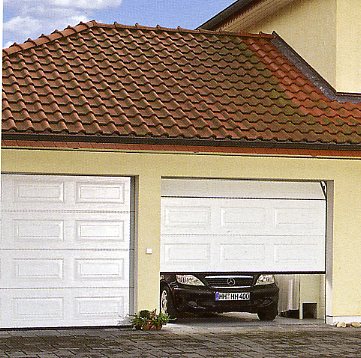 Hormann Georgian Sectional in White
Carteck insulated sectional garage doors
Carteck insulated sectional garage doors are also made in Germany, but the final assembly and width/height alterations are made in the UK to reduce lead times. This allows made-to-measure sectional garage doors to be constructed quickly and at little extra cost. All Carteck Insulated Doors are 40mm thick, twin-walled steel with a rigid foam core. The fitted door has a U value of 1.48Wm²K making it one of the most insulated garage doors on the market. Soft black rubber seals between the panels and round all four sides of the door eliminate draughts.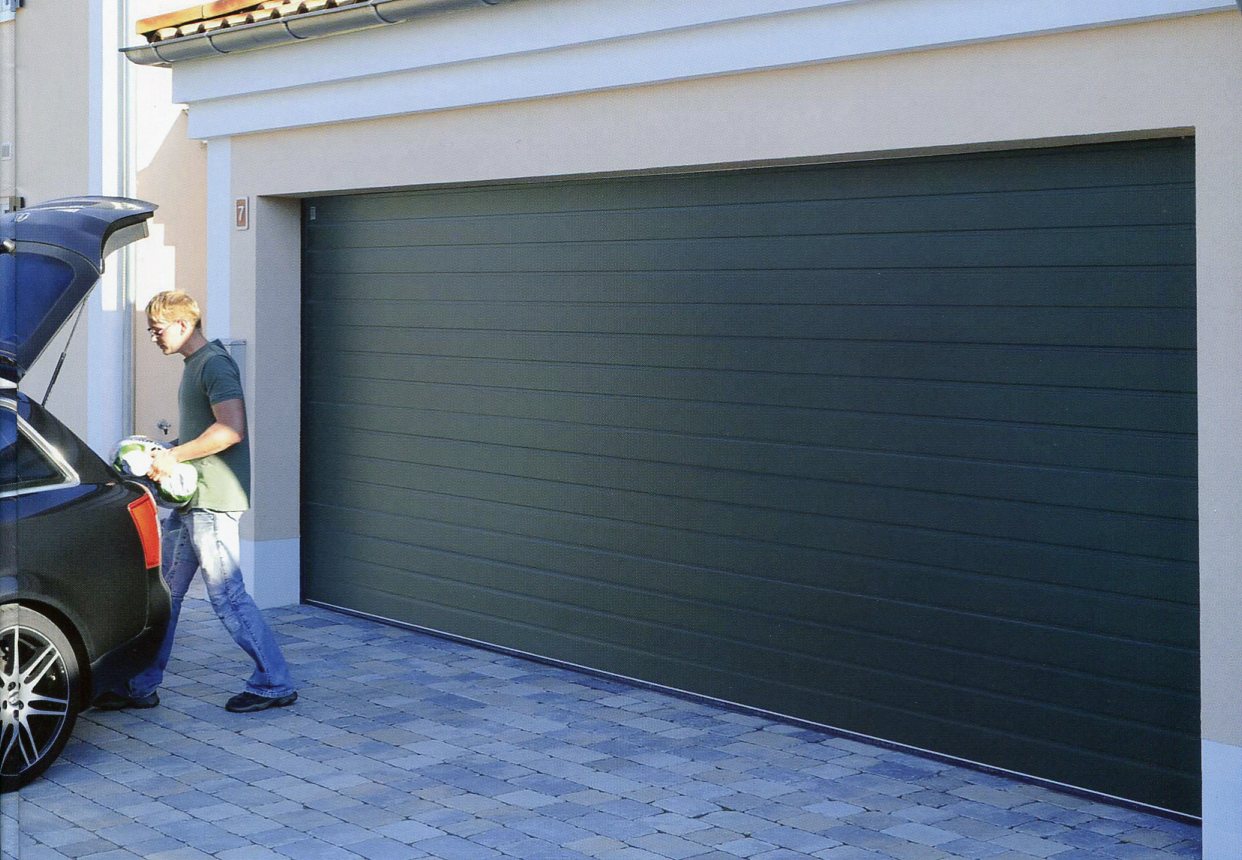 Standard Rib Carteck Sectional garage door In Anthracite Grey RAL 7016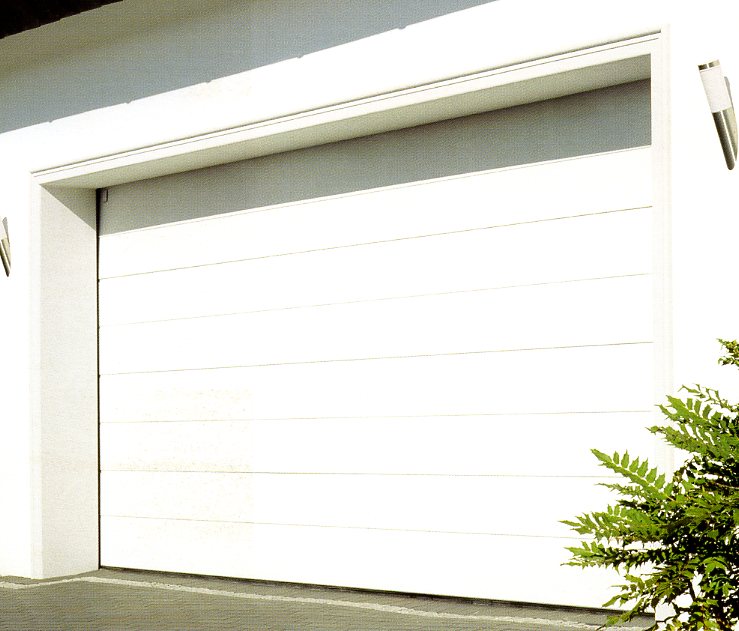 Centre Rib Smooth Carteck Sectional in White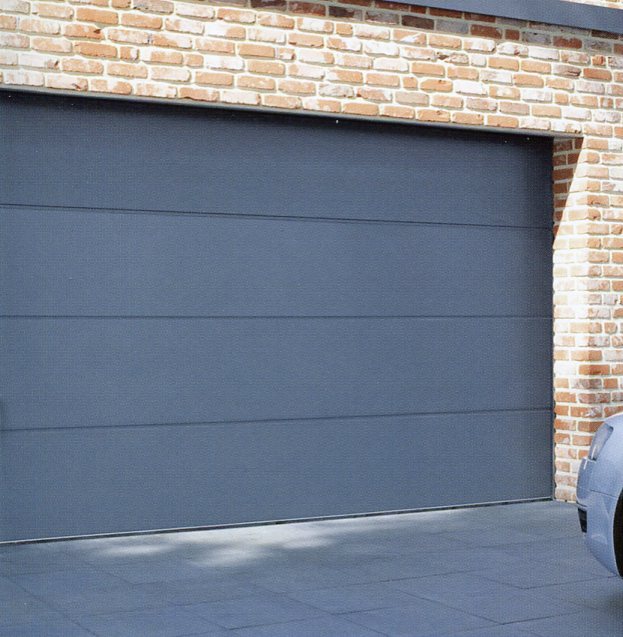 Large Rib Carteck in Anthracite Grey RAL 7016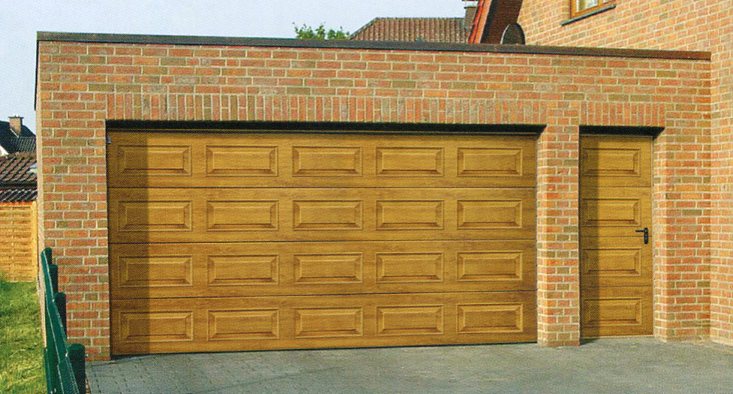 Carteck Georgian Sectional in Golden Oak foil laminate finish
Gliderol Insulated Garage Doors
Gliderol also offer insulated sectional garage doors. They are slightly cheaper in cost, but not quite as insulated or draught-proof and are slightly more time-consuming to install. See our Gliderol Insulated range of doors
Insulated Roller Garage Doors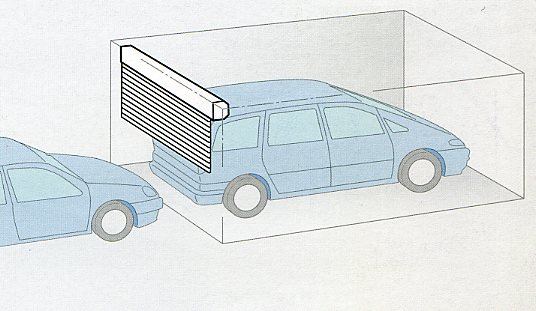 Vertical lift roller door, Space saving & made-to measure as standard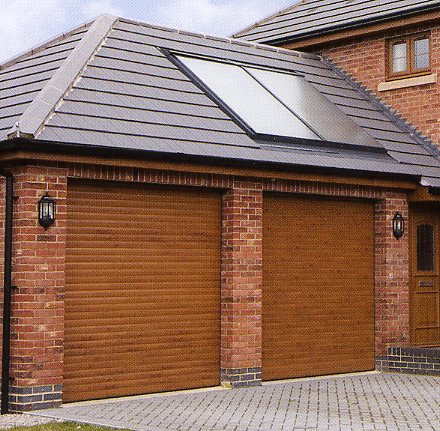 Pair of Aluroll Golden Oak insulated roller garage doors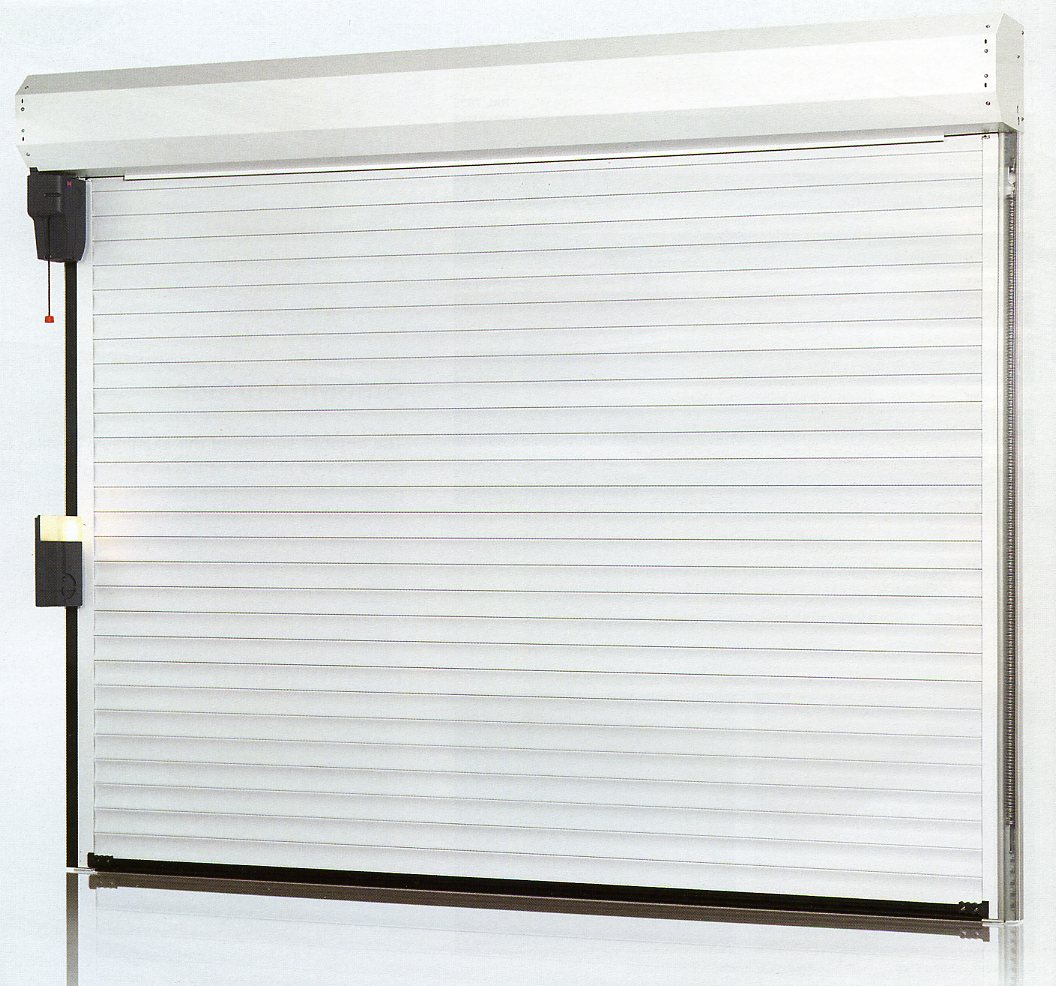 nside view of Hormann Rollmatic. Note: courtesy light/control panel, manual override and full box enclosure
Insulated roller garage doors are made from individual, aluminium, foam-filled slats which have a rigid foam core. With draught seals in the guide channels, and a pliable bottom rubber seal minimising draughts, the Aluroll insulated roller door and Hormann Rollmatic insulated roller door are very similar. Both come as standard as remote control electric roller doors. Aluroll's doors are manufactured in the UK using German components, resulting in quality roller doors delivered quickly and efficiently, generally within 4 to 10 working days.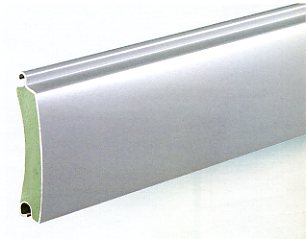 Smooth foam filled Hormann slat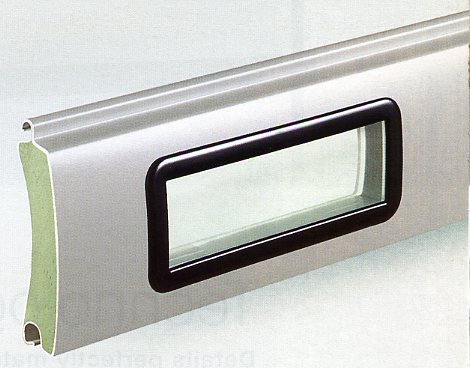 Glazed version of Hormann foam filled slat
Hormann insulated roller door lead times are slower, but the product does have certain specific features which some customers prefer. These include availability as a manual roller door, quick manual opening in the event of a power failure, wind lock guides to enable the door to withstand Class 5 wind loads and a neat glazing profile for customers who want small windows in the garage door.
Insulated roller doors are not as insulated as insulated sectional doors; the slats are only 16mm thick and the uninsulated joints between the slats act as a cold bridge. However they remain very popular with customers who do not want tracks hanging from the garage ceiling and are content with a reasonable level of insulation and draught-proofing. All standard colours at the same price with wood grain laminates including golden oak, Irish oak and rosewood 20% dearer.
Insulated Side-Hinged Garage Doors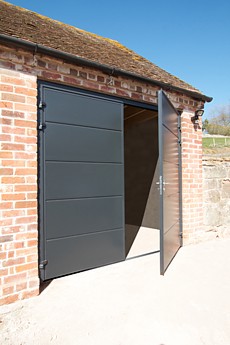 Carteck solid smooth insulated side-hinged garage doors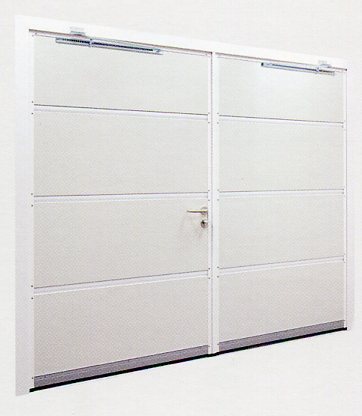 Inside view of a pair of Carteck side-hinged garage doors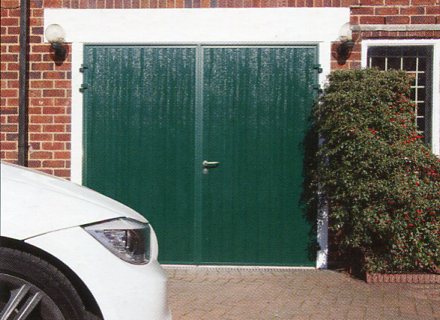 Carteck Insulated Standard Rib side-hinged garage doors
Insulated side-hinged garage doors consist of a steel door foam-filled with 40mm of insulation, fitted to a goal post frame, with rubber seals around each door leaf. Insulated side doors are ideal for home offices, workshops, gyms and dry storage areas.
Made in the UK by Carteck from German components, a popular optional extra is a raised bottom threshold that is fixed to the floor underneath the door to allow the door to sit on a soft rubber seal, reducing draughts and dust ingress.
All of our insulated side-hinged garage doors are made to measure at no extra cost and come with stainless steel handles, escutcheons and locking, and inbuilt flush bolts at the top and bottom of the inactive leaf. Optional three point locking is available on the active leaf. Doors are available in numerous horizontal rib, vertical rib and Georgian designs with either a 50:50 split or off-centre split depending on the customer's preference. Double glazed window options and matching side doors are also available.
Insulated Round the Corner Garage Doors
We will be adding a new specification for our insulated round the corner garage doors very soon.
Insulated Garage Doors Prices and Ordering
For prices and to order, please take a look at our products on the site using the navigation or links above. Please do get in touch if you have any questions about the products. We have a self survey form to help you in providing us with the correct measurements so we can help advise and quote accurately on the doors of your choice. We can also provide an installation quote if required