Made-to-measure Garage Doors
All of our garage doors can be made-to-measure at little or no extra cost. To create your made to measure garage doors, simply choose from our wide selection of styles, finishes, colours and sizes to create a door designed to your requirements. All of the doors detailed below are available supply only or with installation at discounted website prices.
Wooden Made to Measure Garage Doors
Available as up and over or side-hinged, our custom sized wooden garage doors are generally manufactured in cedar, oak or idigbo and are available as manual or remote control electric. All of the Cedar Door garage doors we offer are made-to-measure at no price premium. Follow the link to see all styles and prices. Small, large or any size in between, we can offer the size you need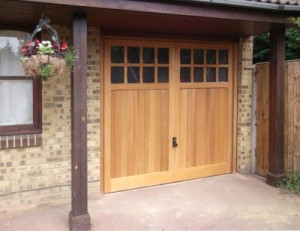 Small
Woodrite Buckingham Bierton wooden garage door. This design available as side-hinged or up & over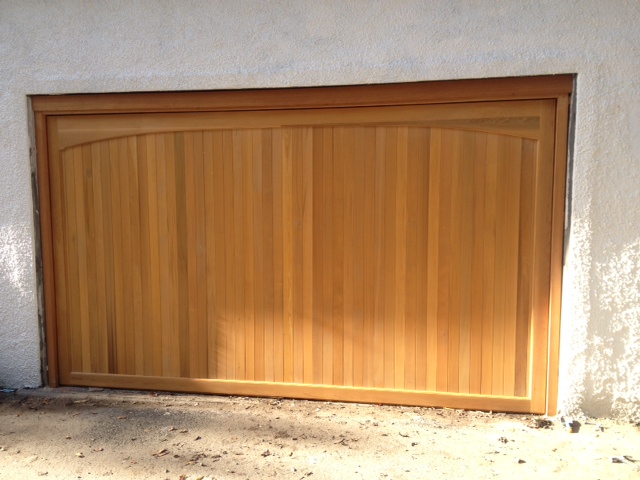 Medium
Buckingham Chartridge we did for a customer in Scotland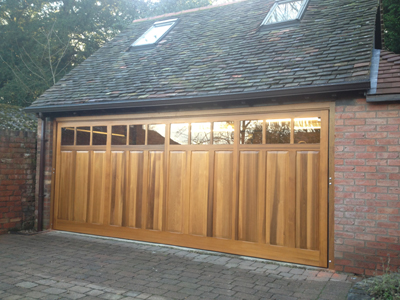 Large
extra wide bespoke glazed door made-to measure to suit customer's large garage
Made-to-measure roller garage doors
Our roller doors are made by leading manufacturers including Aluroll, Gliderol and Hormann with a choice of insulation, security and automation options.
All of our Gliderol continuous curtain roller doors and Aluroll insulated roller garage doors are made-to-measure at no extra cost. Doors are simply priced based on the width and height of the aperture.
The Aluroll insulated roller door is by far our most popular roller door due to short lead times, high quality and affordable prices. The insulation, security and neatness it offers over and above the continuous curtain roller is very popular for multi-use garages, workshops, tool stores etc.
The Hormann Rollmatic is also a made-to-measure door.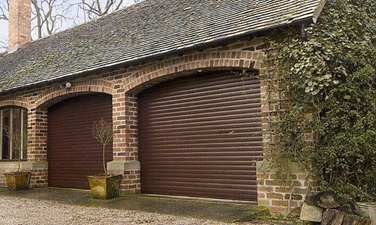 Insulated roller door
, made-to-measure to suit your brickwork opening, made by Aluroll. Rosewood foil laminate version shown.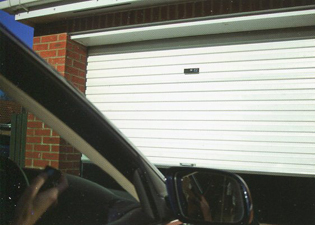 Gliderol continuous curtain plastisol-coated steel roller door
.Available as a manual or electric door. All made-to-measure, domestic or light industrial.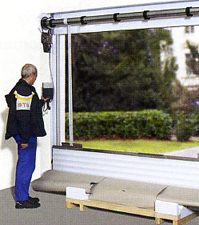 The Hormann Rollmatic
Easy to install. Delivered on a pallet. Inner box cover removed to show main shaft. All made to size.
Made-to-measure sectional garage doors
Sectional doors have become very popular in the last few years due to their numerous benefits and comparatively low cost. Most of the sectional overhead made-to-measure garage doors we sell, are cleverly made from standard size doors factory cut in width and/or height. This allows us to quickly create a completely made-to-measure sectional door to your required sizes, design, finish and colour. Certain sizes required, which cannot be manufactured from a UK stock donor door, do have to be brought in specially.
If you send us all your sizes and specification, we can quickly calculate what is needed with costs. Made to measure sectional doors from 6ft wide (1800mm) up to 18ft wide (5500mm) can often be made from stock UK panels.
Made-to-measure side-hinged garage doors
For very small side-hinged garage doors, one of the popular types we offer are the Wessex range of GRP doors which are all made-to-measure at no extra cost. They are pre-framed ready for quick on-site installation and are maintenance-free. Our heavily discounted Garador, Cardale and Fort steel side-hinged doors are available from approximately 5ft wide upto 9ft wide. Our insulated side-hinged range of doors are also available in a wide range of widths and heights, all of which are manufactured to order at no additional cost.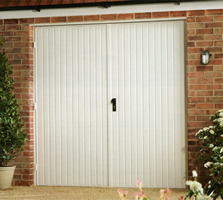 Garador Carlton steel side-hinged made-to-measure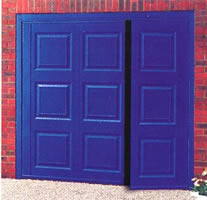 Cardale 1/3:2/3 Georgian available in a wide range of sizes. Shown in blue.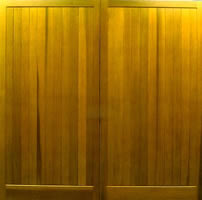 Cedar Door Bakewell side-hinged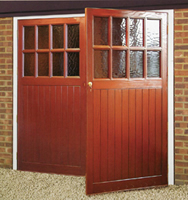 Wessex Sherwood Side- hinged. Ideal when an unusual size garage door is required, due to the large size range offered. Sherwood design comes with dummy black windows as standard. Upgrade to clear windows at extra cost
Choosing your made to measure door size
Please complete our handy self survey form which we will need in order to help, advise and quote accurately.