Sectional Overhead Doors. Domestic, Industrial and Commercial
Sectional overhead doors are vertically opening doors made up of individual sections. The individual sections are stacked vertically with strong hinge plates connecting the sections together allowing them to hinge as they rise and follow tracks back into the garage.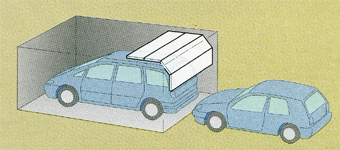 A sectional overhead garage door opens vertically giving maximum space inside and outside the garage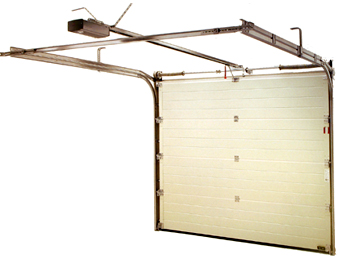 Back of a Hormann sectional overhead door showing frame, tracks and centrally located motor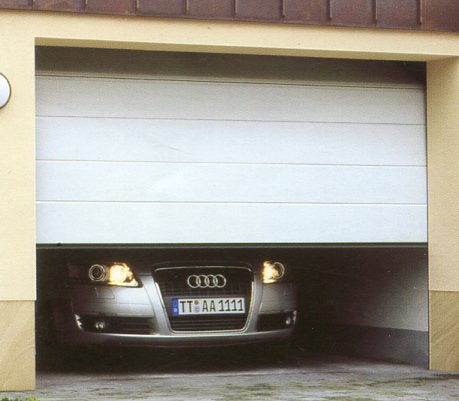 Sectional door fitted in the usual way, behind the brickwork aperture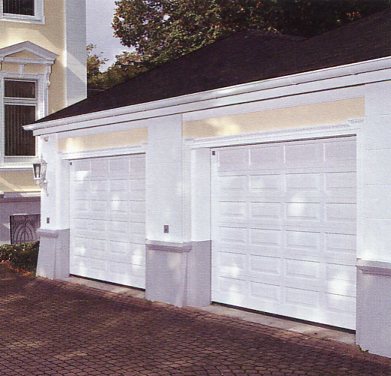 Double Georgian sectional door in white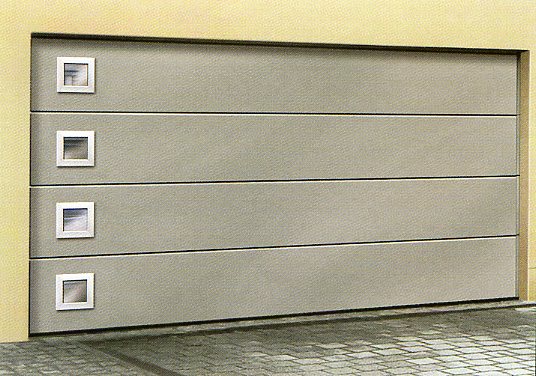 Solid Smooth Carteck sectional overhead door with aluminium window inserts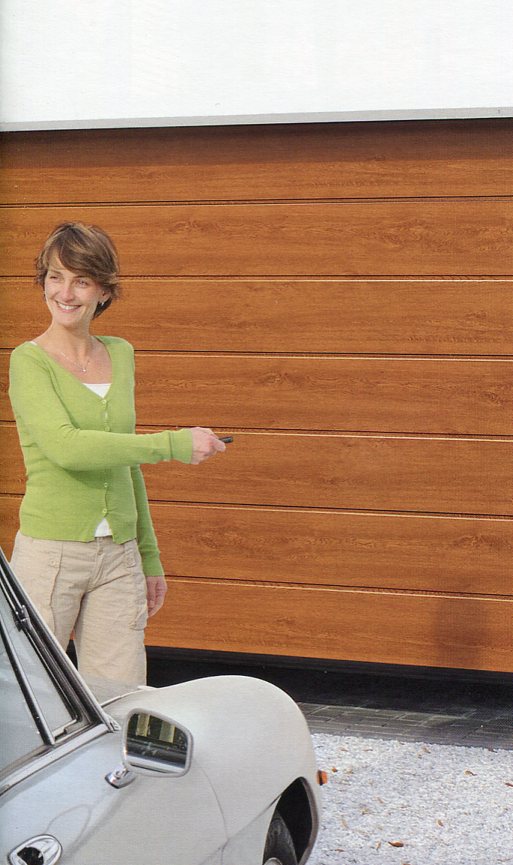 Golden Oak medium ribbed Hormann insulated sectional door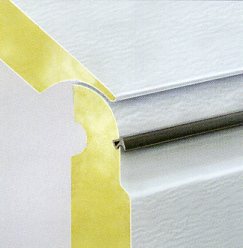 Rubber seals between the individual sections eliminate draughts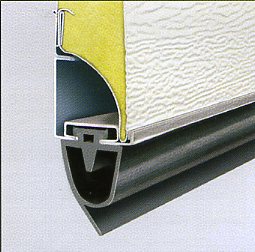 Anti-frost EPDM bottom rubber seal compensates for some unevenness in the floor, keeping out cold air, debris and dampness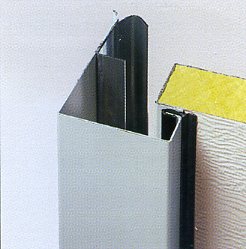 The sections seal against soft rubber side seals built into the fixing frame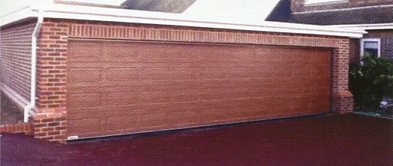 Carteck extra wide sectional door for large domestic garages.Domestic appearance, industrial gear and reliability.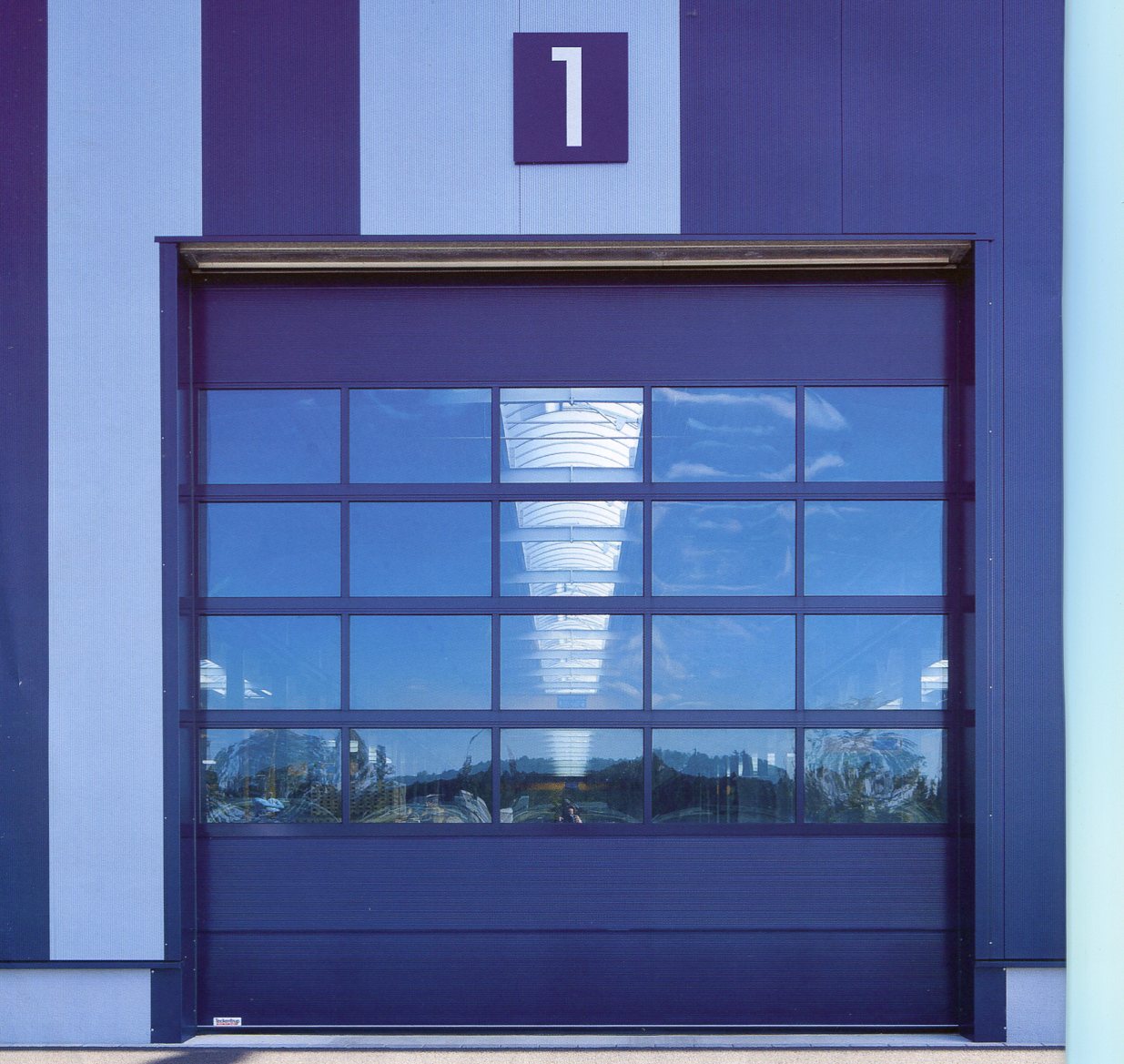 Industrial sectional door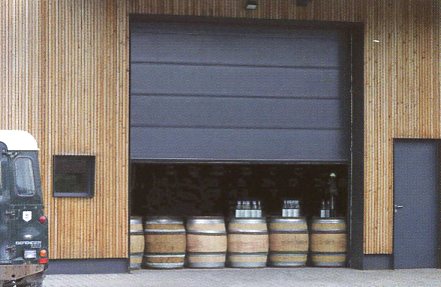 Industrial sectional door
Broadly speaking, sectional doors can be divided into Domestic sectional overhead garage doors and Industrial sectional overhead doors.
Domestic Sectional Overhead Garage Doors
Available in single-skin and 40mm/45mm thick insulated, in numerous styles, finishes and colours. All the steel and GRP sectional doors come fully finished and maintenance-free. Most models are available ex-stock in white, Golden Oak and Rosewood, with colours on slightly longer lead times. They come as manual as standard, but the addition of one of our high quality but heavily discounted automation kits makes the door electric at little extra cost.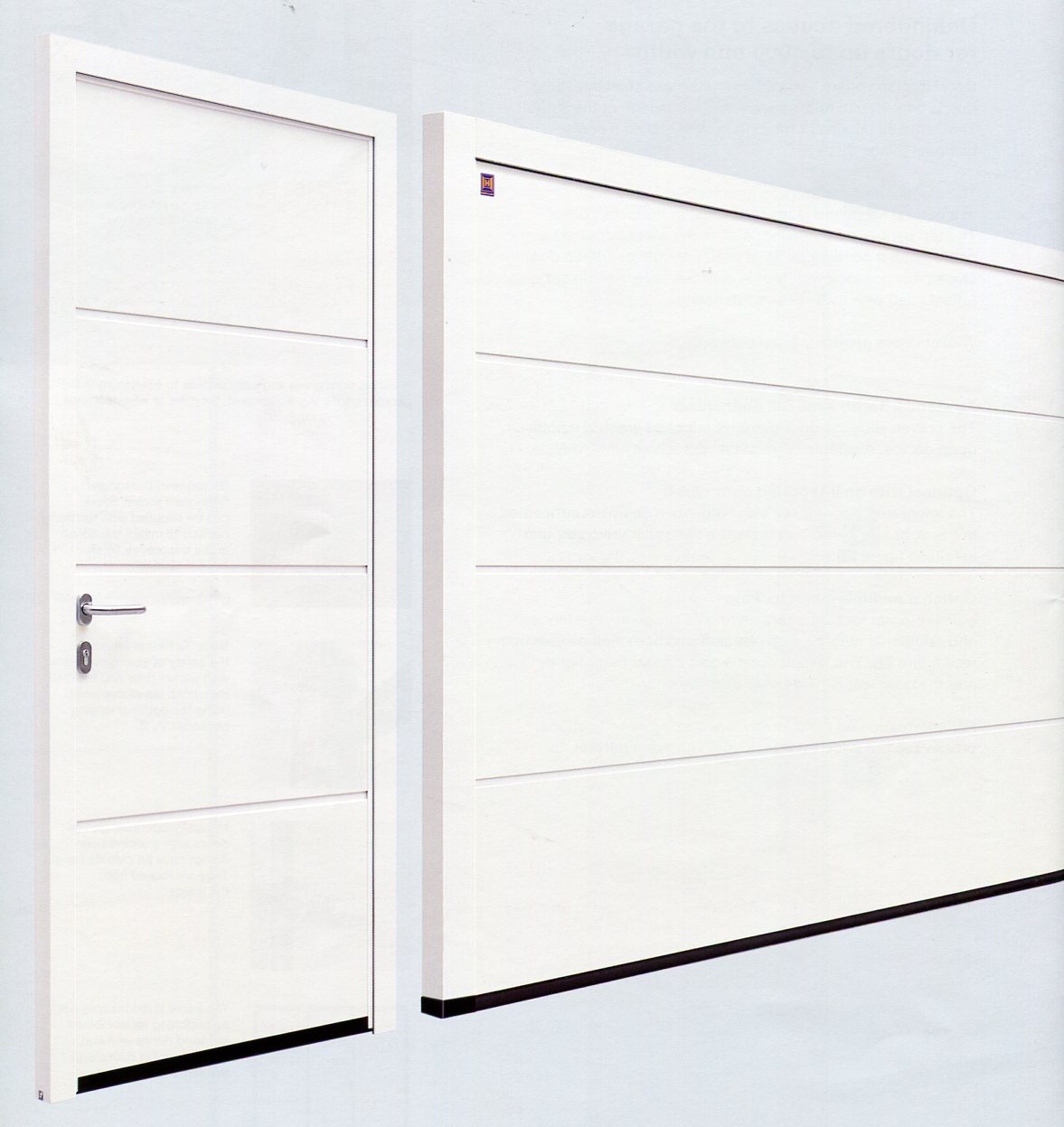 Large rib Hormann sectional door with matching side door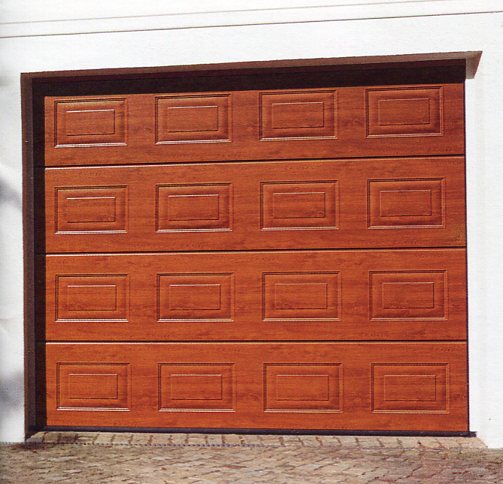 Golden Oak small panel Georgian door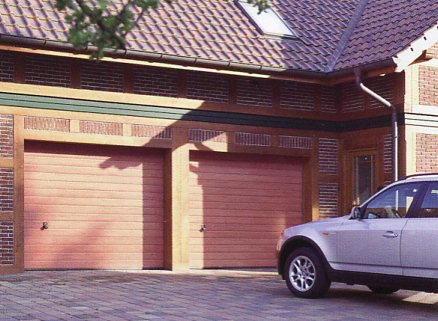 S-Ribbed Hemlock timber sectional doors
The Hormann 42mm thick insulated steel sectional door and the timber sectional are now "Secure by Design" accredited when fitted with one of Hormann's own motor kits (Promatic & Supramatic) , a testimony to the security and high quality of Hormann's flagship door. Low cost factory width cuts means that most made-to-measure sectional overhead doors can be quickly produced from standard sized doors on short lead times. Due to the technology that has been developed, affordable prices and the numerous colours and finishes available, the steel sectional doors are the most popular. GRP sectional doors and timber sectional garage doors are both high end products for customers looking for something a little bit different.
Industrial Sectional Overhead Doors
Industrial sectional overhead doors are available in various types to suit particular applications. The Hormann SPU F42 is our most popular high quality and secure industrial sectional door, at sensible prices. In built wicket doors and single phase or three phase electric motors, window options and colours are all available.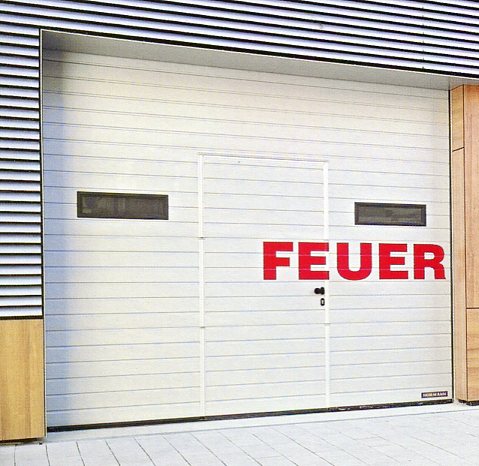 The Hormann SPU F42 with in-built wicket door
Glazed sectional doors for specialist applications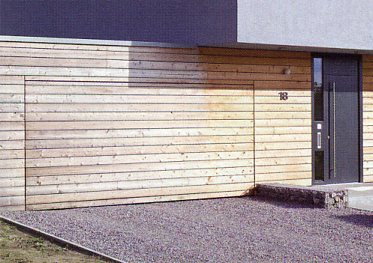 Hide the door in the building facade with the ALR F42 sectional which is cladded on site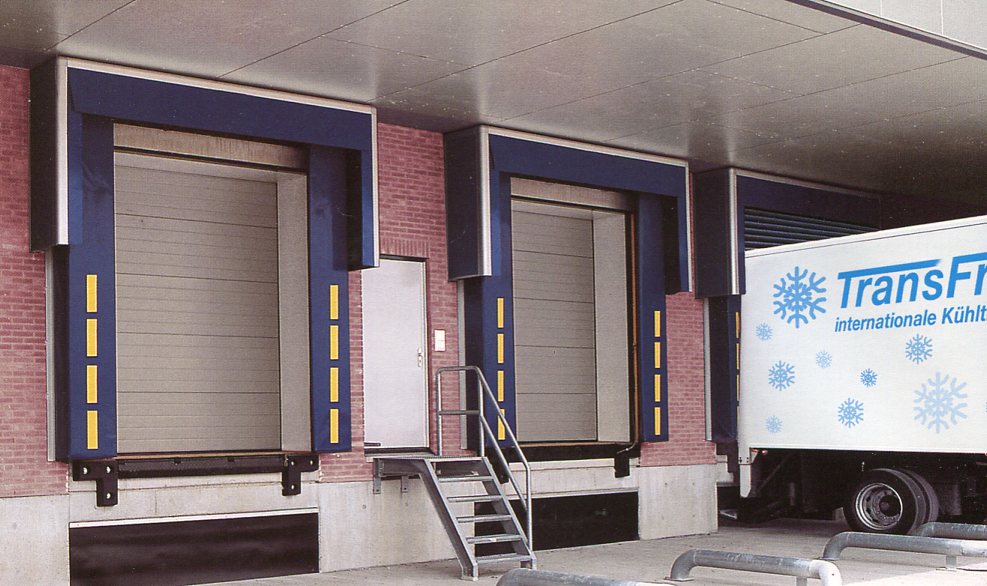 Very high insulation is possible with the Hormann DPU insulated industrial sectional overhead doors

Click to Enlarge
Numerous tracking types to suit the building and the application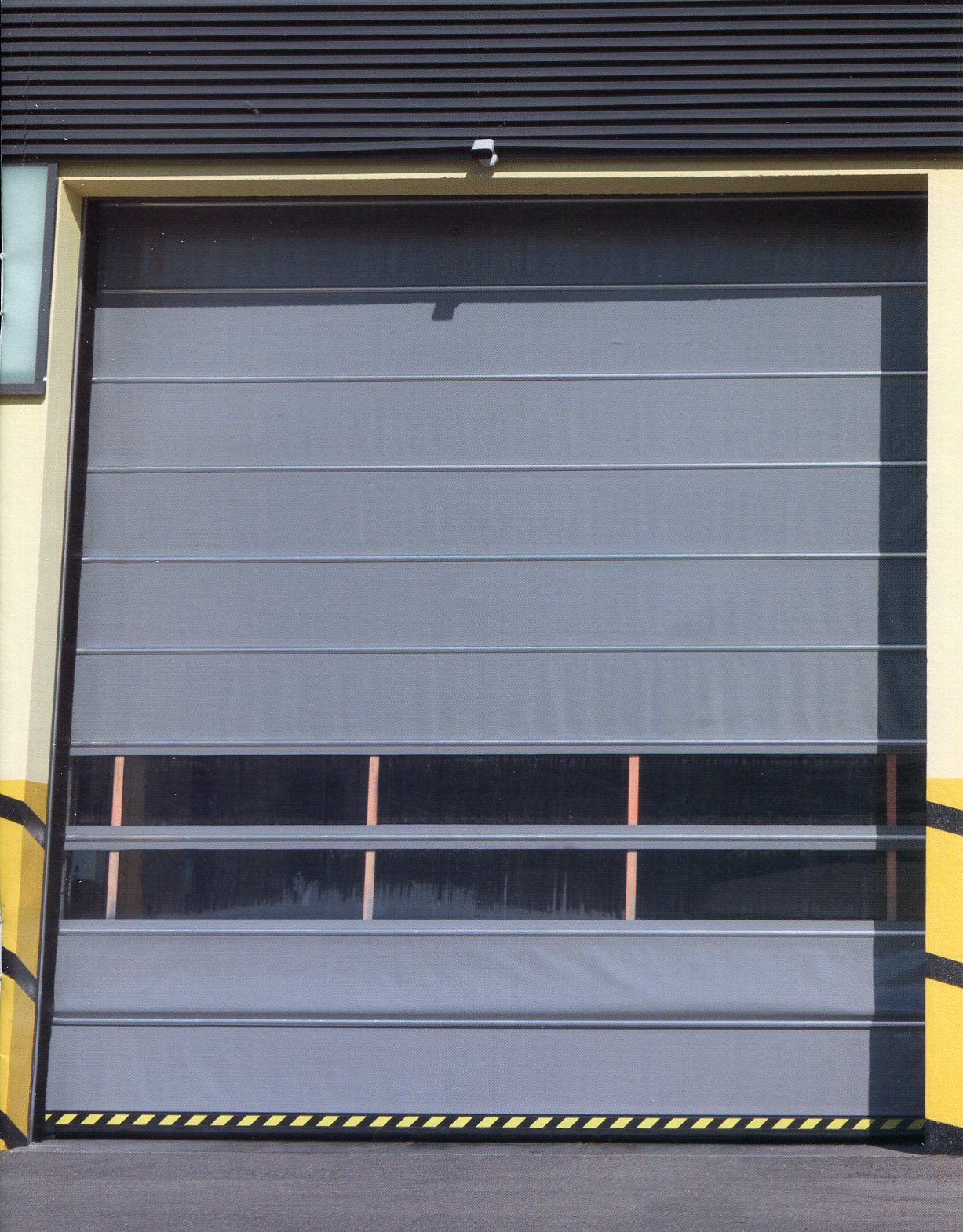 High speed door with aluminium reinforcements and pvc curtain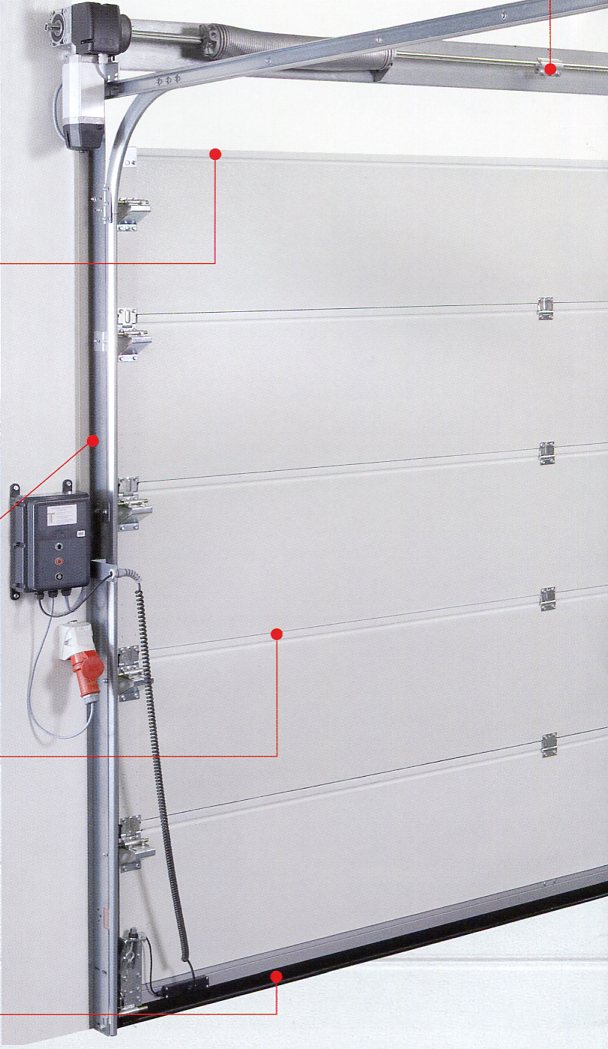 Carteck industrial sectional door showing curly wire safety system and shaft mount motor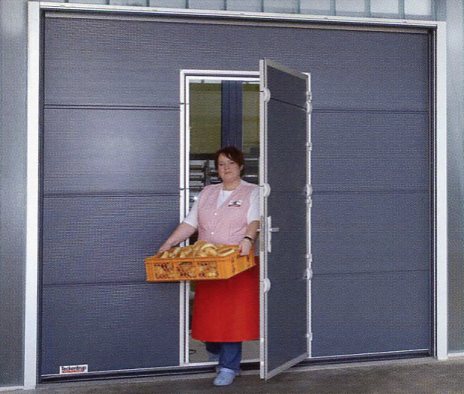 Small industrial sectional door with 80mm threshold wicket door, installed in a bakery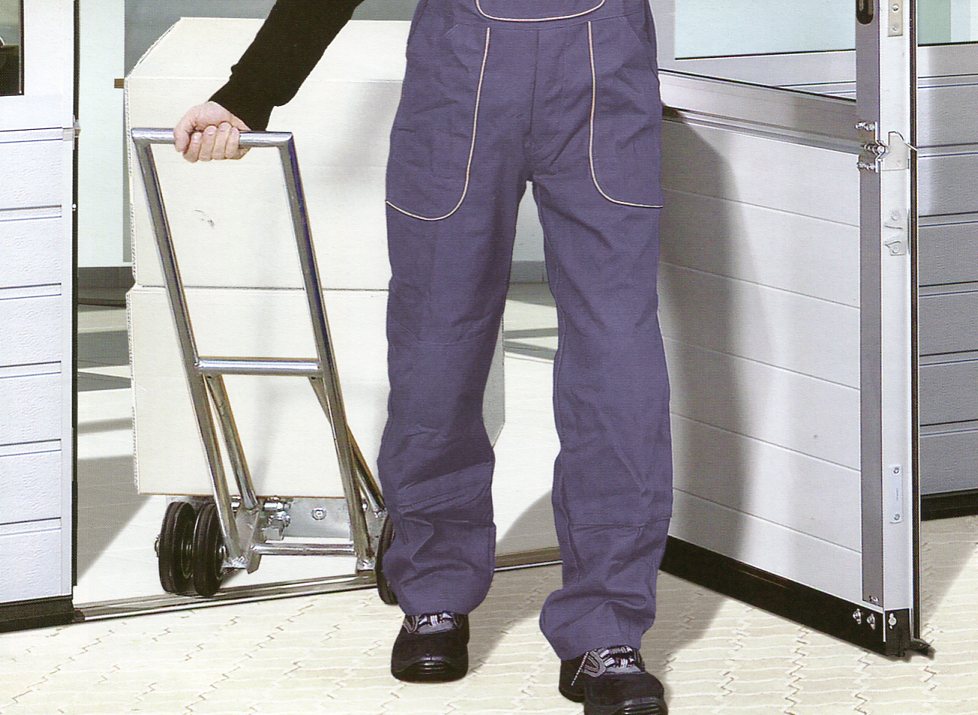 Extra low Hormann trip-free threshold on their insulated industrial sectional overhead doors
Overhead sectional doors with extra low insulation U Values.
These are possible with 42mm to 80mm insulation, as well as fully glazed sectional overhead doors for fire stations, showrooms and a wide range of industry applications. The Hormann ALR F42 glazed door or vitraplan door, for example, mixes transparency and mirroring, ideal for showrooms to facilitate maximum visibility but limit glare.
The ALR F42 is an overhead sectional door for on-site cladding to match the building or for the customer to create a bespoke design of door. Ceiling line tracks, high lift tracks, low headroom gear, high use motors, high speed and spiral doors are all available to suit your needs.
Due to the vast selection available and each individual commercial door(s) job being different, we will need an exact specification, drawings and ideally photographs (if the unit is already built) in order to accurately work out prices. Please send these to us when the enquiry is made, with your list of requests and specific questions. Our basic self survey measure-up form will help with the measure up.