Roller Shutter Garage Doors
Roller shutter garage doors have become very popular for domestic garages in the last ten years due to their numerous benefits. Advantages of purchasing roller shutters include:
Made-to-measure at no extra cost
Short lead times
Wide colour choice without price premium
Good level of security
Manual or electric
Ensure maximum drive-through width
Free up space in the garage and on the drive way
At Arridge Garage Doors established 1989, we offer a wide range of domestic roller shutter garage doors at discounted prices. We also sell industrial roller shutters for industrial units, warehouses and workshops.
The various types we offer are explained below with links taking you to the product details, sizes, prices and ordering. Customers can purchase at our discounted website prices on a supply only basis or they can have their chosen roller shutter garage door supplied and installed. We quote separately for installation according to your particular job / area / requirements. Please complete our self survey form so we can advise and quote accurately.
Domestic Roller Shutter Garage Doors
Aluroll Insulated Roller Shutter
The Aluroll Insulated Roller Shutter is our most popular roller shutter for domestic and light industrial applications. The door is assembled in Shropshire from German components. The laths making up the door curtain are roll formed aluminium with a highly insulated foam core (10 year guarantee).
The Aluroll roller shutter door curtain rises and falls in draught-proof guides and rolls into a neat powder coated box enclosure. The Somfy or NRG motors have a 5 year guarantee and all doors come with a fully CE marked safety reverse system, 2 handsets and a control box with inbuilt courtesy light. Approx 5 -12 working day lead time.
Hormann Rollmatic Insulated Roller Shutters
On slightly longer lead times than the Aluroll door, the Hormann Rollmatic roller shutter has certain features which make it stand out from the crowd. Electric as standard, the Hormann roller is also available as a manual door on request, with secure locking and light internal chain hoist operation for convenience. The full roller shutter box enclosure and guides are colour coded to match the door curtain. Includes extra safe auto reverse, arrives on a pallet for installation directly off the pallet, with optional glazing windows and vents.
Gliderol Non-insulated Roller Shutter Garage Doors – Manual or Electric
The Gliderol roller shutter is popular due to keen prices, short lead times, wide choice of colours and availability as a manual or electric shutter. The sturdy galvanised guides lightly feed the continuous curtain vertically upwards onto a roll. The reinforced bottom rail and steel locking bars ensure a good level of security on the manual version, with rolling code frequency technology on the electric version of the roller shutter making it secure.
Industrial Roller Shutter Garage Doors
Gliderol Light Industrial Roller Shutter
A low cost continuous curtain roller shutter garage door is ideal for light industrial and domestic applications when doors are needed up to 5 metres wide and 5 metres high. Chain hoist operation on the manual version comes as standard, with the 1/3 horsepower Glidermatic industrial roller shutter door opener easily lifting the door on the electric version.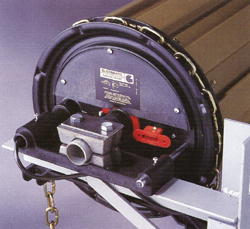 Glidermatic GDR industrial shutter motor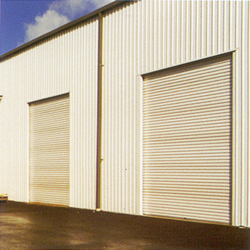 Gliderol light industrial roller shutters shown on industrial unit. Wide choice of colours. Short lead times