Hormann/Fort/Garador Steel Garage Doors in Wood Effect Laminate Finish
---
Matching steel fixing frames.
Unless fitting the door to an existing sound timber goalpost frame most customers purchase the door pre-installed to a steel goalpost fixing frame. On the popular Hormann and Garador range of Decograin foil finish doors the Golden Oak doors come with a very near match painted frame in RAL. The steel frames on the Rosewood version come in a close match RAL colour.

Although these frames are not foil laminated the frame colour is a very good match to the door. At low cost, some customers choose to clad the front of the frame with matching UPVC trim to ensure a perfect match between door and frame.

Simply click on the chosen model of door above to view all sizes, prices, options etc. If you require installation as well you can view our garage door installation team in your area by clicking the link.
As ever, any questions simply phone our technical help team on 01691 670394 or e-mail us your sizes and questions using our easy to use self survey form.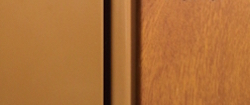 Golden Oak finish door and close match RAL frame.
---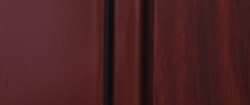 Rosewood finish door and close match RAL frame.
---