Garage Door Manufacturers
Aluroll Garage Doors (manufacturers of insulated roller garage doors)
Aluroll manufacture a very high quality insulated roller garage door using a German design
and German components. They import the Heroal pre-coloured roll-formed slat of the very highest quality from Germany, along with guides, box housings and motors. The Heroal slat is the strongest and most durable in the industry with a 10 year colour fast guarantee. The interlocking slats with rigid foam fill offer sound and thermal insulation.
Aluroll make and deliver nearly all orders in under 2 weeks. All doors are made-to-measure, fully automatic and have a full box enclosure at no extra cost. Available in numerous colours and woodgrain finishes. The Aluroll Elite Garage Door has achieved certification by the Loss Prevention and Certification Board (LPCB). This gives police approval "Secure by Design". A very secure garage door, at little extra cost.

Click on the links to find prices and details quickly;
Aluroll and their parent company, Roché Systems, were one of the first U.K. manufacturers of the European Roller Shutter System. They manufacture security shutters and grilles, as well as garage doors. An ISO 9001 company, based in Shropshire, it is a privately owned family business. Excellent pre and after sales service. Regular delivery runs to all parts of the U.K. Arridge Garage Doors are Aluroll's main internet supplier, offering well over 40% discount and free delivery.
The features listed below are standard for the Aluroll roller garage door. Other manufacturers offer most of these features as an option at extra cost.
Powdercoated (front and back box) safety housing
Powdercoated 90mm guides with multiple draught seal
Door slats are linked by riveted hard nylon end locks giving strength and longevity
Auto-locking system
Strong extruded aluminium bottom slat with dual formed rubber weather seal
Auto reverse safety system. The Somfy wireless optical bottom edge obstacle detection system built into the door ensures safe usage, peace of mind and full CE compliance.
Extra secure rolling code remote control technology
Somfy or NRG motor with 5 year guarantee
10 year foam filled aluminium slat guarantee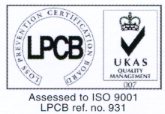 Aluroll Elite door is LPCB accredited

Aluroll Elite accredited with security rating 1 by the LPCB police

Secure by Design accreditation, approved Elite Aluroll door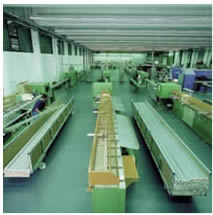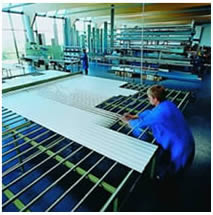 The Aluroll Classic 77mm x 17mm foam-filled slat is by far the most popular door. However, the Aluroll Compact 55mm x 7mm foam-filled slat version is ideal on garages with limited headroom, as the box is only 205mm square. The Classic door has a 300mm square box, unless the door is over 3 metres high, when the box size goes up to 360mm square. Not all of the box has to fit behind the lintel. The neat powdercoated aluminium box front can partially or fully show (when viewed from the front). It acts as a neat facia. Not all manufacturers include this. Aluroll includes a full box enclosure on all their Classic and Compact doors.
Aluroll are also one of Britain 's leading security shutter manufacturers.

Aluroll security shutters fitted in a shopping centre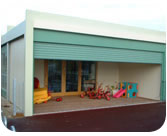 Aluroll security shutter fitted on a balcony offers security, sun shading and privacy.
Steelroll are a newly opened subsidiary / sister company to Aluroll. They manufacture
galvanized steel shutters
, grilles, car park shutters and industrial roller doors.